Lee Mack awarded honorary degree by Brunel University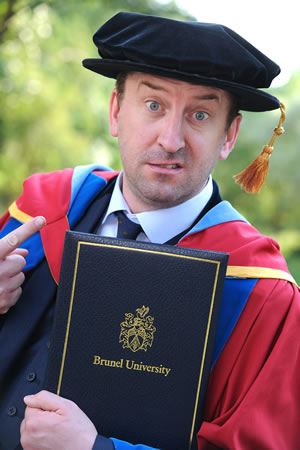 Lee Mack has been named a Doctor of Humanities by Brunel University in recognition of his 'outstanding services to the arts'.
The Not Going Out star attended a ceremony at the West London university yesterday where he was awarded this honorary degree.
Mack studied 'Drama with Film and TV Studies' at the university in the mid-1990s and, as part of the course, set up and ran a comedy night there. This was where he started to hone his stage craft, and it soon became clear that he would go onto big things. He graduated in 1996, but before that, in 1995, went up to Edinburgh where he won the prestigious So You Think You're Funny? award.
He says: "It was during my time as a student at Brunel that I started performing stand-up comedy. I was worried that my ambitions wouldn't fit in with the ethos of such an academic institution, but they couldn't have been any more supportive, regularly letting me turn part of their building into a stand-up comedy club where I performed many of my early gigs. I am proud to have been honoured by and associated with such an institution."
Brunel changed Mack's life in other ways too, as it was here he met his wife Tara. They still live in west London, and now have three children.
Brunel is named after engineer Isambard Kingdom Brunel. Mack jokes that, as an alumnus of the university, "it suggests that I might be able to build an internal combustion engine. I can't of course, I did Drama, but I can represent one through interpretive dance, which is obviously better".
Speaking at the ceremony Professor Dany Nobus, Pro-Vice-Chancellor at Brunel University, said: "It is hard to imagine how a university might inspire one of its students to become a stand-up comedian, but that is what happened to our Honorary Graduate today. If Brunel inspired Lee to take the funny man inside onto the stage, then the seriousness with which he approaches his comedy and the dedication that he has shown to his art may also serve as an inspiration to us all regardless of our aspirations and wherever life may take us."
Lee Mack is now starting work on writing the next series of his hit BBC One sitcom Not Going Out. He's also a team captain on the channel's very popular panel show Would I Lie To You?, which is expected to be recommissioned for a seventh series, to broadcast either later this year or early next.
As a result of all his TV work, Mack hasn't toured many live shows in recent years. However, here's a short clip from his 2010 show, Going Out: