Jonathan Ross gags at The British Comedy Awards 2010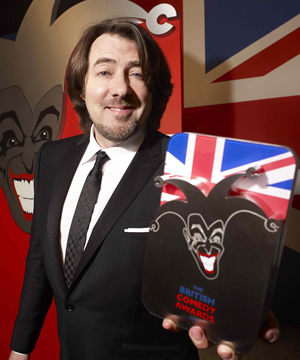 Here are some of the jokes delivered by Jonathan Ross during his opening monologue at The British Comedy Awards 2010 (broadcast January 2011)...
This year the Comedy Awards are bigger even that the diamond Jason Manford bought his wife for Christmas.
Anyone who is anyone is here. I was just backstage at the urinals chatting to Miranda Hart.
It is great to have James Corden with us tonight. He only heard about it at the last minute... he doesn't get very good reception on his phone up David Beckham's arse.
It's been a tough year for me. At one point, well I'd had enough and just wanted to get away from everything and be on my own... so I went to see Ricky's new film Cemetery Junction.
Frankly, there's been times this year when I've felt about as welcome as Frankie Boyle at the Pride of Britain Awards.
Why the same old host? Well, think of me as like a Punt & Dennis boxset on eBay... impossible to get rid of.
For the first time this year we have let the public in... look at them up there. Hold on, is that Mat Horne?
You know who I felt sorry for this year? That Zimbabwean girl Gamu. What is going on with Cheryl Cole's complex relationship with the black community? It's like she's playing the longest game of Slap, Marry, Deport.
Whilst we're on the subject of The X Factor, congratulations to Simon Cowell. A landmark birthday. 50 and not out! Or is that just a rumour?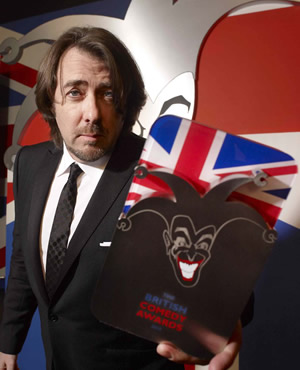 Tonight is the night like David Furnish and Elton John at the sperm bank... we all pull together. But, David, if you're watching, the baby needs changing... Elton is bored of it.
This year comedy, like Rob Brydon's hairline, has moved forward.
It was a year that comedy broke all the rules. For example, it's a known fact among comedy writers that anything is funny if it has got a letter 'k' in it. Well, this year, Stephen K Amos disproved that.
The big controversy in the world of comedy was, I think, between Jon Culshaw and Eamonn Holmes over - what shall we call it - a sensitive issue. For weeks the elephant in the room... kept complaining to the BBC about Culshaw's treatment of him.
Matt Lucas and David Walliams new show Come Fly With Me was endorsed by Jim Davidson. That's something nobody wants... it's like a Patrick Kielty encore - you never want that!
Simon Amstell, writer, actor... the answer is 'A', writer. A performance so wooden Ray Mears tried to build a canoe out of him.
It wasn't all a great year. Whilst some of you were up there higher than Paddy McGuinness' self delusion, others were about as funny as an EastEnders Christmas.
The votes are in and the winners have been chosen, although at this stage, like the line-up on Famous And Fearless, no one knows who they are. If I can borrow a joke from a bloke on Twitter about that... they're renaming Famous And Fearless, and just calling it And.
Tonight's awards, like Russell Howard's left eye, are unpredictable. They could go anywhere.
---