No second thoughts: Jan Etherington interview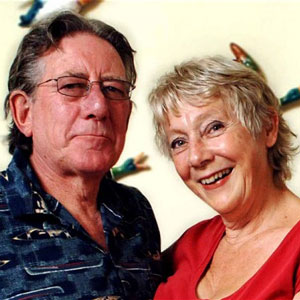 Faith In The Future, the sequel to the highly successful Second Thoughts, ran on ITV from 1995 to 1998 and this week all 22 episodes have been released on DVD.
Both Second Thoughts and Faith In The Future were written by the husband and wife duo Jan Etherington and Gavin Petrie (pictured), along with BBC comedy Next Of Kin and LWT's Duck Patrol.
I spoke to Jan about writing comedy, what inspired her and Gavin to write their sitcoms over the years, favourite actors they've worked with and what she thinks of comedy today.
The pair began their careers as journalists, working for magazines like She, where Gavin was the editor and Jan a freelance writer. "Gavin thought he could take a red pen to everything I wrote but when we started writing comedy that had to change," she laughs.
They then went on to work for TV Times magazine, where they got to preview new shows, and it was some of those shows that made them decide to write comedy themselves.
"Comedy in the 1980s was mostly crap. There were comedies about nuclear bunkers and comedies about really short people and we thought 'Oh for goodness sake, we could do better'."
Jan and Gavin weren't great fans of alternative comedy and found a good deal of it unfunny. When a BBC commissioning editor said "I'm going to sound the death knell to net curtain comedy. No couches, no French windows," they didn't know what he was talking about.
"Some of the best comedy that has ever lain in our conscience is what you would call 'middle class comedy'; shows like Ever Decreasing Circles and The Good Life that establish families and characters that people know. So we shamelessly wrote pre-watershed comedy with no swearing that everybody could watch."
Jan and Gavin cite Galton & Simpson as comedy gods and also greatly admire the work of John Sullivan, Victoria Wood and French & Saunders, but their initial influences came from the states with The Phil Silvers Show, I Love Lucy, the plays of Neil Simon and Woody Allen films.
"I go right back to the prose of Dorothy Parker and the films of Katherine Hepburn and Spencer Tracey where there's that whip-cracking dialogue. That's what we wanted to do, write sharp, witty comedy. Our role models were American comedies like Cheers and Frasier where they had to write with wit, style and verve with great characters."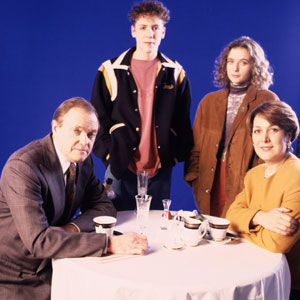 Their first show was a great success. Second Thoughts started life as a BBC Radio 4 sitcom in November 1988 and ran for four series. It was based on their unsettled early years living together with Jan's teenage children from her first marriage.
"I wrote a piece for The Times about second marriage and it was based on when I went to the dry cleaners and I couldn't remember which name I'd used. So you seem like some doddery old bat even though you might only about 35 or 40. That was what gave us the idea for Second Thoughts but fundamentally it was our autobiographical piece really."
Second Thoughts then transferred to LWT in May 1991, running for five series - until October 1994 - with the original radio cast of Lynda Bellingham, James Bolam, Julia Sawalha and Belinda Lang.
The writers of course have a great fondness for their first leading lady, the late Lynda Bellingham.
"We had seen her in the OXO commercials and how she could portray an absolute myriad of emotions in 30 seconds. She had that mixture of the vamp and the earth mother, which I've never seen in anyone else - and humour of course, natural comedy timing."
All very impressive names but then Jan and Gavin have worked with some great actors in all their series; Penelope Keith and William Gaunt in Next Of Kin and Richard Wilson and David Tennant in Duck Patrol.
I wondered if they had a favourite actor who they'd worked with?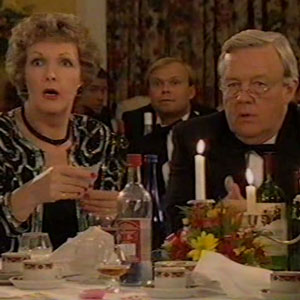 "Penelope Keith is absolutely amazing in Next Of Kin. One of the hardest things for an actor is to be an absolutely appalling character and not get the audience on your side. It's a very hard sell."
Next Of Kin (right) began on BBC One the year after Second Thoughts ended. A black sitcom described at the time as "absolutely fearless" and "more subversive than most alternative comedy", I wondered what had inspired it?
"It was our neighbours. We had these lovely, funny, hedonistic neighbours who were always having parties and having a wonderful time. You'd go in and they'd say 'Have a drink' and we'd say 'It's half past nine in the morning'.
"They had grandchildren and they were selling up and moving to France and we thought, 'well what if they couldn't?' What if something went very wrong and they couldn't go? They were very much living their life, way before 'spending the kids' inheritance' became a thing. So it was inspired by them."
Whilst Next Of Kin was still running, Jan and Gavin wrote the sequel to Second Thoughts. Faith In The Future (below) ran for a further three series and won Best ITV Comedy at the British Comedy Awards in 1997.
Continuing the story after Faith's split from her boyfriend Bill, Lynda Bellingham continued in the titular role with Julia Sawalha returning as daughter Hannah, who was supposed to be away travelling but returns home to find Faith wanting more of a life of her own. Jeff Rawle played Faith's on/off new boyfriend Paul, and from Series 2 the show provided a very early comedy role for Simon Pegg.
"He was apparently very nervous because he hadn't done much before but he was fab," Jan recalls.
Now a movie star, Simon Pegg isn't the only international name with a regular credit in one of Jan and Gavin's comedies. David Tennant starred in the ITV sitcom Duck Patrol in 1998.
"We'd written a comedy after looking out of our window where we lived on the Thames and seeing the river police sailing past. It was written as an ensemble piece initially but then Richard Wilson was cast and the whole thing had to be re-written because he was the hot name. So we had to re-write it very much towards his character and it changed it. We got some flack for that show but David Tennant loved it. He was just fantastic."
Duck Patrol (below) only ran for one series and despite launching in a difficult summer time slot had great viewing figures.
"It was a very expensive show because it was all done on location on the Thames and we had to have safety boats and it was all shot on film. I think it took most of LWT's budget."
Over the years Jan and Gavin have found that some people can be snobby about comedy writing and they have been asked on occasions when they were going to 'move up' from writing sitcoms, presumably to drama. However they feel that writing sitcom is the hardest thing to do and get right: "Alan Bennett was asked once why he hadn't written a sitcom and he said 'because it's too hard'."
Of course when you get comedy right it looks deceptively easy but this brings with it its own complications: "People often say to us 'Oh you should write about me I'm a dentist and I've got loads of funny stories', but the point is it's not about you being a dentist that's funny. Cheers isn't about drink. It's about desperate people coming together in that situation. Like Red Dwarf isn't about space. It's about four people and their relationship."
It's relationships and character that are at the heart of Jan and Gavin's comedy.
"Our comedy is about life going along very nicely and then something happening to alter that, whether it's the orphaned grandchildren in Next Of Kin or the second marriage in Second Thoughts or in The Change, a radio comedy we wrote for Lynda Bellingham, about her finding out her husband is a transvesitite. They all have a catalyst, which change the relationships. You have to have something which creates tension."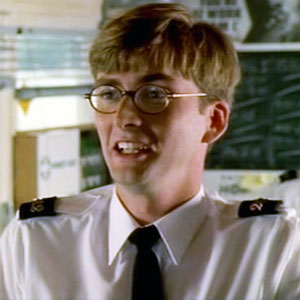 When I asked Jan what she thought of sitcom, today she is of the opinion that good writing will always shine through.
"Sitcom today is as good or as bad as it's always been. Something like Nurse by Paul Whitehouse is very good but some new comedies are old fashioned, by which I mean they are lazy. They use clichés and I think 'come on you can do better than that'."
Jan believes comedy will continue to thrive, but with the internet and multiple TV channels the way we access it is changing. However, Jan says that what people find funny doesn't change.
"When I watch our stuff I try to be hyper-critical but it still makes me laugh. We don't write about mobile phones not working or the pill or things that can date. We write about relationships and human emotion and that doesn't go out of fashion."
Second Thoughts - The Complete Series is out now from Network DVD.
Faith In The Future - The Complete Series is out now from Network DVD.