Matt Hilborn looks back on 31st October 2019, a momentous day in British comedy that saw several brand-new shows released to celebrate - or commiserate? - a Brexit deadline that, as we all know, was ultimately postponed yet again.
For anyone even tangentially acquainted with the state of British politics in the here and now, the notion of more Brexit humour might inspire little more than a yawn. Since the referendum over three years ago, the 'B' word has become ubiquitous both in comedy and beyond: TV panel and sketch shows talk about little else, radio hosts complain of Brexit exhaustion, and stand-ups like Matt Forde have cleverly built entire shows around the issue (Brexit, Pursued By A Bear in Matt's case).
Sometimes it's marvellous; sometimes it's no funnier than when politicians confuse 'Brexit' with 'breakfast' (which, in truth, is inane and hilarious in equal parts).
Yet last Thursday - 31st October, the (second) date on which we were supposed to be leaving the EU - saw a flood of inventive, Brexitesque (Brexitian?) comedy hit our screens and radio-waves, waving a satirical (and ultimately non-existent) goodbye to our European friends and partners.
After years of dither, disappointment, and delay, an end to this stage (!) of Brexit seemed imminent. But as the hours ticked by, and the day came and went with no change, comedy did what it does best: it held political shenanigans up to ridicule.
Let's take a look at the ultra-topical highlights from this fabled day: radio's Little Brexit, Newsjack Unplugged, and The Halloween Skewer, and TV's How Europe Stole My Mum...
Little Brexit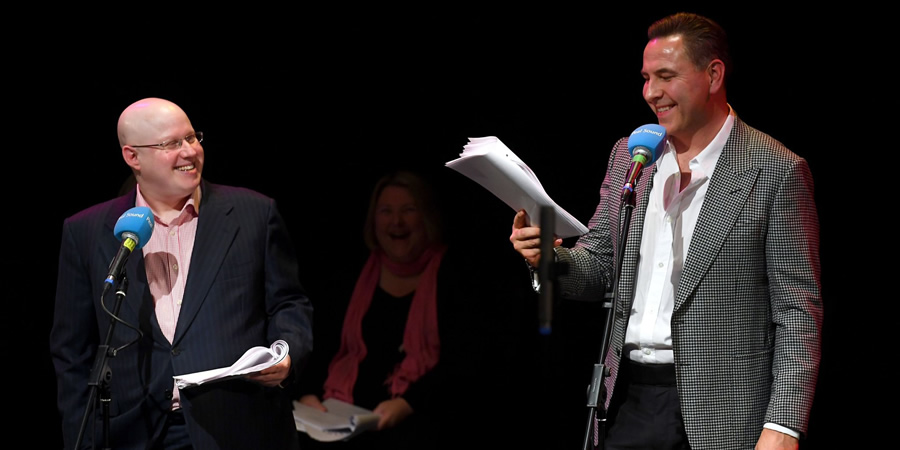 The hotly-anticipated Little Brexit (BBC Radio 4) saw David Walliams and Matt Lucas revisit the characters of their smash-hit sketch comedy show Little Britain, which started life on the radio before switching to TV in 2003 (where it ran for three series, winning back-to-back BAFTAs).
When news of this one-off half-hour special hit the press after more than a decade off air it was met with a mixed reception, largely due to Lucas's own admission that the show would not make a full comeback because it featured a "more cruel kind of comedy" than that which he creates now.
Although the BBC officially promised a "politically-charged comeback special", the programme largely shunned the more controversial aspects of the original. There is no xenophobic Fat Fighters leader Marjorie Dawes, for instance; and the switch back to radio obviously negates the thorny issues of race with which anyone watching the TV show nowadays must contend.
That said, despite the relative breeziness, little sympathy is spared for David Cameron (the Conservative PM who promised a referendum in the first place), and his latest book, For The Record. Lou and Andy find countless unwanted copies on sale at 5p in a charity shop and, implored to purchase as many as possible by the owner, quip "We've run out of bog roll...". Moreover, narrator Tom Baker's alternative facts reveal that the economy is booming - because business has been stockpiling necessities such as medicine and staple goods.
Elsewhere the humour, which sees the return of Ruth Jones and Anthony Head, gently hits out at bigotry and intolerance. Haughty dear Maggie received a heart transplant only to discover that her donor was, of all nightmarish things, a "REMAINER!!!" Spewing her guts for several seconds, she would rather rip the heart out than have a People's-Vote-marching Europhile inside her.
Daffyd Thomas voted Leave out of a desire to remain the "only gay in the village" and even founded his own campaign group: UKIP. No, not that one: the 'United Kingdom Institute for Poofs'...
Despite this probable Remain-leaning slant, The Guardian argued that Walliams and Lucas had shirked the opportunity to lambast a 'Little British' attitude and effectively skewer the machinations of the rich and powerful.
But then The Spectator wasn't happy either: when Walliams's travel agent repeated "Brexit says no" instead of "computer says no", its review helpfully pointed out that this "wasn't as funny", because it was "based on the false premise that Britons will lose visa-free access to EU countries after Brexit. That's not true." Who said Brexit comedy was dead?
Nevertheless, Vicky Pollard's famous catchphrase "No, but, yeah, but..." became perhaps the most accurate summary yet of the past three, wearied years of head-scratching paralysis from Westminster, the commentariat, and general public alike.
Perhaps the most successful satire came in the shape of Brexit: The Board Game, whose rules are so tortuous and self-contradictory that it is nigh-on impossible for anyone to win, or come away satisfied. All in all, the show was a damning, if light-hearted, indictment of the current stalemate in British politics.
Newsjack Unplugged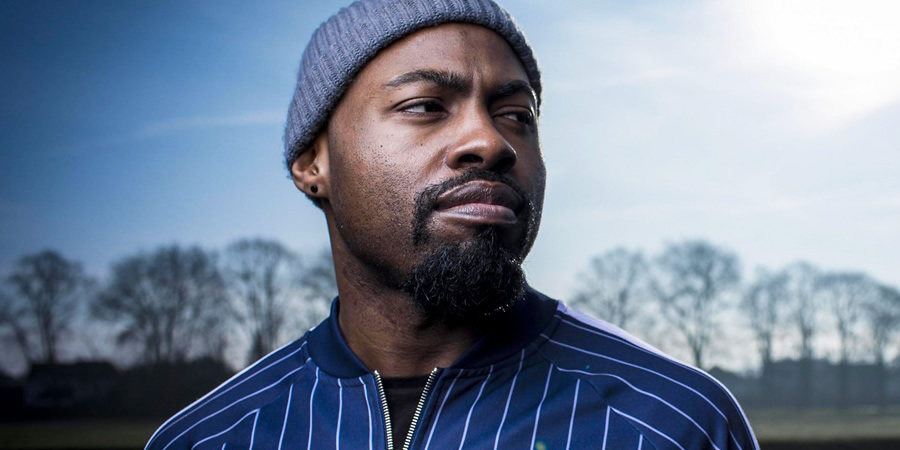 Later on BBC Radio 4 Extra we were treated to a Halloween special of Newsjack Unplugged, which imagined host Darren Harriott and guest Chiara Goldsmith stuck in a Brexit-y time-warp, benumbed in an endless, mind-boggling postponement (sound familiar...?) that allowed Harriott to return to "the exact same show I wrote 6 months ago!"
The 15-minute run time pitched past against present, recalling life before the referendum, when Cameron (a running theme on this day) spoke of his love for 'call-and-response' with audiences who lapped up his every word: "When I say 'EU', you say 'Stay'!"... "When I say 'Ever-closer union', you say 'That clause was noted only in the preamble to the Treaty of Rome in 1957 and should therefore not set the tone for how our current relationship functions in the current political climate...'". It proved an insightful jeer at the complicated nature of Brexit talking points, which can often seem, however paradoxically, both glib and impenetrable.
After a range of well-placed jokes about politicians' costume changes (their insistence on touring building sites and hospitals wearing full suits and ties - topped with yellow hard hats and high-vis jackets, or white doctors'/lab coats, as applicable - during interminable photo-ops), Goldsmith quipped: "The only thing I'll be leaving is my daughter in a pub."
Listening to the show, I was reminded that Brexit's central problem is that all scripts feel well-rehearsed: although almost everyone seems exhausted with the process, hardly anyone has anything truly original to say. I was recently sat discussing Brexit with a family member whose politics differ from my own, and after a short back-and-forth I stopped him: "This is pointless. We're listening to one another attentively, and exchanging robust viewpoints, but we both know that, if pressed, we could easily reel off the other's core arguments because we have read and heard them so many times before." We were both self-confessed political nerds, yet found ourselves falling into familiar patterns of debate, struggling to tread a fresh path on this overworked terrain.
Indeed, what Newsjack Unplugged made clear is that Brexit feels both excessively familiar and peculiarly obscure, for despite its all-pervasive reach, in my experience one is often hard-pressed to find many - even amongst those with a keen interest - who genuinely understand the nuts and bolts of the UK's intermingling with the EU. It is thus no wonder that so many of us are suffering from a strange case of Brexit fatigue: it's not just the Lib Dems who ache for an "exit from Brexit", in whatever form!
The time-warp proved an apt metaphor for the present constitutional impasse - the paralysing product of a lack of compromise over unpalatable choices - but, in the final reckoning, it criticised a 'nice-to-have' style of politics by stressing that no magic time-machine is forthcoming. Indeed, on that same Halloween night Dave also repeated Series K, Episode 4 of QI, "Knits & Knots": another opportune image for the current state of affairs!
How Europe Stole My Mum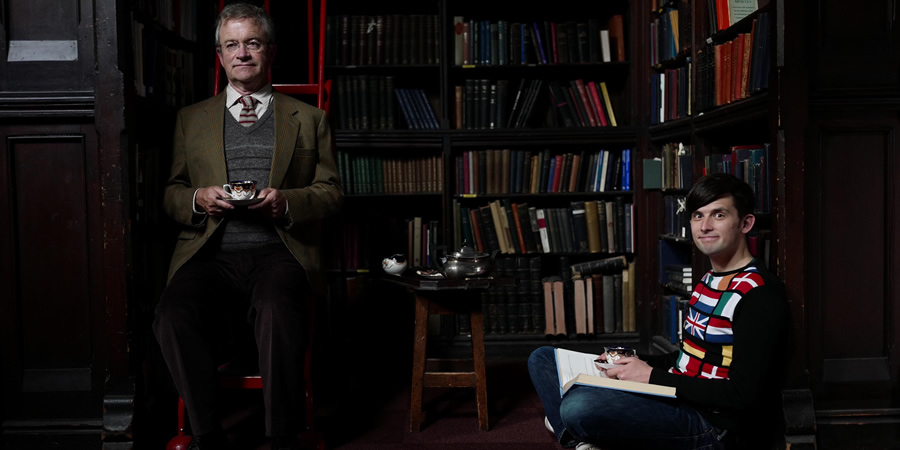 On TV, Channel 4 offered one-off Brexit mockumentary How Europe Stole My Mum, loosely based on comedian Kieran Hodgson's Edinburgh Comedy Award-nominated show '75, which sought to examine Britain's history within the former European Economic Community, now replaced by the EU.
Much ink has been spilled on the termination of our bond with Europe but Hodgson provides a welcome, playful history lesson that analyses 'Brentry' instead, in a manner both informative and entertaining that recalls the runaway success of Horrible Histories.
Although many outlets have reported that the show was due to go out on 29th March, the first scheduled departure date, it was in fact not filmed until May. Either way, the programme was clearly designed to coincide with our (non-existent) departure, and Hodgson admitted feeling "slightly nobbled" by the latest deferment: "We found ourselves, strangely for a comedy show, at the mercy of developments in Westminster and Brussels."
Hodgson plays himself, depicting a warm, intimate home life in Huddersfield with his mother (a superlative Liza Tarbuck), who is kind and accepting to a fault - both when he comes out, and when he introduces her to his future husband. However, things go pear-shaped when it emerges that they voted differently in the 2016 referendum.
Venting his spleen with barely-contained fury, he screams "You piece of shit, mum! You racist, chardonnay-sozzled old witch!" Her response? "Well, I should have expected this from a nasty, snobbish, stuck up, traitorous, IPA-guzzling disappointment of a son like you!"
Yep - strap yourselves in. How Europe Stole My Mum packs a real punch in its fresh, excoriating investigation of the prickly relationship between the UK and the EU. It's a fascinating, irreverent, timely watch for anyone who has struggled through a thorny conversation with a family member on this most polarising of topics.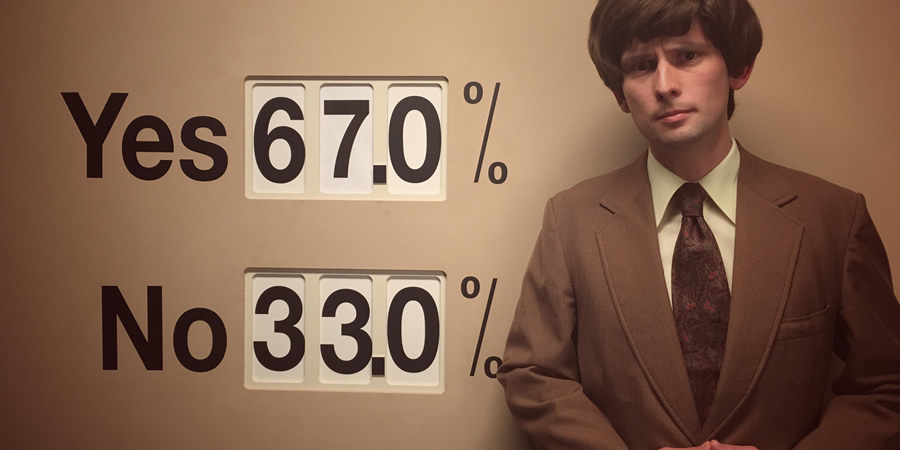 Hodgson is sufficiently self-aware - a quality too often amiss in Brexit comedy - to poke fun at himself as a young, stereotypically Remain-voting member of the much-maligned (yet frequently ill-defined) "metropolitan liberal elite". After wisely eschewing simplistic labels like racist or traitor ("Look at me - I have a husband, but I hate gay people!"), he visits the library, undertakes some proper research, and scrutinises exactly why and how the UK joined the bloc.
Here he enlists the help of a friendly librarian, played with gusto by dream casting Harry Enfield, and showcases his versatility by impersonating a whistle-stop tour of politicians in modern British history - both well-known and obscure - in the bear-pit of Parliament, during key speeches and votes.
His well-observed embodiments of Macmillan, Benn, Thatcher, Powell, Heath (including superb gags about certain allegations), Wilson, and Bercow provide quirky yet judicious context to our present-day deadlock. Hodgson jokes that this is an "extended audition tape to try and play every politician in the next series of The Crown".
In his own words, Brexit is often "boring, complicated and comedically unpromising", but How Europe Stole My Mum makes his material palatable to all, blending learnedness with charm and whimsy. In an interview with The Times, he joked about budget concerns for a script demanding a packed House of Commons:
"Look, Alf," I replied (name changed). "The people of Britain are desperate for a cinematic recreation of the debate over the European Communities Act 1972 and I won't let your budget concerns stand in their way."
Ultimately, they secured a one-day partial rental of a near full-scale Commons set - the exact same backdrop used in the major British films The Iron Lady and Darkest Hour.
All things considered, How Europe Stole My Mum was a breath of fresh air in the otherwise fairly overcrowded, suffocating environment of Brexit comedy. The show was most successful when pointing out that some apparent absurdities - such as when a politician in the Commons screamed "rat fucker" at Labour MP Roy Jenkins - are actually true.
This, finally, is Hodgson's accomplishment: asking how we develop a bracing political discourse that blends energy and erudition without recourse to cheap name-calling, anodyne virtue-signalling, self-indulgent piety-policing, or parochial point-scoring. When the 'doomsters', 'gloomsters', 'naysayers' and 'Remoaners' of Project Fear are on one side, and the 'Nazi', 'Hitler', 'racist', 'fascist scum' Brexiteers are on the other, legitimate criticism or even constructive room for improvement is easily dismissed as biased, baseless fault-finding. Let's have the courage of our ambiguities as well as our convictions, and be welling to cross that scary (it was Halloween, after all) No Man's Land to seek common ground with the other side, beyond entrenched, tribal lines of division.
The Halloween Skewer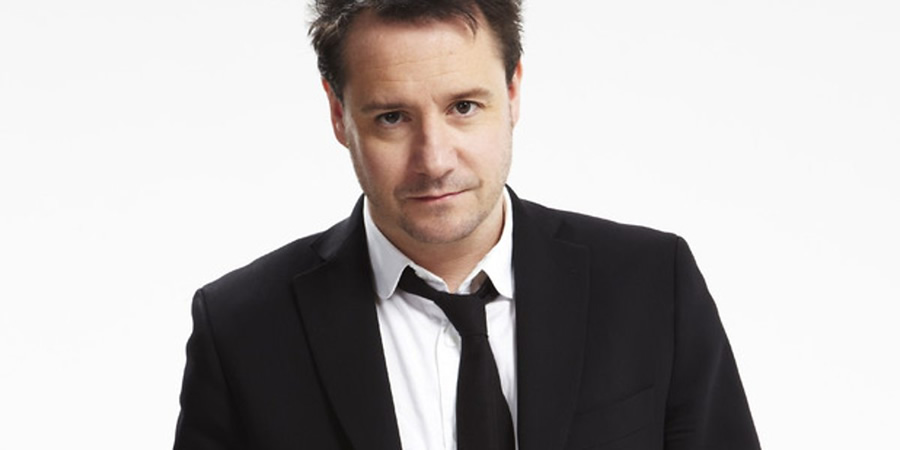 Finally, as Non-Brexit Day drew to a close, Jon Holmes returned to BBC Radio 4 with another immersive, otherworldly river of sound: The Halloween Skewer. The most overtly Halloween-inspired comedy of the day, the half-hour, freeform assault on the senses constituted a ludic yet deeply haunting collection of juicy quotes and well-placed soundbites from recent global bulletins, juxtaposed to form an eerily beautiful, discombobulating mosaic of political spin.
Nigel Farage's repeated insistence on being an anti-Establishment figure (whilst simultaneously everywhere, having tried and failed seven times to become an MP) who has "never been a career politician" was spookily superimposed over his conflicting announcement "I'm coming back", building a mordant clash of ambition.
Elsewhere, when Jon Snow told us that "When the clock strikes midnight in exactly 2 years' time, the United Kingdom will have left the European Union", a knowingly morbid, sickly, guttural laugh followed hot on its heels. But it wasn't all for Remainers: Julia Hartley-Brewer's feisty retort that "You do know that being an ardent Brexiteer isn't actually an insult?" came over very powerfully indeed.
The most memorable highlight was a rollicking, extended piece that proceeded as follows: assembled soundbites of Prime Ministers Boris Johnson and Theresa May aggrandising their negotiated Brexit deals were interspersed with excerpts of Lord Sugar on BBC One's long-running reality game-show The Apprentice, bellowing at budding entrepreneurs. Sugar's incredulous and derisive put-downs made for a telling, incongruous collision. "You went in and came back with the same deal?", he roared. Well, indeed.
Holmes takes the newsscape as his playground, juggling countless noises and titbits from topical Brexit coverage to create a jarring, unsettling work specifically designed to be experienced immersively via headphones. A mind-boggling collage of extracts, interviews, and fragments of speech, it satirically defamiliarised the (all too) familiar, critiquing the Machiavellian nature of yah-boo politics.
Other comedy about non-Brexit day
The events - or lack thereof - on this fetishised deadline day also saw two comedy gems trending on Twitter: #DieInADitchDay and #BritainHasExploded. To explain the first: ever since he became PM on 23 July 2019, Boris Johnson had incessantly repeated his pledge to take Britain out of the EU on 31st October 2019 - "no ifs, no buts", and "do or die". He even maintained he would "rather be dead in a ditch" than miss the deadline - hence the hashtag. The second was a reaction to a comment by Conservative MP Mark Francois, who had warned back on 17th September that the country would 'explode' should the deadline be protracted. Photos of a sole upturned chair, or someone fresh out of tea bags, amusingly mocked such hyperbolic language.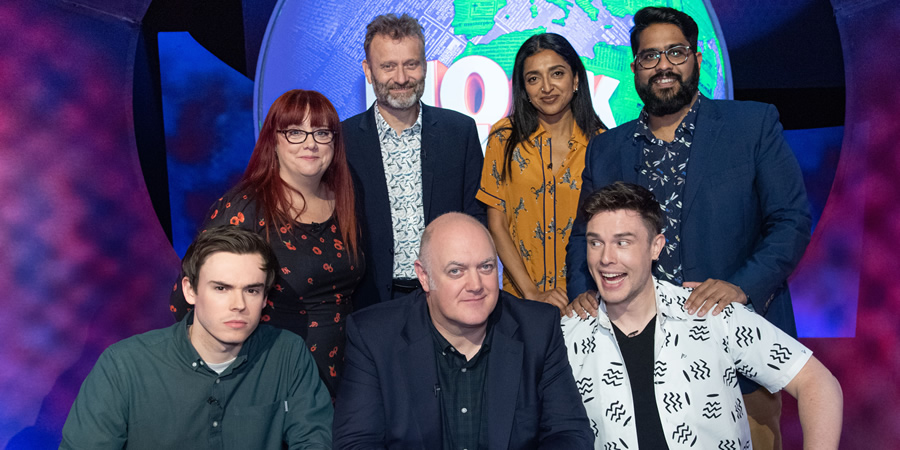 Elsewhere on Halloween, campaign group Led By Donkeys brought an electronic billboard to Conservative Party HQ in Westminster, simply projecting two video clips: Johnson's single, existential pledge, and Mark Francois backing his deal because Johnson "looked [him] in the eye" and gave him his 'word', "come hell or high water". No punchlines were necessary.
Writer and musician Rhodri Marsden released The Hustle, a comedic disco concept album about Brexit whose track listing includes tunes such as Backstop, No Deal, and Freedom of Movement. What's more, publisher WatAdventure released the 32-page children's book I Want To Leave This Book! at 11pm, the exact time we were supposed to leave. Author Richard David Lawman explains Brexit allegorically to kids, depicting the electorate as various animals (in the style of Animal Farm), and controversially presenting David Cameron as a pig named Percy Hogtrotter.
The day after, Friday 1st November, saw both Mock The Week and Have I Got News For You lampoon the Brexit that never came. On the former, Dara O Briain announced that their planned "Farewell Europe!" special had now morphed into "Hello Election!", after the passing of a Bill to hold a General Election on 12th December.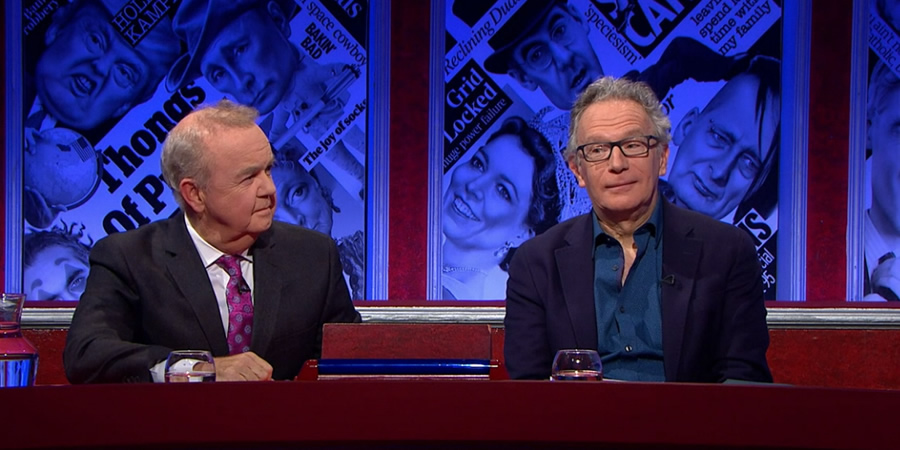 On the latter programme, Irish journalist Fintan O'Toole joked that, having died in his ditch, Boris Johnson was now "the first at least official member of the undead to be Prime Minister", and then wrote an entire article on that very concept.
Ultimately, Thursday 31st October 2019 will be remembered not for our departure from the EU but as another Halloween: and if for anything topically, then as the day that Labour launched its election campaign (whether it triumphs or flounders); and the date Twitter announced a global ban on political advertising on its platform - a decision that could prove momentous.
Moreover, proving that nowadays there is as much comedy in real-life politics as in crafted, scripted works of fiction, during the same week it was announced that the Government had paused its £100m 'Get Ready For Brexit' advertising campaign, and that commemorative 50 pence coins minted to mark Brexit on 31st October (and containing the words 'Peace, prosperity and friendship'... wishful thinking, perhaps?) would be 'recycled' given this 3-month delay. Cue inevitable headlines about a Brexit 'meltdown', and a joke we heard at a party (yes, we get out sometimes): "I'm going on a Brexit diet. The pounds will drop fast." Sometimes the only possible response is what James Joyce once called not laughter, but laughtears.
Conclusions
In general terms, the trouble with Brexit comedy is that news coverage tends to work on two separate but interrelated speeds. In our 24-hour cycle, Twitter-fuelled, blog-sodden journalists badger us with the latest updates literally all day long - and, as Kieran Hodgson alludes, comedians are increasingly beholden to this reporting.
Whether it's a drip-drip of intense emotion or the short, sharp burst of a breaking scoop, the rhythm is staccato but also regular and quickly tiresome. Comedy that reacts to this can often come across both as either too trivial or too self-important for its own good.
Conversely, and operating at an entirely different rate, we find the drawn-out stretch of tremendously complex negotiations, which provide a slow, gradual undercurrent that has trickled along, or remained stubbornly stagnant (or rather, as it often seems, dead in the water), over three, painful years. Whenever this has threatened to lurch into life, suggesting some change or forward momentum might be gathering pace (Red Lines, Meaningful Votes, (Un)Clear Deadlines), it has quickly retreated to deferral and stasis.
Given these two, concurrent gears, comedy is sometimes either lightning-quick, on-the-spot (a witty jibe in the moment, say, often on social media) or retrospectively, cynically remorseful about how on earth we allowed all this to happen.
However, as we have shown, these four #DieInADitchDay comedy highlights mostly bucked that trend with welcome vim and vigour. Pleasingly instructive as well as droll, they found a middle ground between the split-second, knee-jerk reaction and the bitter, pessimistic sigh.
What they made plain, with genuine panache and pizzazz, was that the inexhaustible contortions of Brexit are not a bug, but rather a feature, of any credible attempt to disentangle almost 50 years of trade negotiation, law and regulation, cultural exchange, and freedom of movement.
Both Little Brexit and How Europe Stole My Mum were initially commissioned to memorialise a Brexit Day that has yet to come, but were broadcast on the basis of "better now than never" - in case we never leave at all. That quotidian uncertainty tells you all you need to know about our Brexit standstill!
Lastly, whatever your party-political position, as Brexit drags endlessly on we can all share a laugh at one glorious tweet, sent by @david_cameron on 3 May 2015: "Britain faces a simple and inescapable choice - stability and strong Government with me, or chaos with Ed Miliband." British comedy at its absolute finest.