From a mic-stand to a RipStick, comedians can make good use of what's to hand.
A lot of us have been wading through the comedy archives in recent weeks, looking back at the famous old names going about their business while live comedy takes a lengthy break. Spend any time on YouTube and - if your algorithms are anything like ours - you will almost certainly find yourself faced with lots of rare old chat-show clips, as legendary comics from the '70s and '80s pop up on Russell Harty, or Michael Parkinson, or a random American late-night show.
And more often than not, they'd have a cigarette on the go. It probably helped with the pressure: those big-time, big-audience shows could be nerve-wracking, if you had an important film or show to promote. They became part of the image too: Monty Python's Graham Chapman was rarely to be seen without a pipe, for example (ok, so not in Monty Python's Life Of Brian or Holy Grail, as they didn't smoke those sorts of pipes in those days). And it's hard to imagine Peter Cook being super-cool on a chat-show couch without something wafting from his fingers.
Of course, nowadays an innovative chap like Cook would no doubt be vaping. If you aren't familiar with exactly what vaping is, it's increasingly inventive and in-demand. A handy product like the RipStick Pod for example, was created by the US company RipTide, who developed a synthetic nicotine with no impurities - NicTech - plus a range of flavours. Try the sample pack and you'll get everything from mint to mango: you weren't offered those sorts of options in the '80s.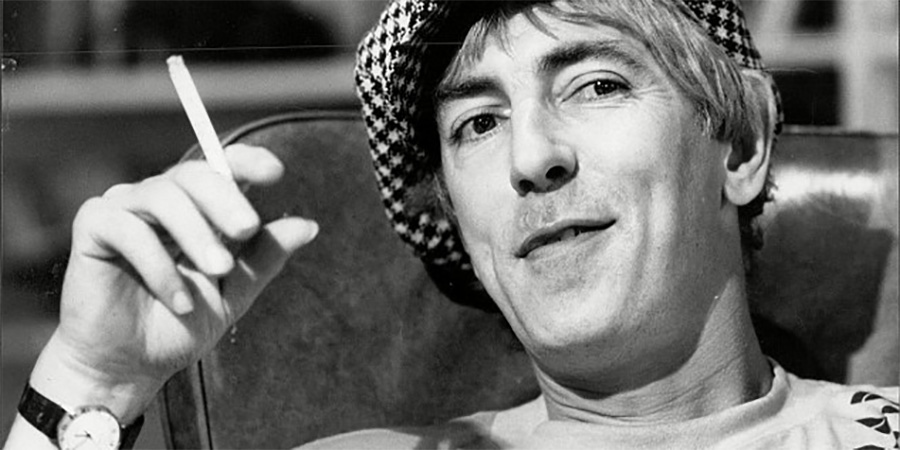 When you think about it, that would actually be quite a useful conversational ice-breaker, to get the chat-show repartee going. The next guest walks on, vape in hand, then the host gets a pleasant waft and immediately they're discussing that particular flavour. The only slight problem there is that the host and guest might get so into that flavour discussion, they'd forget to talk about the film or show that the act is there to promote.
On stage, of course, a beverage is a comic's most useful accessory, whether that's water or something a bit stronger. That vital liquid refreshment helps the vocal chords and also the timing, allowing an act to take a seemingly natural break between bits as - hopefully - the audience get a big laugh out of their system.
More directly helpful for the actual comedy itself is the microphone - which has a multitude of uses, as well as amplification - and even the mic stand. Just the simple matter of moving the latter can be used for comic effect: Jo Brand would famously start gigs by standing behind it, then shift the stand to one side and say 'here I am!' or words to that effect. And moving the mic-stand back from the side of the stage to the centre is well-known stand-up shorthand for 'the end of the gig is approaching, get ready for the finale.'
Comedians may not have a guitar, keyboard or drums, but every implement is their instrument.