Graham Chapman gets an un-official blue plaque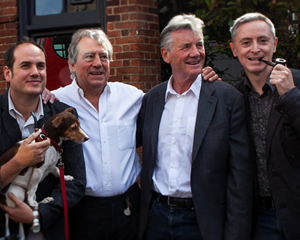 A Blue Plaque to commemorate Graham Chapman, the late great Monty Python star, has been unveiled.
However, the memorial is not an official English Heritage Blue Plaque. Due to budget cuts, the official scheme were forced to drop plans to commemorate Chapman earlier this year, and so The British Comedy Society have stepped in to organise something instead.
Chapman's fellow Pythons, Terry Jones and Michael Palin, Python actress Carol Cleveland and other former colleagues attended the unveiling.
The plaque is located on Angel Inn in Highgate, North London. Barry Cryer, who hosted proceedings, said: "Graham was one of my best mates. We did an awful lot of writing together, but also an awful lot of drinking together. I think the pub is the perfect place to put the plaque. Very Graham, very silly."
The inscription reads: 'Graham Chapman, a very naughty boy, 8 January 1941 to 4 October 1989, comedian and writer, member of Monty Python's Flying Circus, drank here often and copiously'.
The British Comedy Society has previously honoured comedians including Tony Hancock, Kenneth Williams and Frankie Howerd. BCS chairman Gareth Hughes says: "Monty Python were like the Beatles of comedy. A group of writer-performers who changed the rules and conquered the world. Graham in many ways represented the lunatic spirit of Python, so it's entirely appropriate that he should be celebrated with a BCS blue plaque on the side of his local pub."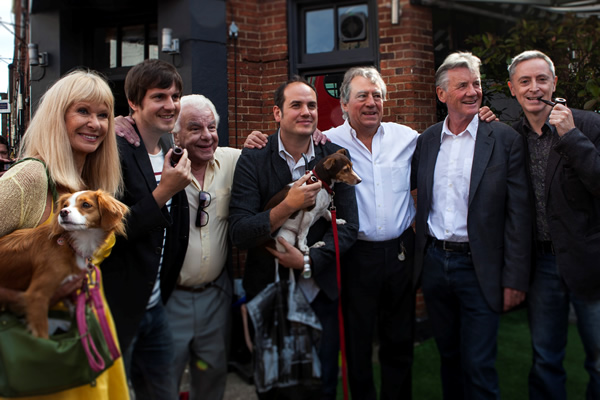 The life and times of Graham Chapman will also be honoured in the upcoming cinema release of A Liar's Autobiography - The Untrue Story Of Monty Python's Graham Chapman. Featuring archive audio recordings of Chapman alongside new voice work by John Cleese, Terry Jones, Michael Palin and Terry Gilliam, the animated film will receive its UK premiere at the London Film Festival in October and will be released nationwide in the UK on 25th January 2013.
Below is a trailer for the film: