If I were to ask you to list all your favourite and most memorable moments from The Morecambe & Wise Show what would they be?
"The plays what I wrote", short fat hairy legs, "You can't see the join!", "This boy's a fool.", "Beauty like what I have got.", a slap round the face and a quick "wayhey!".
Now take Ernie away and see if any of those make sense? They don't, do they? That's because, although it's Eric who is often perceived as the funny one, Eric needed Ernie just as much as Ernie needed Eric. And Eric was always the first to point out the fact.
After all, it was Morecambe AND Wise.
Ernie Wise OBE died on the 21st March 1999. He was born on 27th November 1925, some six months before Eric, with whom he would begin working in their early teens - a partnership that lasted until Morecambe's untimely death in May 1984, leaving Wise to forge a solo career for a further 15 years.
There are many, many books on Eric Morecambe but it wasn't until 2011 that Ernie had a biography written about him, Little Ern by Robert Sellers and James Hogg. I interviewed James about Ernie, his life, work and partnership with Eric and the comic legacy he's left behind.
I firstly wanted to know what prompted them to write a book about Ernie Wise?
"I was sat at work one day and I realised there was nothing written about Ernie and I thought it was an absolute travesty. So I wrote to his widow Doreen and within a week I got a phone call."
James and his writing partner, Robert, were amazed to discover from Doreen Wise that they were the first people to ever approach her about doing an authorised biography - yet Ernie Wise had been one half of the most successful comedy duo this country has ever seen.
Ernie's early life is a fascinating story, often overlooked by the more famous tale of Eric's pushy showbiz mother Sadie. He played the clubs in and around Leeds with his Dad Harry, in a double act known as 'Bert Carson and Kid' (below) doing a bit of patter, some songs and the odd clog dance. Ernie's Dad is as important in the Morecambe and Wise story as Sadie yet his influence is rarely talked about.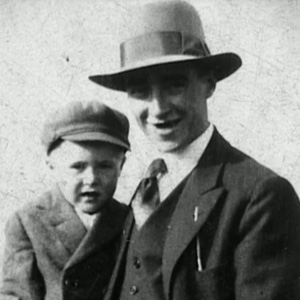 If it hadn't been for this early training in showbiz Ernie wouldn't have been as well prepared as he was for an audition with Jack Hylton in London in 1938. So impressed was impressario Hylton with young Ernie, who he later went on to call, "the British Mickey Rooney", that he put him in his West End show with top of the bill Arthur Askey that very night.
It was a pure showbiz overnight success story. Very soon the clogs had been replaced with more sophisticated tap shoes and the 13-year-old Ernie was the toast of London's West End.
Another prompt for James and Robert to redress the balance on behalf of Ernie was when Channel 4 broadcast a show in which they had asked 300 of the top comedians and comedy writers in the country to vote for their 100 favourite comedians:
"Reeves and Mortimer were in there, Laurel and Hardy and then Eric Morecambe. They didn't even have Morecambe and Wise. It was disgraceful. I was fuming. I was absolutely disgusted," says James.
Perhaps Ernie had been left out because he was considered the 'straight man', but if you watch the shows and sketches properly you can see that Ernie was funny in his own right. One of my favourite sketches is Grieg's Piano Concerto with André Previn. It is of course an absolute classic. Next time you watch it keep an eye on Ernie. He provides two of my favourite moments in that sketch. "Grieg, with him and him," which is for me one of the funniest lines in the piece, and also when Eric plays all the right notes, but not necessarily in the right order, watch the enthusiastic way Ernie dances. He's totally committed to Eric's playing and is having the time of his life, his face is full of joy and fun and it makes me laugh every time.
As a straight man Ernie was the best in business, but when Eric and Ernie started out, as the bigger, more established and experienced star, he was the comedian and Eric was the straight man.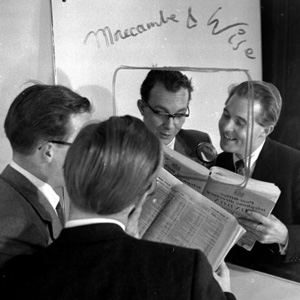 Years working the variety halls followed and the partnership eventually switched, with Eric found to be the more natural comic of the two. Then came a break on radio and finally TV with the much documented and 1954's ill-fated Running Wild series for the BBC. After that they returned to their roots in theatres, pantomimes and summer seasons and continued to work and refine their act.
It was during the 1960s that TV success finally came with the ATV series Two Of A Kind as well as two ventures very close to Ernie's heart: making films and trying to break America. Eric didn't have the same enthusiasm for cracking America and found their appearances on The Ed Sullivan Show uncomfortable and unpleasant, but for Ernie America represented the Hollywood dream.
"He couldn't force Eric to pursue it and he did think about going over to America alone but Bruce Forsyth told him the last thing America needed was another song and dance man and he was right," James said.
Ernie deferred to Eric's wishes, an example of his lack of ego and his love for the partnership.
"Ernie had the patience of several saints," said James. "Ernie didn't have an ego. If he had, the boys would've fallen out massively."
Even though Ernie was disappointed about America and a few cross words were exchanged about the experience, they never did have a massive fall out in all their years together. This was chiefly because they were just so incredibly fond of each other and would defend each other like family: "Eric and Ernie were each other's biggest fans. If you were to say to one of them that the other wasn't very good that night they would round on you. Verbally they would destroy you."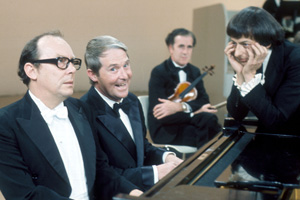 As Morecambe and Wise moved into the 1970s and the start of the golden BBC era their double act evolved. Over the years they'd both had funny lines but now Ernie had a funny character to play, due entirely to the genius of chief writer Eddie Braben. He created the character of the pompous playwright who was careful with his money.
Finally, Ernie wasn't just a straight man. He really had something to get his teeth into: "Doreen said she remembered him coming home one evening all excited and he locked himself away in his study while he worked on this character."
So while Eric carried on doing what he did best, Eddie Braben had given Ernie a chance to act. A little too well it would turn out. People thought Ernie was like that in real life and it coloured their ideas of him long after Eric's death in 1984. Nobody likes pomposity and meanness but in real life Ernie was neither. What he was though, was a very astute businessman who, Doreen said, made more money from his extensive property portfolio than he did from show business. He also had his own theatrical agency for a few years in the early 1970s, negotiated contracts for the duo for shop openings and personal appearances, and even took care of some writing deals for Eddie Braben to work for other comedians such as Frankie Howerd.
James believes that Eddie Braben was not just important to Ernie but to the whole legend of Morecambe and Wise. "The reason Morecambe and Wise are as big as they are today is down to the Eddie Braben era. Without those BBC shows they wouldn't have been as big even as, say, The Two Ronnies."

It's interesting to contrast Ernie's fortunes after Eric's death with the way Ronnie Corbett has been adopted by the likes of Ricky Gervais, Matt Lucas, David Walliams and Rob Brydon in recent years - and the Ronnies ended their career being derided by the new wave of 'alternative' comedians.
Although The Two Ronnies were not the same type of double act as Morecambe and Wise and always maintained separate careers - from Porridge to Sorry! - it's notable that after Ronnie Barker's death Corbett has been somewhat looked after as comedy royalty by the new guard. Something, it's sad to say, that never happened to Ernie. I asked James why he thought that was?
"Ernie was older and he never moved in those showbiz circles. It never occurred to him to do something with the new comics at the time. He didn't have a big enough ego to consider chasing the fame. He needed to work, not financially but because he had never known anything but work, so he just quietly carried on."
In fact after Eric died, Ernie performed a sell out tour of a one man show in Australia; in a musical and in the Ray Cooney farce Run For Your Wife, both in the West End; and a couple of radio sitcoms. He also became a regular panellist on What's My Line? and had a cameo appearance in huge American sitcom Too Close For Comfort, a remake of Keep It In The Family.
"He had a really successful and very varied career post-Eric. To start with when Eric died they tried to team him up with other people, like Bernie Winters, but Ernie didn't want to try and replicate what he'd had with Eric."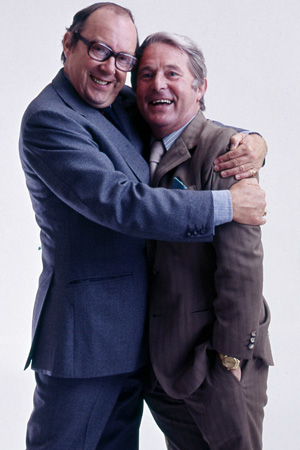 It's a shame that Ernie's career after Eric's death isn't considered the success it actually was. Ernie proved he could, and indeed did, work without his former partner, something James thinks it's hard to imagine Eric doing without Ernie: "When Eric said 'I don't like it when you're not there, I get a draft down my left hand side' he meant it. Eric needed Ernie but Ernie was much more self-sufficient."
The last years of Ernie's life saw his health fail him but he was anything but the sad and pathetic figure the hatchet job 1993 BBC Forty Minutes documentary The Importance Of Being Ernie tried to portray him as. He had enjoyed a deep and loving marriage with Doreen as well as a phenomenally successful working partnership with Eric, which had bought him financial security and the ability to pursue his passions of travelling the world and sailing.
And now 15 years on from his death, Ernie Wise and his short, fat hairy legs are still part of our Saturday night viewing with the BBC Two highlights series The Perfect Morecambe & Wise. There have been countless documentaries and retrospectives about Eric and Ernie in recent years and at Christmas you can't move for repeats of the classic festive specials.
Hopefully Ernie's contribution to the partnership is more appreciated now and James agrees that the public and the showbiz profession hold Ernie in much more affection now than when he was alive. Maybe it's as a result of all the documentaries and analysis of what made them so funny and still so enduringly popular that has highlighted the massive part he played in creating the timeless comedy new generations enjoy today.
Finally I asked James to sum up Ernie's contribution to British comedy.
"Sir Michael Parkinson said 'Ernie was the maypole around which Eric danced' and that sums it up perfectly. Everything Eric said that made people laugh was based around Ernie. Without him there would've been no Morecambe and Wise, and Morecambe and Wise were the Zeus of light entertainment. There's nothing bigger. You take away Morecambe and Wise and light entertainment loses the entertainment half."
At the end of Ernie Wise's biography, the authors suggest that next time you watch Morecambe and Wise you shift your focus to Ernie for a while. Watch what he does, how he reacts to Eric, how he keeps the pace of the sketch or comic patter to the audience moving along and how he reigns Eric in to keep him on track. Look at him sitting in bed having composed his fourteenth play the afternoon, or unlocking the combination on his wallet. Watch the sheer unbridled joy on his face when he's singing and dancing, the way he believes Eric really is playing Grieg's piano concerto, how he's putting his all into There Is Nothing Like A Dame and most of all, how he's still on his way to Hollywood in Singing In The Rain.
Eric and Ernie were known in the business quite simply as 'the boys'. No other explanation was needed. They were a team, a partnership; they were closer than any brothers, Edie Braben said, but above all, as Morecambe AND Wise, they were equals. Together they made the greatest comedy double act this country has ever seen.
So next time you're sitting down to enjoy the boys' timeless comedy, take James and Robert's advice. Watch Ernie for a while. And I bet you can't see the join.
Here's Eric presenting Ernie with the This Is Your Life red book. Sort of.
In the following clip from 1992, Ernie Wise talks on the BBC's daytime chat show Pebble Mill:
And finally, the famed Singing In The Rain routine: