Eric Morecambe: Keeping the sun shining
When I was a little girl in the 1970s, Saturday night TV was a big thing. There were only three channels to choose from so everyone joined together as a family to watch the top entertainers of the day: Tommy Cooper, Dick Emery, Mike Yarwood, Bruce Forsyth and The Two Ronnies.
I loved them all, lapping up every character, impression, gag, routine, dance step and song. It was pure glamour and old fashioned family entertainment. I took it all in, sat with with my Mum, Dad, grandparents and Uncle; a glass of fizzy cherryade in one hand and a Wagon Wheel the size of tractor tyre in the other. We knew how to live in the 70s.
But my absolute favourites were Morecambe & Wise. So when, on 28th May 1984, I woke to the news that Eric Morecambe had died from a heart attack, I was devastated. Just over a month before I had watched Tommy Cooper die live on TV and now Eric was gone too. He was only 58 years old and one half of the greatest comedy double this country has ever produced.
30 years on and Morecambe & Wise are as popular as ever. There are repeats of their shows at Christmas, ever-more clip shows, and recent documentaries aired on both the BBC and Gold delved deep into the history of their partnership.
There have also been a spate of dramas based on Eric and Ern's lives, not to mention the stage play Morecambe, currently on tour with Bob Golding playing Eric and all the other 55 parts required to tell his life story. The associate producer of this show is none other than Eric's son, Gary Morecambe.
I had the privilege of chatting to Gary about his dad's comedy legacy. I started by asking him with why he thought the public was still so fascinated by Morecambe & Wise after 30 years?
"I don't know. I wish I could bottle that one. Although I think there are a couple of reasons. Firstly the public knew they were never about being a business. Unlike many entertainers now who have their own production companies and film companies etc., there was no other side to them. They were genuine entertainers. Also no one has come along and been allowed, and I mean been allowed, to match them. It's like The Beatles. People might out-sell them but they'll always be The Beatles. Eric and Ernie have earned that accolade. Comedians today may sell more tickets but they'll never be considered in the same bracket as Eric and Ernie."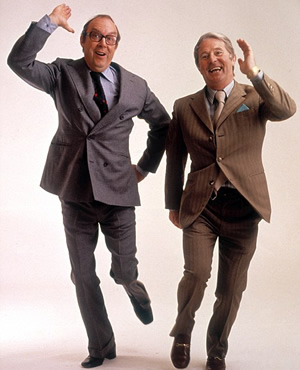 It took 10 years after Eric died for a resurgence of interest in Morecambe & Wise to really begin, something Gary attributes to a series of three BBC documentaries, Eric & Ernie: Bring Me Sunshine, fronted by Ben Elton in 1994 to commemorate the 10th anniversary of Eric's death. This brought their comedy to a whole new audience and put them at the forefront public consciousness once more.
"Someone once told me that it takes 10 years for any kind of entertainer to find their level in the history books and that proved to be very true. Eric and Ernie needed that silence and they got revalued and shot to the top again. It was wonderful that it all came back."
What followed was what Gary calls the "cottage industry" of Morecambe & Wise. The books and documentaries really began to take shape from 1998 with the Omnibus documentary Bring Me Sunshine: The Heart And Soul Of Eric Morecambe, which Gary set up. He then wrote his first book about his dad, Behind the Sunshine, a collaboration with the writer Martin Sterling.
Before becoming a full time writer, Gary worked for the esteemed talent agency who represented the duo, Billy Marsh Associates. Although he has written other books I asked him if his work writing about and commenting on Morecambe & Wise ruled his life, and - if so - did he mind?
"Yes and no. For me it's just wonderful to be talking about it. I absolute love it because it beats having a real job," he laughs.
The 'business' of Morecambe & Wise keeps not only Gary busy but also his mum, Joan, and sister, Gail. I wondered how they all deal with the attention.
"We're all very different with it. My Mother and myself don't really seek any attention personally but if there's anything needs doing to do with Morecambe & Wise we'll do it. We'll do the documentaries and the newspaper interviews and that's fine."
Gary's sister Gail has only got involved with Morecambe & Wise in the last 5 years and travels around the country giving talks, followed by Q&A sessions about their father.
"She's much more extrovert than me and it's more her personal journey talking about the humour as his daughter. I think that's very interesting and works much better coming from that angle."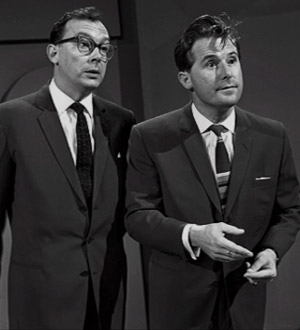 Nowadays most people know Morecambe & Wise from TV but they started life as a variety act in live theatre and then made the move on to radio, which was a huge medium for comedy and entertainment in the 1950s. After a well-documented false start with their BBC TV series Running Wild, they found success at ATV from 1961 with The Morecambe And Wise Show (pictured) and Two Of A Kind.
It was not until 1968 and a move to the BBC that what is widely considered their golden age began, particularly when Eddie Braben became their lead writer the following year.
They continued to tour and do some radio for a while, which they enjoyed, but gradually TV took over: "Their careers were very much on the basis of progression so they felt they'd done radio in the same way they felt they'd done summer seasons and panto, and eventually that all went."
Of course another reason the live work had to go was Eric's health. It was just too arduous to tour and everything was put into making the TV shows - particularly the Christmas specials - just right. It was Eddie Braben who said that the nation's Christmas stood or fell on the quality of The Morecambe And Wise Christmas Special, and although I'm sure said tongue in cheek, Eric especially felt a mounting pressure to make those shows not just perfect but ever-better.
We've all the heard the legend of the Queen moving the family's Christmas dinner so they could watch Eric and Ernie, and of course no one has ever bettered (nor in this age of multi channel TV are they likely to) the ratings for the 1977 Christmas show, when an estimated and record breaking 28,835,000 people tuned in.
Eric felt the pressures of show business more keenly than Ernie, who could switch off and relax. Eric was 'always on' and when I asked Gary if there's anything he'd like to ask his dad now, his answer was very poignant: "Why didn't he relax more? That's the recurring thought I have about him. If he had, he probably wouldn't have had all his health problems."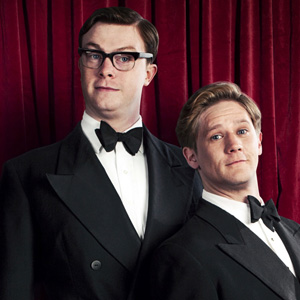 Gary revealed that he did once ask him why he didn't slow down and his dad's reply was very telling: "He said he thought that if he ever stopped he might not be able to get started again. He was about to take more time out just before he died - but then he was always about to."
Right back to the days of Mike Yarwood people have done impressions of Eric Morecambe and recently there have been many stage and TV interpretations of the life of Eric and Ernie, which Gary and family all enjoy. But I wanted to know, in Gary's opinion, who has captured his dad the best?
"If I was pushed I'd say Bob Golding. There's just something about how Bob brings out the rather dark element, with his health and so forth. Although I thought Daniel Rigby (pictured) deserved his BAFTA. I don't actually see Daniel, I see my father. He captures his mannerisms so well I don't actually see the actor."
The family can't quite believe there are still so many programmes made about the comedy duo after all these years. Gary says, "Most people only have one documentary made about them but they've had so many it must be some kind of record?"
When pressed for a favourite from all the retrospectives, dramas and stage shows about Morecambe & Wise it's the documentaries Gary enjoys the most, specifically those that contextualise and highlight the social history of the time, as well as telling the Morecambe & Wise story.
"Eric and Ernie's story was such a long one and the story has continued for such a long time after their deaths," he said.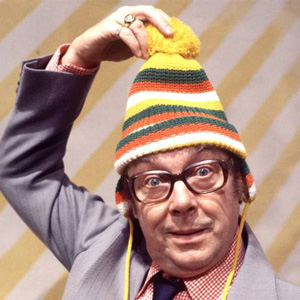 Gary recently took part in the two-part, 180-minute BBC series Morecambe & Wise: The Whole Story. It followed the boys from the very beginning of their separate showbiz journeys to the abrupt and untimely end of their partnership 30 years ago today. It was intended as the documentary to end all documentaries on the double act but we both agreed that there is probably more to say: such as documentaries about their films with rare footage, the various stage and TV productions and the people who have played them since their deaths, or their 17 appearances on The Ed Sullivan Show in America.
We also both agreed that the end of The Whole Story was a little rushed and more could have been said about their years at Thames, what Ernie did after Eric died, and how their comic legacy continues now - which led me on to who Gary thought Eric would laugh at today...
"Miranda Hart. What's really great about her is she proudly admits she's stolen all Eric's tricks and looks to camera, and I think Lee Mack would make him laugh. He has that movement that Eric had. There are a few out there he would admire. He'd admire the sheer work rate at least."
When Eric died the world of comedy was undertaking a massive shift in style and content. I asked how Eric would've coped with this had he lived?
"My dad never liked swearing so he would have found alternative comedy very difficult. He always liked Rowan Atkinson though. Rowan would come to the house when he was still at Oxford and talk about comedy. But The Two Ronnies were his favorite. He always used to make us all be quiet when it was on. He and Ronnie Barker were great friends. He loved Open All Hours too; he thought that was a great piece of work.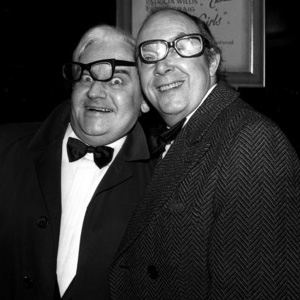 "Dad and Ronnie used to exchange letters and funny postcards and Ronnie would come to the house for supper. Ronnie Barker was slightly in awe of Dad and Dad loved that, being treated like the head boy."
With so much of Gary's life taken up with Morecambe & Wise, I wanted to know how hard it was to separate the 'cottage industry' from the fact that he lost his father at the age of just 58. Did he ever get upset talking about Eric and just stop and think 'I miss my Dad'?
"Yeah I suppose a very little bit, but not desperately. Because of the work I do I've learnt to separate the myth and the performer from the real man. I know it was absolutely true that they were very similar, which is nice to report, but I suppose the times when I feel a little more sad and melancholy is when I look at old photo albums and snaps from holidays."
In the winter Gary spends time in Portugal and recently visited where the family had a villa when he was a child. He says: "It's now surrounded by apartments where it used to be green fields and there was this little villa and it really took me back. When we visited there he was at the height of his fame and it was all happening and now 30 years have passed. I'm now older than he was when he died and I think about what has happened in the last 30 years and then, yes, that's when I start to think more about the loss of a parent."
However with a dad like Eric Morecambe to talk about there's little time to be sad. Gary delights in keeping his father's name alive in the public's conscience.
"The huge bonus for me and Gail is he's sort of 50% still been there for us. We've had that really privileged thing of still being able to talk about him. Big screen, small screen, books; he's always been there. If it all stopped we'd feel very bereft. I find it very comforting. It really is wonderful. The strangest thing would be if it happened in my lifetime that it all just went away."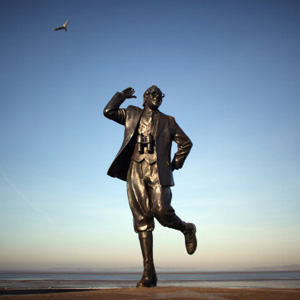 30 years have now passed since that fateful morning when I got up to go to school, turned on my bedside radio and heard Eric Morecambe had died. In that time I must have bought every book written about Morecambe & Wise, gathered every DVD, recorded every documentary and read every article I could find about the pair. My son is now 4 years old and recently I showed him his first Eric and Ern sketch, the Singing in the Rain routine. As soon as that drainpipe full of water spilled over Eric's head he was laughing alongside me. "Pow, he's in," I thought, another generation has got it. The legacy continues because classic comedy never dies. Funny is funny whatever age you are.
During the interview we heard a siren go past at Gary's end of the phone line. We were chatting away but we both just started to laugh. "Do you want to say it or shall I?"
"We don't need to, do we," replied Gary. "My father always said he thought that was the best gag Eddie Braben ever wrote."
But then, it was delivered by one of the best comedians we're ever had.
Eric Morecambe OBE died in the early hours of Monday 28th May 1984, after collapsing from a heart attack in the wings of the Rose Theatre, Tewkesbury, the previous evening.
A plethora of books and DVDs of Morecambe & Wise are now available, including the complete surviving BBC TV series
Here is a clip of that celebrated musical sketch:
In the following clip from 1976's Christmas special, Eric tries his musical charm on Angela Rippon.