Beano comic is celebrating 70 years of its most famous character and the nation's favourite ten-year-old, Dennis The Menace.
Instantly recognisable with his red and black striped jumper and spikey black hair, the character first skyrocketed to fame after appearing in a Beano strip on 17th March 1951. He has been entertaining generations of children ever since.
To celebrate the anniversary, Beano has also revealed 70 facts about the nation's favourite rebel:
---
1. Dennis was born when the editor of Beano, George Moonie, heard a music hall song called Dennis the Menace from Venice.
2. Dennis's surname is actually Menace. Mum and Dad are Sandra and Dennis Menace.
3. Dennis arrived in Beano No. 452, dated 17th March 1951.
4. The American comic strip of the same name debuted in US newspapers in exactly the same week... a complete coincidence!
5. Dennis lives at 51 Gasworks Road, Beanotown.
6. Dennis's birthday is 17th March - except he's always 10 years old.
7. Dennis's first comic-strip appearance showed him walking into the park with his father, where a sign is planted informing visitors that they should 'Keep Off the Grass' - his first brush with killjoy grown-up rules!
8. Dennis's first ever spoken line was "Keep off the grass, huh!"
9. Dennis doesn't wear his iconic red and black jumper in the first comic - instead he wears a shirt and - horror - tie!
10. Dennis's fan club has over a million members, including Mark Hamill, who played Luke Skywalker in the Star Wars movie franchise.
11. The first three artists to draw Dennis were all called David.
12. Dennis's legendary dog Gnasher is an Abyssinian wire-haired tripe hound.
13. Dennis found Gnasher wandering the streets of Beanotown in 1968.
14. The instruction to the artist first tasked with drawing Gnasher was to "take Dennis's hair then give it a face and four legs".
15. Dennis was billed as the "World's Wildest Boy".
16. When George Moonie wanted to introduce more rebellious kid characters, he started with Minnie the Minx, "a female version of Dennis the Menace".
17. Dennis and Minnie first appeared together in the same comic strip in 1954.
18. Dennis acquired his iconic striped jumper in April 1951, although his friend Curly is seen sporting it in the earliest strips!
19. Dennis's jumper is red and black because those were the two strongest colours of ink available to printers in the 1950s.
20. It was revealed in 2015 (issue 3,932) that Dennis's father was the Dennis the Menace from the 1980s.
21. Dennis replaced Biffo the Bear as Beano's cover star in 1974.
22. In 1993, on the cover of Beano 2,674, Dennis used a hosepipe to spray the whole cast of the comic with technicolour paint, marking the first Beano to be printed in full colour throughout.
23. Dennis's first cover story consisted of him using the issue's free gift, the Happy Howler, to torment people at an opera.
24. Dennis has a little sister Bea, who was born in issue 2,931, dated 19th September 1998. She got her own comic strip - Beaginnings - in issue 2,935.
25. The original Dennis and the new Dennis have subtly different designs. The order of the red and black hoops on their jerseys are opposite - the original Dennis wore black-red-black-red from the collar down. Today's Dennis wears red-black-red-black from the collar down.
26. Gnasher's name was added to the story's title in 1970.
27. In the first ever Dennis strip, the family had a pet terrier, which hasn't appeared since.
28. Dennis's pet pig Rasher debuted in 1979.
29. Dennis proved an immediate hit with kids, leading to the introduction of more rebel kids to Beano, including The Bash Street Kids and Roger the Dodger.
30. In 1986, Dennis's beloved Gnasher disappeared. Distraught, Dennis asked readers to join him on a "Gnational Gnasher Search". After seven weeks, it turned out that Gnasher had fallen in love with a beagle and become a father.
31. Gnasher's pups are called Gnipper, Gnatasha, Gnaomi, Gnanette, Gnorah and Gnancy. Dennis's gran adopted Gnipper, the only pup who looked like Gnasher.
32. In 1991, Dennis replaced his shorts and stripy jumper with a tracksuit, sunglasses and a Walkman. It turned out to be a publicity stunt, however - Dennis sets trends, he doesn't follow them.
33. Dennis and Gnasher's first regular TV appearance was as puppets on their own show.
34. In 1996, the first Dennis and Gnasher animated series was launched by CBBC, with a second series following in 1998.
35. Dennis kicked off the new millennium by charging 50 pence to access the Menace Dome, a more 'menacing' version of the Millennium Dome.
36. In 2000, Dennis became the mascot for Beanoland at Chessington World of Adventures theme park.
37. In 2003, Dennis appeared as a playable character in the PC game Beanotown Racing.
38. A 'Dennis and Gnasher' Minecraft mod was launched in 2014.
39. The CBBC CGI animated series Dennis & Gnasher Unleashed! first aired in November 2017 and is now in its second series.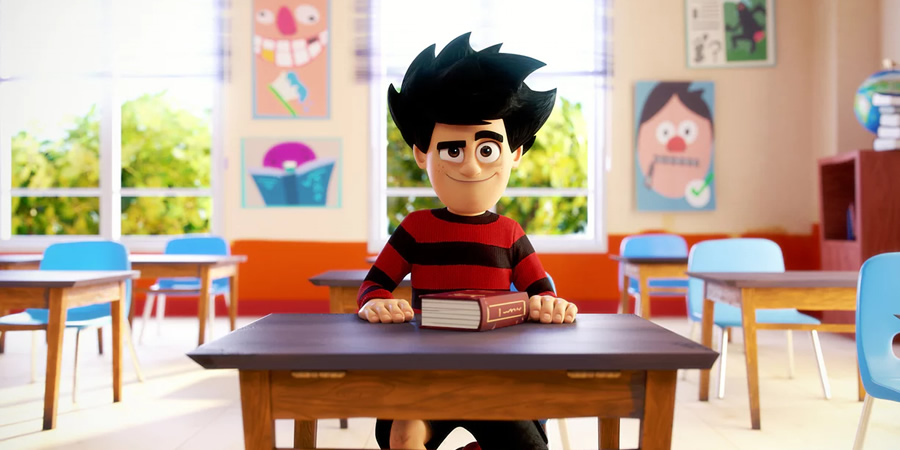 40. Dennis's best friends are JJ, Rubi and Pie Face.
41. Dennis and Minnie the Minx are cousins - their mums are sisters.
42. Dennis's arch rival is Walter Brown.
43. Dennis is voiced by Freddie Fox in Dennis & Gnasher Unleashed!.
44. Guitarist Mike Campbell wears a Dennis and Gnasher t-shirt in the music video for Tom Petty And The Heartbreakers' I Won't Back Down.
45. In 2018, the Isle of Man produced a set of Christmas postage stamps featuring Dennis and Gnasher.
46. Darts player Dennis Priestley is known as "The Menace" and wears a shirt with the familiar red and black horizontal bands.
47. Paul Weller wears a Dennis and Gnasher badge in several of his music videos.
48. Dennis's favourite thing about school is the bell that rings at 3:30pm!
49. Dennis attends Bash Street School.
50. Dennis's teacher is called Mrs Creecher.
51. Dennis and his friends are in a band called the Dinmakers. Dennis plays guitar and sings.
52. According to a story in issue 3,244, Dennis and Walter are distant cousins. Dennis is horrified by this revelation.
53. In one episode of the 1996 series, Dennis wins a Blue Peter art competition and is invited onto the set. When "his" winning drawing is revealed on air, however, it turns out to be a bunch of splodges that Gnasher made, with the judge apparently oblivious to Dennis's actual drawing on the other side of the page.
54. Dennis's dad once ran for election as mayor of Beanotown, but lost out to Wilbur Brown, Walter's dad.
55. Dennis's parents got a makeover from Gok Wan in 2012.
56. The infamous duo became movie stars when Dennis & Gnasher Unleashed! On The Big Screen, a 70 minute feature film, screened in Vue cinemas during the October 2020 half term.
57. In 2018 Beano and CBBC released a free-to-play free-running / parkour, platform mobile game called Dennis & Gnasher Unleashed: Leg It! where you slime your enemies and run, jump and slide your way to victory.
58. In 2013, Dennis and Gnasher were joined by the likes of One Direction, Olly Murs, David Tennant and Jessie J to put on a charity show for Comic Relief.
59. In January 2000, Beano readers chose Geri Halliwell to appear with the man they thought was most like Dennis, DJ Chris Evans.
60. In the first teaser trailer revealing Jodie Whittaker as the new Doctor Who, Dennis can be seen on the cover of the 1981 Beano Summer Special she is reading.
61. In the 75th anniversary edition of the comic, Sir Alex Ferguson and David Beckham were immortalised in the Beano, when Becks decides to move to Beanotown.
62. In 1987, Dennis added Dasher the spider to his collection of animal sidekicks.
63. A strip released in 2018 predicted what would happen if Dennis and his friends gatecrashed Meghan and Harry's Royal wedding. It was not a success as Gnasher ended up eating the wedding cake.
64. When Dennis met the Prince of Wales in 2012, he broke with protocol by offering to shake HRH's hand. Luckily, when the prince reciprocated, Dennis cheekily withdrew his hand and thumbed his nose at the surprised royal instead!
65. Dennis lives in Beanotown. If you've never been there, it's less than an hour away by skateboard, no matter where you live.
66. Dennis's iconic red and black striped jumpers are knitted for him by his Gran.
67. While readers are used to knowing what Gnasher thinks, Dennis can actually talk to his dog just once a year - at Halloween.
68. Dennis's catapult is made from oak, surgical elastic and leather cut from one of his dad's old biker jackets.
69. Dennis has a treehouse in his garden and a den in Beanotown Woods.
70. Dennis is the captain of Bash Street School's Super Epic Turbo Cricket team.
---
To celebrate the anniversary famed long-time Dennis artist, Nigel Parkinson, has drawn 'the Evolution of Dennis'; a bespoke illustration commissioned by Beano demonstrating the subtle changes to the character's appearance over the decades.
A commemorative issue of the comic, guest edited by TV star and "prankster extraordinaire" Joe Sugg, is available in stores from today (Wednesday 17th March). The 48-page bumper edition of the comic includes multiple strips penned by Sugg himself.
In 'Birthday Prankaggeddon' Sugg teams up with Dennis to unleash the ultimate prank on the residents of Beanotown, including a Dennis transformation of Joe's girlfriend Dianne Buswell's hair. Part of the strip storyline was inspired by an episode of the 1990s animated series that Joe watched as a child. The comic also features a four-part strip 'I am Dennis', which sees the whole of Beanotown unleash their inner Dennis to save their favourite mischief-maker from a dastardly plot by the Mayor and Walter Brown.

The special issue also features a pull-out Menace Family Tree poster which traces Dennis's heritage and celebrates the many generations of Dennis who have entertained children over the last 70 years.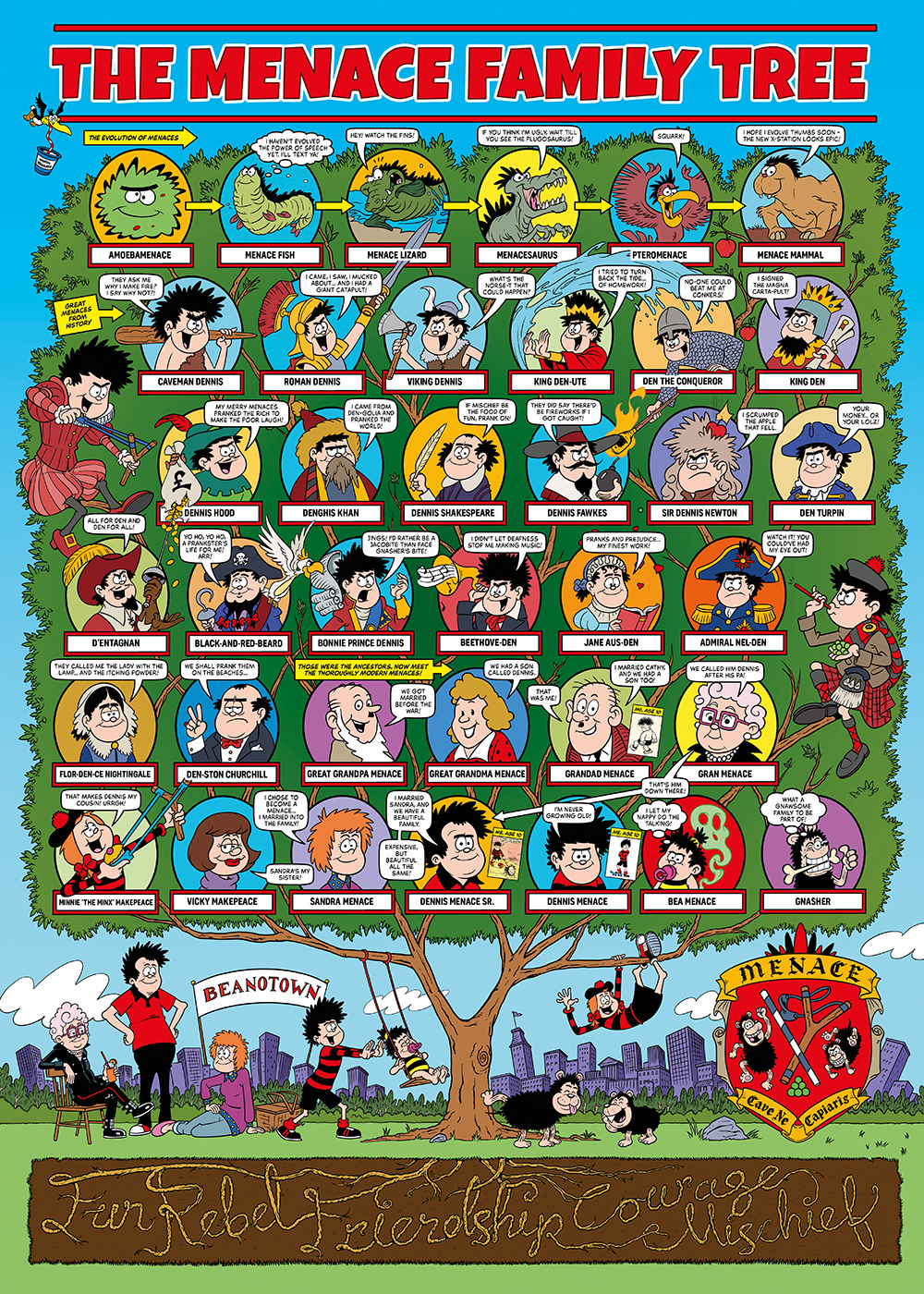 The ultimate collectible for fans, the new issue also confirms that Dennis's dad is the 1980s-era Dennis grown-up and his grandad is in fact the original 1951 Dennis. It also reveals some new ancestors of Dennis including Pranks and Prejudice author Jane Aus-Den, rebel Dennis Fawkes and the prehistoric Menacesaurus.
Mike Stirling from Beano Studios says: "We're celebrating 70 years of Britain's favourite ten-year-old! For 70 years, the Menace family has been spreading laughs and unique Beano cheer across multiple generations of children and adults alike. It's fantastic to see the impact today's Dennis has on kids, just like his dad and grandad did before him for readers in the 50s-80s.
"We believe that everyone has a little bit of the Dennis spirit within them, so this March 17th, on his birthday, we're encouraging everyone to be more DENNIS for one day to see how many laughs and smiles you can spread."