EastEnders and Comic Relief: Murder and misery have never been so much fun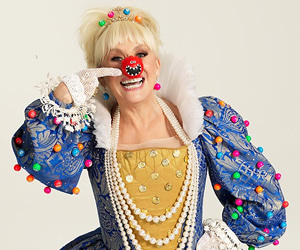 A look back at the classic comedy partnership that's been saying pants to poverty for over a decade...
Over the years, EastEnders fans have been treated to murder, suicide, incest, crack addiction, and a festive Easter special that saw Max Branning buried alive. But, once every couple of years, the residents of Albert Square get to take a break from wedding devastation, revenge killing and baby snatching with the aid of some much-needed Comic Relief.
Since its founding in 1985, the charity has teamed up with the EastEnders cast a number of times to say pants to poverty. Comic Relief has cornered the market in serving up the unexpected - from Hugh Grant snogging Dawn French, to Gordon Brown joining JLS (see the 'Smithy saves Red Nose Day 2011' video just below) - and turning the relentlessly grim EastEnders plot twists on their head has now become something of a Comic Relief tradition.
When it comes to sending themselves up, the residents of Albert Square have always been game for a laugh, and none more so than Babs Windsor. Jackpotjoy's bingo queen has starred in almost every Comic Relief EastEnders special, and she's set to make a knockout return this year too.
With Red Nose Day about to get under way, we thought we'd take a look back at this classic comedy partnership to bring you our favourite Comic Relief EastEnders moments...
Kung Fu Peggy
She's broken up her fair share of fights in the Queen Vic, but this year Barbara has taken her street fighting skills to the next level. The pint-sized former east-ender and newly crowned Queen of Bingo has been boning up on the martial arts, learning kung fu for Comic Relief. In a new sketch created with one of the charity's partners, leading bingo site Jackpotjoy, Walford's no-nonsense landlady takes on a gang of burly thugs, hell bent on stealing her comedy conk. She may be only 4' 11", but don't mess with her - the Carry On legend performed all her own stunts in this kung fu spectacular that really packs a comedy punch.
Singing in the Rain
Worried that the soap might be pushing the dour envelope a little too far, Alan Yentob swoops in to threaten the unthinkable - if EastEnders doesn't lighten up, he'll shut it down and bring back... Eldorado. *shudder* Cue the sunniest episode of EastEnders you've ever seen. Kat Slater skips through Albert Square, a floppy-blonde-haired Phil Mitchell looks like butter wouldn't melt, and Martin Fowler finds that prison is just dandy, thanks. Sure, Kat might have just revealed that she's Zoe's mum, not her sister, and Zoe might have just run away to become a prostitute, but that's nothing an impromptu performance of Singing in the Rain can't fix! None of the gang can contain their joy, and we don't mind admitting that after years of misery, seeing Albert Square all-smiles like this is more than just funny, it's uniquely disturbing.
Who shot Phil Mitchell?!
Back in 2001, someone decided to finally have a pop at Phil. With a list of enemies longer than the Walford Gazette's obituaries column, Phil was asking for it - but who pulled that trigger? Comic Relief is on the case, breaking the fourth wall in spectacular style to bring us a rip-roaring behind-the-scenes glimpse of EastEnders at work. With Mel Smith and Miranda's Sally Phillips at the helm, it's up to them to puzzle out the show's perfect killer. Meanwhile the cast get up to some cross-dressing slapstick antics as they try to find out which lucky cast member is going to get to revel in all the 'I killed Phil' extra screen time and front page publicity. More than just revealing the identity of the trigger-happy killer, this Comic Relief special lets us in on a heavily guarded secret - that the writing team behind the grimmest show on telly for all these years has been Bill Oddie, Barry Cryer, Danny Baker and Jenny Éclair!