When Hancock met Steptoe
Unexpected encounters with members of the public have always been part and parcel of location shoots, but crossing paths with other shows and their stars is a far less common occurrence. A particularly strange and memorable example of the latter occurred in the summer of 1962, when, as if two separate comic dimensions had briefly merged into one, the former star of a Galton and Simpson sitcom found himself face to face with the current stars of a Galton and Simpson sitcom.
It happened when Duncan Wood, the former producer/director of Hancock's Half Hour and Hancock, moved on to start work on what would become arguably the even more successful Steptoe And Son.
Like Galton and Simpson, Wood had been deeply hurt when Tony Hancock coldly and brusquely dispensed with his services (claiming he craved more creative control), but, thanks to the immediate impact of Steptoe, the emotional wounds had already started to heal and the mood was decidedly upbeat.
Wood was relishing the opportunity to work with two stars - Wilfrid Brambell and Harry H Corbett - who were experienced and disciplined actors, rather than an erratic and (in recent years) cue-card reliant comedian like Hancock. An obsessive pursuer of pacier and more precise methods of filming - he had increased the average number of shots per half-hour episode from 150 to 270 over the course of the past few years, introducing more cameras and making use of better cutting and editing to improve the flow and focus of each scene - Wood was setting new standards of production for the British sitcom, and he was enjoying every moment of doing so.
Tony Hancock, in contrast, was growing ever more depressed and insecure, with his health now in rapid decline. Although he had just moved from the BBC to ITV for a lucrative new contract, and was working on his second movie as a bona fide star, he had been rattled by how rapidly Wood and his former writers had made a mark without him, and, further shaken by the fact that his marriage was now falling apart, he was drinking heavily to block out all of his demons.
Wood, meanwhile, was hard at work planning what was to be the final episode of the first series of Steptoe And Son. Entitled The Holiday, it was about yet another fierce familial struggle between father Albert, who wanted to spend his annual vacation in the same place as always - Bognor Regis ('It's lovely there!') at Mrs Clifford's guest house ('She's expecting us!') - and his son Harold, who was determined this time to break out on his own and spend the time away on an exotic-sounding trip abroad to St Tropez ('Where you can size it all up at a glance!').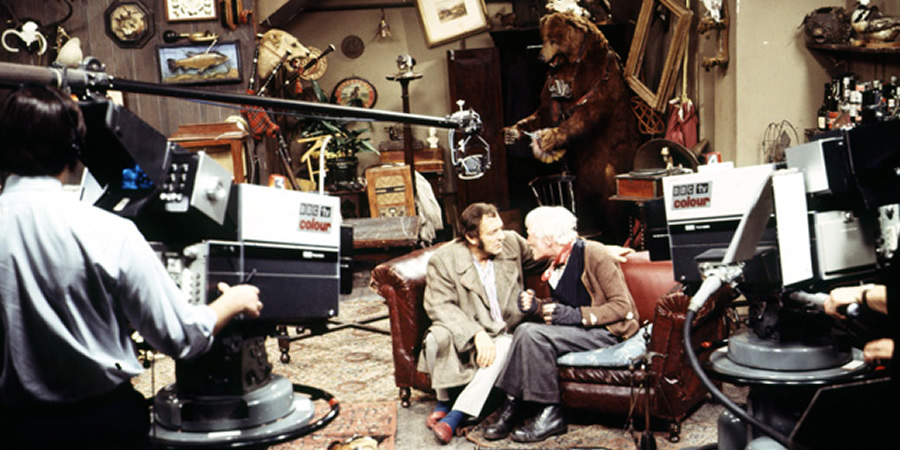 The crafty old father would win, as usual, through a combination of feigning illness ('I think I'll go to bed. I don't...feel very well') and cranking up the emotional blackmail ('I-I don't think I'll go away this year. Might as well be lonely here as lonely somewhere else...'). The final scenes, as a consequence, would have to show the two of them, still tied inextricably to each other, back in Bognor (a beaming Albert in a kiss me quick hat, eating candy floss, alongside a dead-eyed and downbeat Harold, his hands stuck sadly to his sides) while shuffling along the chilly-looking and near-deserted promenade.
Due partly to the claustrophobic nature of the father-son situation, and partly to the constraints of a predictably tight BBC budget, Steptoe, as a production, had spent most of its time so far in the studio, but Duncan Wood wanted these scenes to seem as real and evocative as possible. He therefore won over his bosses - who had suggested initially, as was their wont, that he settle for somewhere in landlocked North Acton to pass as the site of the action - and, in June 1962, he set off with the cast and crew on the ninety mile trip to the much-mocked seaside resort to film the few minutes of footage.
Meticulous as ever, Wood had planned carefully ahead, liaising with the local authorities to ensure that the team would arrive at precisely the right time and place to complete the project promptly and then set off straight back to London. On this occasion, however, there was one factor that would prove a great surprise.
It started as just a blob. Just a distant black blob on the beach.
'It was quarter past eight in the morning,' Wood later remembered. 'Because we reckoned that Bognor Regis promenade would be deserted then. So we set up the film unit, and I had a look through the viewfinder down this deserted promenade...and the only thing I could see was another film unit shooting the other way straight at us!'
The chances of such a coincidence occurring, in such a location and at such a moment, were infinitesimal, and the startled Wood was puzzled as to who on earth it could possibly be. 'I got in the car and rattled down half a mile away,' he later explained. As he drew a little closer, he could just about make out the composition of the other crew - it was considerably larger than his own - and then, as he drew closer still, he was able to recognise some of the individuals involved, and then, most strikingly and astonishingly of all, the star: 'It was Tony Hancock doing [his new movie] The Punch And Judy Man!'
It could hardly have been a more surreal scene for Wood, whose intense five-year working relationship with Hancock had only ended, so suddenly and badly, a few months before. Now Wood, along with some of his own cast and crew (including an inquisitive Brambell and Corbett) who had just caught up with him, found himself face-to-face with his old estranged friend again, this time as the director of the very sitcom that Galton and Simpson had created to take his place.
There was thus a brief but desperately tense moment of awkwardness as, in complete silence, Wilfrid Brambell and Harry H. Corbett, emerging from a car in their Steptoe And Son costumes, stared at Tony Hancock, in his Punch And Judy Man costume, and Hancock stared back at them, as if they were taking part in some strange sitcom stand-off.
It was not quite a case of the men of comedy's present facing the ghost of comedy's past, but the symbolism of the encounter was clear enough to both parties, and Hancock, in particular, seemed, for a few seconds, paralysed to be confronted by the sight of what, in a sense, he had lost.
He had just survived a thoroughly miserable six weeks stuck filming in cold and cavernous studios at Elstree, where, out of boredom and frustration, he had often drunk himself into a stupor, and had somehow contrived to injure himself several times on set (including having a window shatter straight into his face). Now here he was finally out on location, where he had hoped for a rejuvenating feeling of release, and there, right in front of his face, were the people who had replaced him at the top of the television ratings. His dark eyes glistened like lonely seaside stones.
It was down to Brambell and Corbett that the meeting then went briskly from bleak to bright, as the two of them stepped forward to shake his hand and started joking about the situation, working hard to put their pale-faced predecessor at his ease. Then, as the shock subsided, it was soon, more or less, all smiles between the two casts and crews.
'Jeremy Summers, who was directing The Punch And Judy Man, was an old chum of mine,' Duncan Wood would recall, 'and he agreed to abandon [his filming] for half an hour while we did ours, and then we packed up and left him with the location.'
A dazed-looking Hancock, his shoulders shooting up stiff and tense, stood still as they left, staring at his past as it shrank from view. He needed several gulps of brandy before he could resume filming that morning.
Once Summers and his team had completed their task, they cleared up and then went, with a still very reserved Tony Hancock in tow, to reunite with their unexpected visitors. 'We all went down to the local pub,' Wood would recall, 'and I suspect that was one of the longest booze-ups in the history of television!'
Everyone seemed to have fun except for Hancock. He tried to smile, he tried to laugh, but, as he nervously knocked back the drink, he looked like he was haunted - haunted by the thought of what might have been.
The Steptoe episode was broadcast the following month, and ended up as the BBC's highest ranked programme in the weekly ratings. The critics loved it, and praised the series as a whole as 'the best new comedy of the year'. Galton and Simpson celebrated by going on a long and glamorous holiday to Spain. Duncan Wood, after a mumbled meeting with his superiors, was promised a pay rise.
The Punch And Judy Man was released the following year, in April, and received mixed reviews (the Monthly Film Bulletin judged it a 'botched' effort, while The Times considered it 'slight' but with an 'elusive, highly personal, quality'). Tony Hancock himself, however, was its harshest critic of all, admitting that he 'would have liked to have quit the film in the middle, but by then we'd gone too far and I had to finish it'. Reflecting on what he perceived to be a demoralising failure, he said that he simply wanted to creep away somewhere and 'dig ditches' or 'be a beachcomber' - 'anything to get away from it'.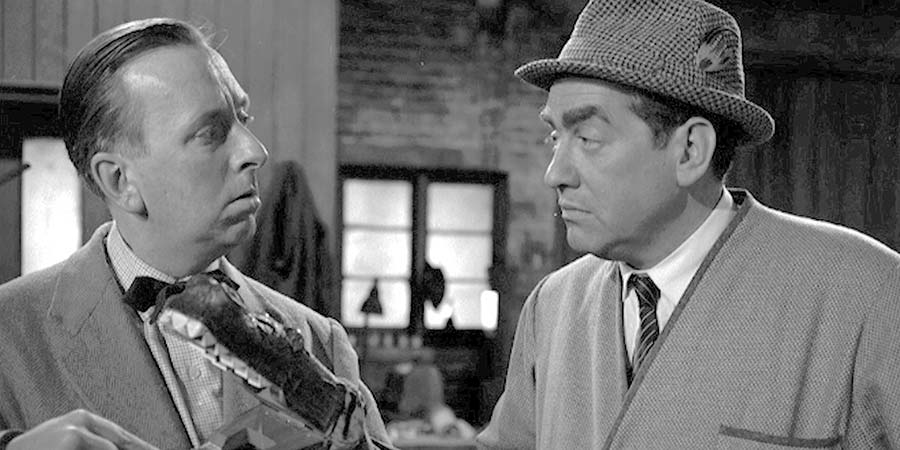 Nothing, after that, would really go right for Hancock ever again. His new ITV shows were scheduled, clumsily and cruelly, straight after the second series of Steptoe And Son went out on the rival channel, and were beaten by it in the ratings as well as the critical comparisons. Deeply depressed, he slipped into a cycle of booze binges, drying-out clinics and half-hearted comebacks that finally ended with his sad and lonely suicide in 1968.
Galton and Simpson, on the other hand, went from strength to strength, and Steptoe And Son would go on to enjoy another hugely successful run when it returned in the 1970s. Duncan Wood's career progressed in a similar fashion, with him being promoted first to the position of the BBC's Head of Comedy and then as Yorkshire Television's Head of Light Entertainment.
Few people knew about that odd encounter back in Bognor in 1962, but, for those who were there, and lived on, the memory of it became all the more poignant as the years went by. There had been Hancock, and there had been his successors, face to face, as the wind blew and the waves crashed, and then, when the people parted again, it was to move in different directions, to meet very different fates.