The Other One
One of my earliest conversations with the actor Richard Briers concerned an old sitcom of his called The Other One. I said that I really liked it.
'You liked it?' he exclaimed, practically choking on his beloved Chardonnay. 'You really LIKED it???'
He was clearly quite incredulous. In his own memory, he had long ago filed the project away as a downright and dismal failure.
The more that we talked about it, however, the more it became evident that, deep down, he had liked it, too, and was actually rather proud of it, but was greatly hurt by the fact that, at the time, it had been considered a total flop.
This is one of the problems with evaluating the history of sitcoms. Not every flop deserves to be a flop, just as not every hit deserves to be a hit. Sometimes a lazily-conceived, badly-written and badly-acted sitcom finds the good fortune to be in the right place at the right time to strike the right chord with the public, and it flourishes; and sometimes an unusual, well-written, well-acted sitcom has the bad luck to reach the screen at the wrong time, during the wrong mood, and it falls depressingly flat.
The vagaries of reception, however, should not determine, entirely, the value of a production. Some so-called flops, when revisited today, really do seem as though they could've and should've been successes, and are ripe for reappraisal.
The Other One, I would argue, deserves to be classed among such candidates. The story of its fate, like that of several others, provides a fascinating insight into how most sitcoms rely on luck just as much as, if not more than, they do on judgement to make their mark on the medium.
The Other One is now so obscure, however, that even the broadcaster responsible for it appears to have forgotten all about it, because earlier this year it launched an entirely different sitcom that is also called The Other One. So for the purposes of clarity, what follows is about the other The Other One.
The original The Other One was a BBC sitcom that ran, increasingly unsteadily, for two series between 1977 and 1979 before it was cancelled and brusquely shoved down the sad chute to obscurity. When one looks back at its origins, however, it seemed to have so much promise.
Firstly, it was conceived of and written by the greatly-admired partnership of John Esmonde and Bob Larbey. They not only had an impressive track record in general, but their most recent show had been The Good Life, a phenomenally popular sitcom that attracted up to 16m viewers each week.
Secondly, it had a premise that was refreshingly unconventional. More than a decade before Seinfeld styled itself as 'a show about nothing,' The Other One was distinctive in that it was set neither in a domestic situation nor a workplace, but concentrated instead on simply following its figures wherever they happened to go, whether it was a cramped casa de pueblo in Spain, a quiet curry house in London or the wide open road in the West Country.
Its two central characters were similarly distinctive, in the sense that both of them were so exceptionally and hopelessly pathetic. At a time when so many British sitcoms were encased in over-familiar and predictable contexts, and driven by at least one or two broadly sympathetic comic figures, there was something undeniably different and admirably idiosyncratic about this new series.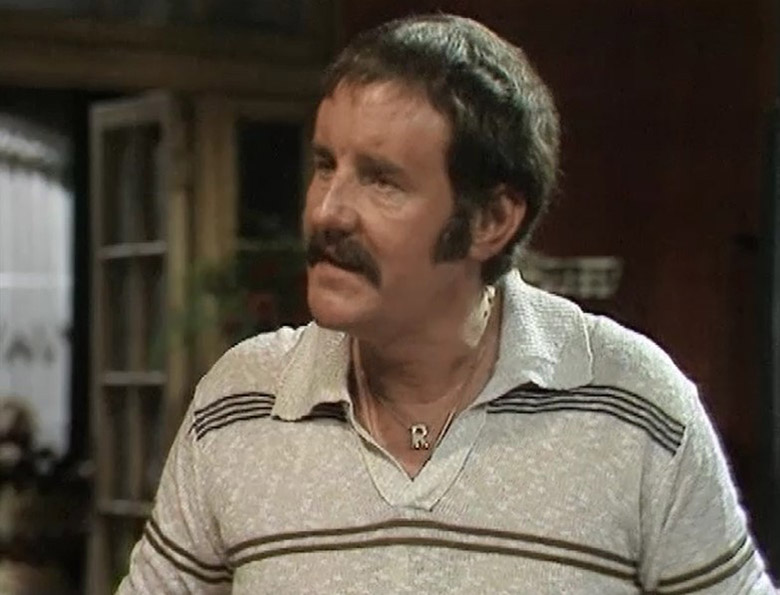 Thirdly, it featured the brilliant and much-loved Richard Briers (also fresh from The Good Life), and the craftily artful Michael Gambon (an impish soul who was already widely admired for his work in the West End theatre, and was described by Briers at the time as 'the most exciting comedy actor I've ever seen'). The pairing of a sitcom veteran like Briers with a versatile stage actor like Gambon was itself an unexpected and intriguing idea that seemed full of real potential.
Finally, it was going to be produced by John Howard Davies, a master sitcom-maker whose past work included not only The Good Life but also Steptoe And Son and Fawlty Towers. Newly promoted to the position of the BBC's Head of Comedy, he appeared to have the power as well as the passion to make this show a success.
So what went wrong? Before we explore that particular issue, we should acquaint, or reacquaint, ourselves with what the show was actually like.
It featured two characters who seemed like stark opposites, but who were actually two halves of a woeful whole. One was a fool; the other one was an even bigger fool.
One of them was Ralph Tanner (Richard Briers), a slippery, shady, shifty little man - employed as a packaging sales rep in the Ox/Beds/Bucks area - with digressive hair, dark darting eyes, a toothy grin and an inexhaustibly devious nature. A self-styled 'lone wolf' (or, as most other people style him, 'the most bumptious, pushy, ghastly man in the world'), he is his own top spin doctor, his own bent Boswell, forever re-describing failures as successes. Craven but cunning, he has accumulated a bulging ragbag of self-serving, and self-saving, verbal conjuring tricks (ranging from the over-familiar shout-out to attractive women just after they have passed safely out of earshot - 'Hello, Sally!...Nice girl, that, very nice. A stopover in Tangiers, I think' - to the non-explanation posing as knowingness - 'I don't say a lot of things. I leave a lot of things unsaid').
The other one was Brian Bryant (Gambon), a straight-haired, straight-faced, straight-suited straight man - responsible for monitoring 'moribund artists' at a minor recording company - who is considered by most of those he meets as 'the most boring man in the world'. He has never been someone who has set his sights on the Big Picture; indeed, so mired is he in the minutiae of life that he is blissfully unaware there is even a Big Picture somewhere to see. Recently divorced and utterly aimless, the closest this lame duck has ever come to a claim to fame, in his own cramped and hidebound mind, was when he came up with the concept of a catalogue of catalogues.
'My idea,' he would explain brightly, 'was that if you wanted to find a particular catalogue, you'd go to my catalogue to find out where to find it.' The project, sadly, perished along with all of the many even lesser ones: 'It was far too big,' he reflected sadly. 'There are ever so many catalogues, you know.'
Brian has a countenance suggestive of someone who is struggling to understand a puzzle that has not yet actually been posed. Ralph looks like he is in the process of working out at least ten random answers, and at least ten random questions, which might suit the context of his current condition. The two men have near-identical droopy moustaches, but whereas Brian's appears to have died of boredom and lain for the crows to peck at on top of his limp upper lip, Ralph's looks as though it is seeking to crawl up deep into his nose and hide away from the world in shame.
These men soon come to seem, in a comically perverse way, like two misfits who were made for each other.
When they first meet, at the start of the first episode, they are in the suitably run-down and impersonal environs of a bar at Gatwick Airport, waiting for the next plane bound for Malaga. Brian, fretting over whether he should have strayed so far away from the relevant terminal, is in a visibly restless, anxious state, twitching and twisting whenever another departure is announced over the loud speakers. Ralph, on the other hand, is straining to seem calm and relaxed, slumped self-consciously in his seat with his arms loosely folded, watching the comings and goings as if he was slouched on the sofa at home watching the day's TV.
When Brian finally calms down enough to sit opposite Ralph at the table, the latter looks at the former with the sharp-eyed, slow-breathed, cold-blooded stillness of a snake ready to pounce on a playful mouse. If this was a nature programme, the action would switch to slow motion as the viewers prepared themselves for the kill. 'First time, old man?' asks Ralph, almost salivating at the sight of his latest prey. 'Yes,' replies Brian innocently, tragically unaware of how close the fangs are to the flesh.
Instantly impressed by this preternaturally relaxed stranger's show of casual worldliness, Brian looks wide-eyed at Ralph as he talks quickly and excitedly, while Ralph, staring off into the mid-distance, affects an air of insouciant indifference as he answers each question with a slow, all-knowing, 'seen it and done it' drawl:
BRIAN: What part of the world are you off to this time?
RALPH: Costa del Sol.
BRIAN: Snap! Flight 147 to Malaga?
RALPH: Yeesss.
BRIAN: Snap! Where are you staying - Torremolinos?
RALPH: Yeesss.
BRIAN: Snap!! Hotel Sol e Mar?
RALPH: Yeesss.
BRIAN: SNAP!!!
Brian is rapidly entranced by Ralph, to the point where no facts seem able to force their way into his new friend's many flimsy fictions. Within a matter of mere minutes since they met, the smugly laid-back 'lone wolf' manages to make Brian, and himself, miss their flight because of his stubborn refusal to be rushed ('I don't move a muscle for first calls,' he intones as Brian starts to budge. 'I go when they've stopped scrumming down to get through passport control, when they've stopped jostling to get through Gate 22, and when they've stopped racing along those ramps to get on to the plane. I don't scrum, I don't jostle, I don't race. I stroll').
The spell remains unbroken even after they finally arrive, sweat-faced and clothes-crumpled nine whole hours late, at their hotel, where, thanks once again to Ralph's hopelessly premature immersion in the mood of mañana, both of their rooms have already been reallocated, and they are forced to share a grubby little staff snug that lacks such basic creature comforts as a telephone, a balcony and a bath. The briefly flustered Brian, as if hypnotised, is quickly reassured by Ralph's weaselly brand of rhetoric:
RALPH: I'm going to say one word to you.
BRIAN: What's that?
RALPH: Luxury.
BRIAN: Well, I don't see how you could say that about a room like this!
RALPH: No, no, no, no. All the other rooms in the hotel! Now, of course, they've got baths and balconies and telephones and wall-to-wall carpets, maids dashing in all the time at the flick of a switch. We haven't!
BRIAN: Well, I don't see that that's such a virtue!
RALPH: All right, old man, all right, perhaps it isn't for you, but for me this room is the goods. It's exactly what I wanted, what I chose. And I'm sorry to say this old man, but let's face it, you've got yourself in here with me, haven't you?
BRIAN: Oh, I'm sorry! You must think me terribly ungrateful!
RALPH: We'll say no more about it. Water under the bridge!
Ralph, by this stage, appears to be just toying with Brian. When, for example, Brian, suitably inspired by his unsolicited mentor's indefatigably positive spirit, declares that he is ready to go out and about exploring the town, Ralph reaches into his protégé's brain to give it another controlling squeeze, affecting alarm that his precious independence is in danger of being infringed:
RALPH: Stop there, old man! Look, I thought we'd established this: there's no point in you building up your hopes of you and me going about like a pair of Siamese twins all the time, all right? In any case, you'd probably see very little of me, because...?
BRIAN: You're a lone wolf.
RALPH: Exactly!
BRIAN: Yes, you're quite right, you know, I must respect that.
RALPH: Fine. You go your way, I'll go my way, and we'll get along just fine.
In a matter of a few minutes more, however, Ralph, secretly fearing that he will now be left to teeter over his own deep and gaping abyss of loneliness, has convinced Brian that he is generously allowing him to tag along with the Tiggerish Tanner for the evening, teaching him how to behave like a knowing native instead of a shallow tourist. That leads to a manically grinning Ralph, following a long and meandering moon-lit walk to the outskirts of the town, mistaking a humble family home for a grittily rustic 'gut Spain restaurant'.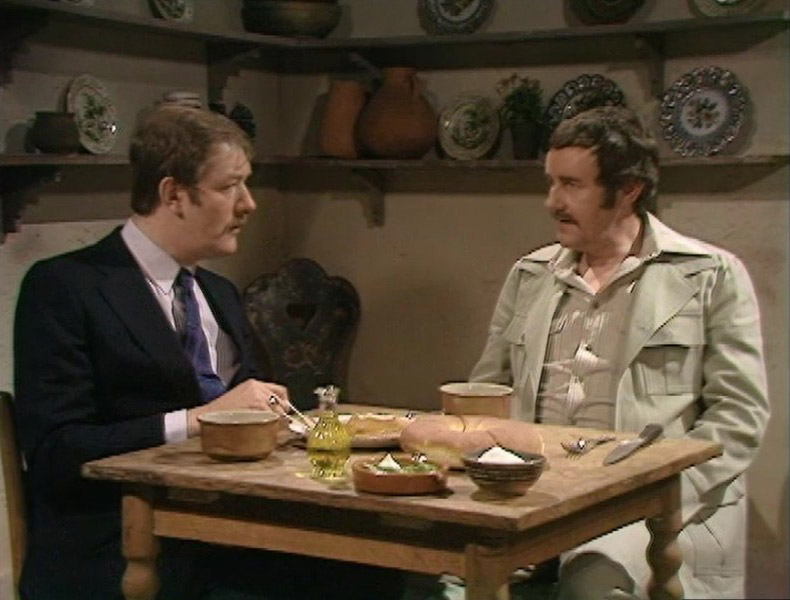 The two men thus walk in, sit at an empty side table and, much to the bemusement of the assembled family, start smiling and gesturing until someone wanders over. 'Right, now then, Signor,' says Ralph, rubbing his hands together excitedly, 'I think we'll kick off with a nice, clear, turtle soup, followed by half a dozen nice, small squids, roasted, then a couple of quails apiece in a nice gamey gravy, and then we'll have some ice cream...cheese...hmm, well, I don't know, we'll see how we feel!'
The confused man, assuming that these strange characters - the one with the sad eyes and the other one with the smiling teeth - might just possibly be acquaintances of his absent but notoriously sociable brother ('He knows lots of foreigners'), goes off and returns with some stiff-looking salt cod and a small loaf of bread. 'You didn't order that,' says Brian bemusedly. 'Ha!' laughs Ralph, slapping himself on the forehead as he desperately tries to think of yet another face-saving explanation. 'I'm sorry, old man, I'm not on form tonight,' he chuckles. 'You see, this is one of those speciality restaurants. You don't order at all, they just automatically give you the local delicacy.' Once again, the pliant Brian is placated.
By this time, however, the family has figured out the interlopers' error, and proceed to relish witnessing what they now regard as the greatest private joke in the world. Called over to the main table, the two Englishmen are offered wine and meat, music is played, and Ralph and Brian suddenly find themselves treated and toasted as treasured guests. 'Fantastico!' cries a still slightly-confused Ralph, as, at the end of the evening, they start to leave, having been assured that the amusement they have caused is all the payment required. 'If you're ever in Luton...,' slurs Ralph gratefully.
'Does this sort of thing always happen to you, Ralph?' asks a deeply-impressed Brian. 'I have to say yes to that, old man,' the lone wolf replies smugly.
'You know, I'd like to say something,' announces Brian suddenly. 'I'd like you to know that today has been the most exciting day of my whole life.' Ralph's eyebrows shoot up like hands at a hold-up.
'You see,' he goes on, 'up to now life never seems to have tapped me on the shoulder. But since meeting you this morning, well, things have been happening. There hasn't been one moment of boring ordinariness. Thank you very much, Ralph!'
Ralph is shaken. His chronically conniving brain cannot quite compute a genuine compliment, lacking any precedent for such a thing in its database, and so is taken by surprise by such a disarmingly sincere tribute. He just stares at his new-found fan with a face of skin-sagging blankness.
'And one more thing,' Brian adds with a little more emotion: 'I want to assure you that I do not intend to become a millstone around your neck day in and day out.' With that, the newly-emboldened Brian announces that he is buying Ralph a nightcap, and, with seemingly longer legs and a stronger stride, promptly marches into the next house that they encounter, only to be brusquely ejected by an angry old woman armed with a broom.
'That wasn't a restaurant,' gasps Brian, back to his downtrodden worst. 'It was somebody's house!' Ralph, swiftly regaining his old faux bravado, bears his teeth and laughs indulgently. 'Never mind, Brian,' he grins. 'You stick with me and you'll soon learn to tell the difference!'
They then amble off back to their hotel, to the tiny room where there is no bath, balcony or telephone, and to many more days in which Ralph will explain things and Brian will believe him. A new trapped relationship has been established.
This was how The Other One began. The rest of the first series followed the pair as they completed their sojourn in Spain, returned to England, reunited, dined in a private box at Lord's cricket ground (where Ralph assured the car park attendant that he was England captain Mike Brearley), suffered individual setbacks (Ralph being shunned, yet again, by all of his company's other sales reps, and Brian snapping at the unreasonable pace expected of logging yet another recording artiste's demise), Ralph stumbling onto a lucrative order from a curry chain in Bangladesh and Brian getting hired as Ralph's salesman sidekick. With each step of the way, they move further from isolation within reality, and closer to unity within a fantasy.
One of the most telling exchanges, where the emptiness that they share is glimpsed most vividly, comes when they are trying to kill time while stranded in a hot and humid abandoned hut (the consequence, inevitably, of one of Ralph's absurd adventures) by reflecting on their past relationships. Brian starts the conversation off by recounting how his ex-wife, Jill, came to divorce him on the grounds of mental cruelty:
RALPH: What did you do?
BRIAN: I bored her.
RALPH: That's not mental cruelty!
BRIAN: Well, it is if it goes on long enough.
RALPH: Well, I'm no lawyer, but no judge would rule that boredom constitutes mental cruelty.
BRIAN: Well, ours did. And, do you know, the more I heard of the evidence, the more I knew that right was on Jill's side.
RALPH: Oh, don't play the martyr, old man!
BRIAN: No, no, but facts are facts. You see, I'm very much a person of patterns and habits. I suppose it all came to a head that Saturday night. We always had sex on Saturday nights, you see.
RALPH: Always?
BRIAN: Always.
RALPH: You never know exactly which night it's likely to be with me, you know!
BRIAN: No, I don't suppose you can with you, but you could with me. Anyway, I remember turning off the television set and saying, 'Well, dear, it's half past ten - shall we go up?' And suddenly she was on her feet in the middle of the room, screaming. Well, more near the door, actually. But it wasn't really screaming, come to think of it. Because she was saying words. She was saying, 'For God's sake, Bri!' - she called me that - 'For God's sake, Bri, why don't you jump on me some other night?' So I said, 'All right, dear. Point taken. Why don't we put ourselves down for this Thursday?'
RALPH: Oh dear.
BRIAN: So she threw the clock through the television set and walked out.
RALPH: I suppose boredom can be mental cruelty.
The subject then prompts Brian, having become the unwitting fuel to Ralph's flights of fancy, to encourage the other one to offer an insight into his own romantic life:
BRIAN: Are you married, Ralph?
RALPH: Me? No! A girl in every port, that's my style - Luton, Dunstable, St Albans...
BRIAN: I bet you don't bore them!
RALPH: No, that's no problem, no! No, I suppose if I do have a fault it's that I'm rather apt to overwhelm people. I get a bit too much for them, frankly.
BRIAN: Yes, I can see that.
RALPH: Can you??
BRIAN: Personally, I find you a most stimulating person.
Ralph is once again taken aback by such a positive remark, and is sufficiently moved to respond as best he can: 'Well, let me say this old man: you are not that boring!'
Brian, however, goes on to prove that, in his own peculiar way, he is stuck just as strongly as Ralph in his sadly solipsistic ways:
BRIAN: Well, you're one of the few people who've ever said that. Most people get that sort of 'look' when I start talking to them. They look as though they want to be somewhere else. Of course, I know what causes it. Two things. A: my subject matter, which generally isn't that interesting, and B: the way I tell it. Well, it's too pedantic. You see - I've just been pedantic, 'cause I've had to divide what I was going to say into 'A and B'. I'm always doing it and I can't help it. I seem to get lost in a welter of adjectival clauses. Well, no, not 'welter,' more 'maze'. You see - I'm doing it again! Sometimes I try to compensate by not saying anything at all. But that's equally boring. So, I think you'll understand that, for someone like you - a lone wolf, a dynamic sort of person - to listen, to actually listen to what I'm saying, without getting bored, is...
Brian looks up into the gloom of the room and sees that Ralph has fallen fast asleep. 'Oh,' he says, recognising a familiar scene. He is not so much sad, however, as satisfied that having a sleeping Ralph is better than a leaving Ralph, and is simply content to remain in the company of his flash new friend.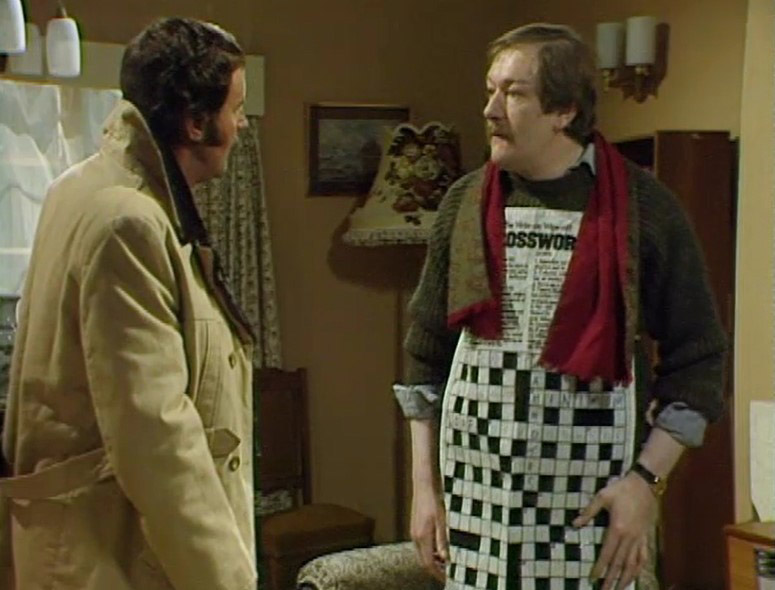 Throughout the series, Briers and Gambon deliver performances that keep switching back and forth from pathos to bathos with cleverness and shrewd comic skill. Their great achievement is in simultaneously playing up the differences between the two characters whilst still conveying what they really have in common.
Briers is quite gloriously slappable as Ralph, but he also gives him a furtive vulnerability that is constantly hinting at greater complexity. It is also a strikingly vanity-free piece of acting, in terms both of costume (he sports a succession of risibly unflattering outfits, ranging from an ill-fitting Saturday Night Fever-style white suit/black shirt ensemble to a paunch-shaded pair of overly-snug swimming trunks) and characterisation (there are times when it is hard to watch, or listen to, Ralph without wincing).
Esmonde and Larbey helped by handing Ralph some delightfully awful lines, which Briers utters with a kind of dim-witted grace: 'Life's never been a straight line for me; it's always been a sphere'; 'You can take Christmas when you want it, of course; I had mine in August last year'; 'I don't like satire, Brian. Doesn't ring bells with me'; 'I whistle all the time; it's a mental whistle'; 'Don't quote Shakespeare at me, Brian. Particularly when he's in one of his cockier moods'; 'Have you tried Libyan champagne?'; 'There isn't a handrail to the top of Everest, Brian'; 'I am a difficult sort of chap to get on one postcard'; 'Brian, am I allowed to get to my crux?'.
Gambon was equally impressive as the incomparably unimpressive Brian. Rather like Stan Laurel when munching on, and increasingly enjoying, a wax apple, he managed to make the blank-faced Brian almost hypnotic in his naïveté, blending maddening blandness with a sweet decency and a strange sense of fragility. Once again, the writers gave him the kind of lines that could have appeared laboured in the hands of lesser actors, but Gambon makes all of them sound funny as well as painfully believable: 'I, personally, am my weakest point'; 'It's not that I've only got grey flannels. I have got other pairs of trousers, but, er, they're just as uninteresting as my grey flannels'; 'You know how people talk of getting a red mist in front of their eyes? Well, I had a sort of pink one'.
There was, therefore, so much that could have and should have made The Other One a big success, but the show still failed. The first series was met with a dogged indifference in 1977. A second series, which only came out as a kind of afterthought two years later, did, if anything, even worse.
So what did go wrong?
One problem, for some, was simply that The Other One was not The Good Life. Coming so soon after such a long-running 'feel-good' style of sitcom, and featuring one of its old stars, was, it seems, too disorienting for many viewers.
Bob Larbey, who was present in the studio for the first recording session in October 1977, noticed that something was unnervingly wrong as soon as the shooting started: 'It was against expectation. That was the problem. Richard Briers was loveable. So you could feel the audience recoil when Richard came forward with the moustache and that smarmy kind of look about him. And that look said, "No. That's not our Richard".'
It was not just Briers's new persona that jarred with some viewers; it was a broader problem than that. In stark contrast to The Good Life's warm and cuddly focus on the trials and tribulations of two amiable couples, The Other One followed the aimless experiences of its two hopeless misfits with a much cooler and crueller kind of wit. By the 1990s, a comedy series such as Seinfeld - the show driven by its 'no hugging, no learning' philosophy - would turn that kind of sitcom into something fashionable, but The Other One, in its own time, struck too many as too odd and unconventional.
Another problem was that the characters themselves were similarly too far ahead of their time. Briers's role of the big-headed and brash buffoon Ralph Tanner would surely have seemed a perfectly good fit in the later era of David Brent in The Office, Brian Potter in Phoenix Nights, Alan Partridge in I'm Alan Partridge and Larry David in Curb Your Enthusiasm, while Michael Gambon's portrayal of the hapless Brian Bryant would also have found a far better reception a decade or so later, where he would have borne a fairly close family resemblance to Rob Brydon's good-natured but sadly deluded taxi driver Keith Barret in Marion And Geoff. Back in the 1970s, however, when a much bigger proportion of the public and critics alike preferred their sitcoms to be bright, light and upbeat, the situation and the characters in The Other One stuck out like a sore thumb.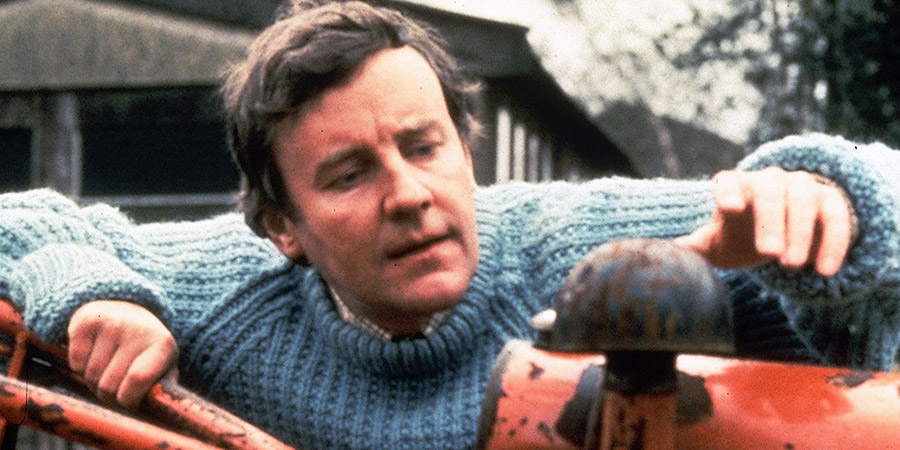 Viewers could cope with the odd monster, such as Alf Garnett, or the isolated misfit, such as Rigsby, or the one-off misanthrope, such as Basil Fawlty - caged creatures the comedy could poke at through the bars with a stick - and they could do so mainly because those figures were placed against a backdrop of (for better or worse) 'normality', with supporting characters with whom the viewers could identify, but Ralph and Brian, as a pair of social pariahs, had no real backdrop aside from their own perception of their odd little world. As for the essentially downbeat spirit of the piece, even Fawlty Towers, which in a way was almost as hopeless at its heart, still managed, thanks to its fast and very familiar farcical style, to fit more into the cultural mode than did the existential awkwardness of The Other One.
One more problem concerned the show's lack of any discernible promotion. Whereas these days there would be plenty of profiles and previews to prepare viewers for what they would be getting, coaxing them into the right frame of mind, The Other One got nothing - no interviews, no articles, no explanatory PR puffery. It simply popped up on the screen one night and was left to find, or fail to find, its niche.
Another surprise was the music. Composed by the doyen of sitcom theme music, Ronnie Hazlehurst, it not only went wildly against the traditional expectation that a sitcom should be introduced with a catchy, cheerful and relentlessly light-hearted soundtrack, but it also represented a departure from Hazlehurst's own track record as the man responsible for such exuberantly upbeat themes as those associated with popular entertainment shows like The Likely Lads, Some Mothers Do 'Ave 'Em, The Generation Game, The Two Ronnies, I Didn't Know You Cared and Are You Being Served?. The nearest in style to this new composition was his contribution to Last Of The Summer Wine, but whereas even that theme was still gently cheerful, the theme for The Other One sounded slow, melancholic and mournful, like a slow waltz around a chapel of rest.
'I don't quite know why he came up with what he did,' Richard Briers would later tell me. 'It was the saddest, slowest, most depressingly downbeat thing imaginable! The first time I heard it I thought, "Oh...Um, oh dear..." You felt like putting on a black tie when you heard it! It really was quite a turn-off for a situation-comedy. It was quite pretty in its own way, I suppose, but it hardly got you in the right mood for a laugh!'
The sum result of all these factors was that too many viewers were either alienated or baffled by the mood and means of the piece, and too few previewers and reviewers bothered even to acknowledge the sitcom's existence, let alone to lend it any support. The odd critic who did deign to discuss the show only seemed to do so in order to convey their confusion and/or irritation.
'It is all too easy to condemn a new comedy on its first episode,' wrote one reviewer, before proceeding to do just that, complaining that 'the laughs were desultory', suggesting that it 'might have been more fun' to see the characters in a situation more like that of The Likely Lads, and lamenting that the sitcom was unlikely to 'fill the void left by Dad's Army'. Another observer, who at least was not quite so obsessed with viewing the present through the prism of the past, merely ventured the opinion, after the second episode, that Briers seemed 'a little lost', and that he hoped the series would soon take 'an about turn into some more promising direction'.
Within the BBC, however, there were still plenty of influential people who continued to believe in, and support, the show. Indeed, Jimmy Gilbert, the Head of Light Entertainment, was an avid fan: 'I liked it enormously,' he would tell me. 'And it wasn't only me: as far as I was aware, most other people at Television Centre loved it, too.' The problem was that, after a few episodes had been shown, it was still failing to build any kind of momentum.
'I don't know why, but the public just didn't seem to like it,' said Gilbert. 'We still liked it, though, so we thought, "Let's give it another go, it's worth another series".'
Rather than give it the greater support (and critical advice) that could have made the sitcom soar, however, the show and its writers and stars were simply left alone to slide swiftly into a slump. The second series crept quietly on to the screen just like the first one had done, and, as it continued to under-perform in the ratings, even some of the bosses seemed to lose faith at a rapid rate. 'Is it finally going to get funny this week?' one glum-faced BBC executive asked of Briers as they passed each other in the corridor. 'I hope so,' replied Briers, all bright eyes and toothy smiles. 'So do I,' muttered the executive as he moved on. The star knew then and there that his sitcom was as good as doomed, and, sure enough, the show was allowed to go out with a whimper after just two series.
There was no 'could've, should've' mentality among the fatalistic broadcasters of the time. If a show failed to find an audience - regardless of how little had been done to help them find it - then, the reasoning was, it must have been a flop all along. 'Our expectations turned out to have been totally wrong,' said a rueful Jimmy Gilbert, 'because the second series had gone down even further, in fact it just went straight out the plug hole at the other end. So, however much we had liked it, there was no flying in the face of the audience, so we took it off.'
It was not as simple as that; it never is. As the satirist Georg Lichtenberg once remarked, 'When a book and a head collide and a hollow sound is heard, must it always have come from the book?' The same might be said about sitcoms and their reception.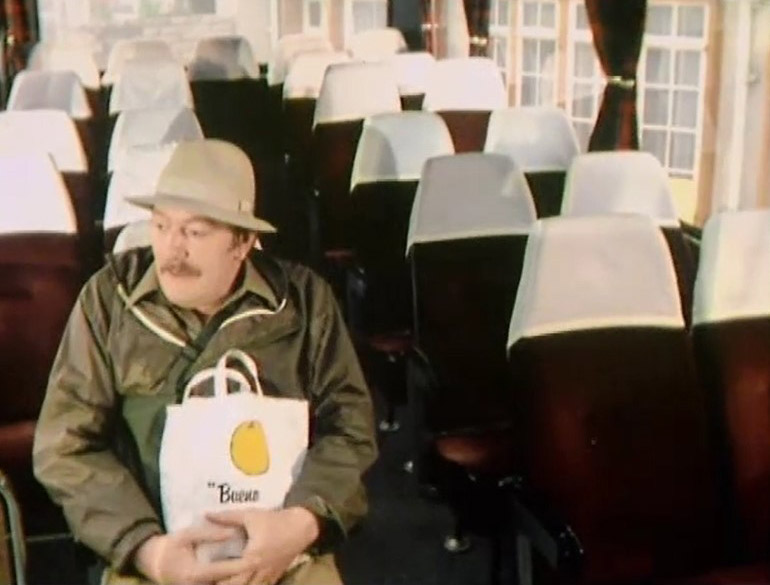 Was The Other One free from flaws? No, as with most other sitcoms of such a troubled and truncated a life, far from it. If one went back and revised it today, one would look to improve the casting of the transient characters, refine the pacing here and there, strengthen a few scenes and themes, think more rigorously about how best to develop and modulate the Ralph-Brian relationship and certainly what one might do with the story arc of the second series, as well as commission a new theme tune and put a call in to the PR department. At the time, however - a time when the likes of Robin's Nest, Yus, My Dear, Mind Your Language and George & Mildred were considered standard sitcom fare (and with Terry & June still to come) - The Other One was brave, thoughtful, imaginative, experimental and far more engagingly playful than much of what else was out there.
Watch The Other One today and it's the studio audience that sounds dated, not the sitcom. Lines that would be embraced today as smart, sharp and slyly ironic often elicited little more than an awkward silence, or a confused and isolated chuckle, at the time. Even a young woman warning the hopelessly sexist Ralph not to address her as 'dear' only induced a seemingly indignant gasp of incomprehension on the soundtrack. In these and other ways, the material and performances seemed aimed at an audience that had not quite yet arrived.
The ironic legacy of The Other One, however, is that it arguably made it more likely that the next Esmonde-Larby-Briers collaboration, Ever Decreasing Circles, would be a success. Stung by their recent setback, the writers would be far more careful to connect their comic vision to the current cultural mood: while Martin Bryce, therefore, would be just as much of a misfit as Ralph Tanner, he would be made - and played - as a more obviously vulnerable character, and some of his prickliness would be pruned by pairing him with such a 'normal' and sympathetic wife as Ann, and pitting him against such an effortlessly successful rival as Paul, while Brian Bryant's mentally beige presence would live on in the less complicated form of Howard and Hilda Hughes. That wonderful show would go on to enjoy the success it so richly deserved, but, if one knows where to look, there are plenty of echoes inside it of the previous sitcom that failed.
It could therefore be argued that The Other One was really a hit that missed: the right sitcom at the wrong time. It is a pity that it was not promoted at all when it first went out, let alone treated (like such other slow starters as Only Fools And Horses were treated) to some audience-building repeats, but it is, if anything, an even greater pity that it has never been revisited, and promoted, since. The first series did, belatedly, receive a DVD release in 2007 (once again with apparently zero effort to push it where more than a few people might find it), but the second series remains unseen on mainstream channels since the seventies, and now the show has been ignored and neglected for so long (in the manner of one of Brian's 'moribund artists') that even its title has been passed on to another programme.
It would be nice if someone at the BBC had another look at its old show, came to appreciate its comic prescience, and finally accorded it the respect it deserves. It would also be nice if someone - anyone - made it available on TV for the audiences of today. After all, it always was, in a way, made for them, and for now.