When Harry met Harold
'Wilson and Worth': it sounds like an old, long-forgotten double act, but these surnames actually belonged to Harold Wilson and Harry Worth, and theirs was a pairing that came together only very briefly, and quite by accident. How it happened, that a politician and a comedian met and became somewhat muddled up, is a strange little story that involves, among other things, a live broadcast, a store cupboard, some cans of corned beef and an iconic item of clothing.
The year in question was 1963. Harold Wilson, at that time, was the forty-seven year-old Leader of the Opposition on the cusp of becoming the next Prime Minister of the United Kingdom; Harold Worth was the forty-six year-old star of the BBC sitcom Here's Harry and one of the most popular British comedians of the period.
The two men, up until this time, had never encountered each other, but, in spite of their very different occupations, they did have a few things in common. Both of them, for example, hailed from Yorkshire, with Wilson having been born in Huddersfield and Worth in Hoyland Common, near Barnsley; both of them came from Labour-supporting backgrounds, with Wilson's father being a political activist and Worth's a struggling miner; both of them had sharpened their wits by playing the notoriously hard-to-please clubs on Merseyside, Wilson (as MP for Huyton) the political ones and Worth the comedy ones; and both of them liked to unwind by getting out into the open air and playing a game of golf.
The most visible element that connected them, however, was an item of clothing: a cream-coloured Gannex raincoat.
Gannex was a special waterproof fabric, manufactured in Yorkshire, that had been invented in the early 1950s by Joseph Kagan, who was a friend of Harold Wilson's. Wilson had first worn the distinctive Gannex raincoat in 1956 while on a world tour as his party's trade spokesman, and the free publicity turned it, for a while, into an international fashion icon. The Duke of Edinburgh was soon pictured in one, as were (thanks to Wilson, who gave them as gifts) Chairman Mao, Nikita Khrushchev and Lyndon Johnson.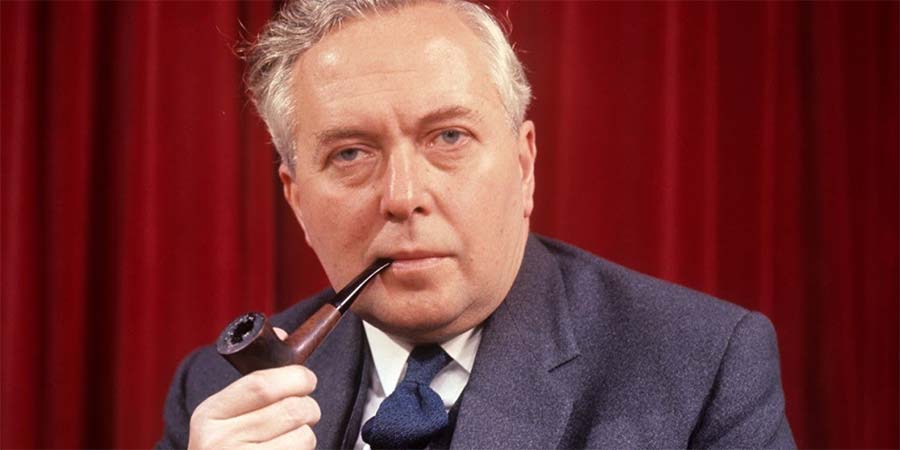 Harry Worth was one of those who followed Wilson's sartorial lead. He bought his first Gannex raincoat in 1959 and, for the next few years, he, just like Wilson, would wear it through every autumn and winter.
Their respective paths, however, never crossed until, on one fateful day, they, and their raincoats, finally came face to face.
It was on the evening of Friday 22 November 1963 that both men found themselves in Manchester. Worth was there as a matter of course, as he was recording his series in the city each week at the BBC's cosy little studio in Dickenson Road, coincidentally on the same night the series was transmitting. Wilson, on the other hand, was there only because of something far more dramatic - the assassination of President John F Kennedy.
The timing of the incident - Kennedy had been shot at 12:31pm Dallas time, 6:31pm in London - had caught British broadcasters off guard: the usual scheduled news bulletins had just finished, and most senior BBC and ITN personnel, including all of the familiar television newsreaders, were now on their way to the Dorchester Hotel for the annual dinner and ball of the Guild of Television Producers and Directors. It was thus left to shaken-looking junior members of staff to make a brief announcement on air, while frantic moves were made behind the scenes to seek out the bosses for further advice.
As far as the BBC was concerned, someone finally made contact with Kenneth Adam, the Director of Television, at about 7:30pm. He decided that the station (there was only one BBC TV channel in those days) should return to its normal Friday night schedule, subject to interruption as necessary. So the schedule duly proceeded with, of all things, a sitcom: Harry Worth's Here's Harry.
In the meantime, rapid plans were made to record tributes from all three of the main political leaders for use in a special programme to be broadcast later that night. Jo Grimond, the Liberal leader, was in Oxford at the time, so he was driven up to the Lime Grove studios in London by some of the University's undergraduates. Sir Alec Douglas-Home, the Conservative Prime Minister, was already in the capital at Number 10, so he was rushed straight into a tiny television booth at Broadcasting House. Harold Wilson, meanwhile, was on a visit to North Wales, so he was driven at high speed to the BBC's nearest studio in Manchester.
As Wilson was on his way, Worth was recording one episode in the studio, with another on the screen. Here's Harry started at 7:45pm and would run until 8:10pm.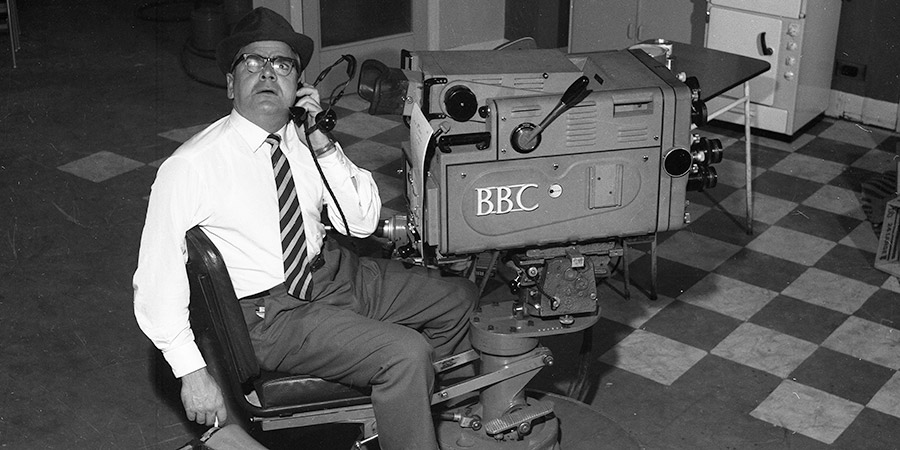 John Ammonds, the show's producer/director, would later recall what was happening behind the scenes: 'I'd heard the news before we started. First of all we were told that the President had been injured, and then a while later we were told he was dead. And I'm afraid, in the circumstances, my first thought was: "Oh God, I hope the audience hasn't heard!" Because we had a studio audience coming in to watch the show. We could only ever fit seventy of them in, that's how small the place was, but they were coming. Anyway, I don't think most of them had heard, because they came in and laughed in the right places and the show went on as usual.'
The real disruption, however, started after the show was over. 'The audience shuffled out,' Ammonds remembered, 'and we were winding things down as usual. I think we'd just about finished recording most of the things in the studio at about half past eight or so, when I got this call re-directed to me from the front reception desk. It was Paul Fox, who was Head of Current Affairs at the BBC at that time. He said, "Look, we're doing these tributes from the leaders. It's all very urgent. We've got Harold Wilson coming straight to you with a really fast police escort. He'll be arriving any minute now. Can you direct this into the network?" So I said, "Well, you know, everyone else has gone home, I'm the only one here..." It was all very sudden'.
The first thing Ammonds did, once he put down the telephone, was to tell his star, who was relaxing as usual nearby, what was happening. 'I said, "Harry, we've got Harold Wilson coming here. Any minute now. He's going to record something about President Kennedy". Harry looked stunned, understandably, and then he sort of calmed down and went with me to welcome Wilson when he rushed into the studio.'
This was when Wilson met Worth. They stood facing each other, looking somewhat bemused by each other's strangely familiar presence, and then, after shaking hands politely, they extricated themselves and, rather awkwardly, took a step back.
Wilson, removing his coat and draping it over a chair, then strode forward to Ammonds and asked: 'Do you have a private telephone? I need to call the Prime Minister directly and check on what he intends to say.'
Ammonds was, for a moment, unsure of how to respond. 'We never normally got asked for anything like that. So when he first asked about it, of course, I went blank. Then I realised there was a phone in the kitchen, this tiny area down the corridor, that was really just a store room or a glorified cupboard - it was that small - where we used to have, you know, a kettle and a few cups and saucers, some jars of instant coffee, and some cans of soup, baked beans, cauliflower cheese, sardines and, because we had someone working there who practically lived on corned beef, there were lots and lots of cans of corned beef. So - with some embarrassment - I said that was the place to go.'
Wilson and his grim-faced entourage duly marched ahead and into the store room and the call was made. 'I wish I'd had a camera,' Ammonds would say wistfully. 'Because here was the Leader of the Opposition talking to the Prime Minister about the assassination of President Kennedy - such an historic conversation - and it was happening in this cramped old store cupboard full of cans of corned beef!'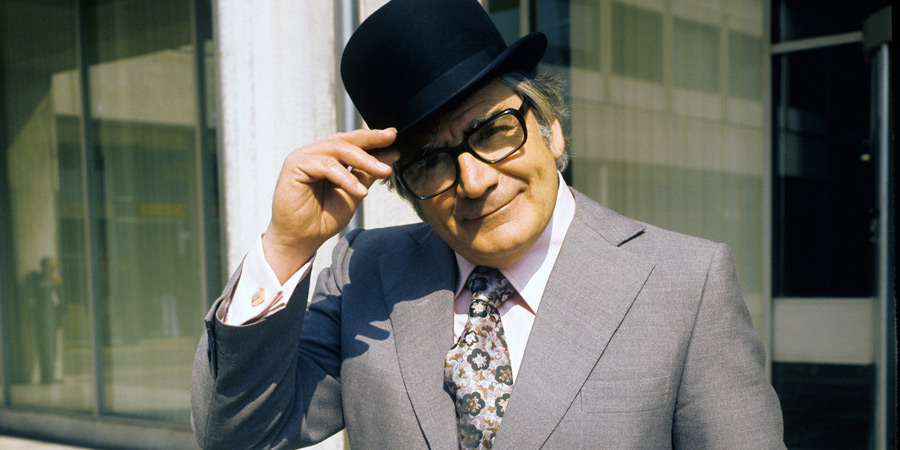 Harry Worth, in the meantime, tugged Ammonds by the suit-sleeve and, sensing that he was about to witness a piece of history, asked for permission to join his producer inside the gallery and watch the recording as it happened. Ammonds agreed, and the two men went upstairs and sat there looking at the black and white screen as Harold Wilson, after a few preparatory expressions and hand gestures, peered solemnly into the camera and spoke to the nation about the profound loss of JFK.
Once it was over, the signal went through that it had been received in London, and everyone involved paused, for the first time, and took a huge breath of relief. Harold Wilson, himself drained by the strain of the experience, moved past the cameras and stepped away from the studio, and Ammonds and Worth, his coat folded over his shoulder, prepared to wave the politician away from the building.
Wilson, however, seeing Worth standing there holding his familiar cream-coloured Gannex coat, smiled, shook his hand, and said, 'Oh, thank you, Mr Worth, for bringing my coat!' Worth, however, was startled. 'Oh,' he spluttered, pulling the garment back, 'um, er...Th-This is my coat, Mr Wilson!'
What followed, in a bizarre 'to you - to me' sort of way, could have come straight out of a Harry Worth sitcom: 'No, no, Mr Worth, it's mine!' 'Are you sure Mr Wilson? Because I really do believe it's mine!'
The policemen who were standing around there, as Wilson's entourage started moving on, were looking increasingly confused - as, indeed, was John Ammonds. 'It was very funny in retrospect, but a bit embarrassing at the time,' said Ammonds. 'They were actually tugging at it, the two of them, this Gannex raincoat, like dogs over a bone!'
The sheer tension of the moment had got to them, along with the confusion that had followed - made worse by the simple fact that they happened to have identical raincoats.
Eventually, after what had felt like minutes but had only been a few frenetic seconds, it was established, thanks to a half-eaten packet of Polos in one of the pockets, that the coat in question did indeed belong to Harry Worth. A rather red-cheeked and chastened Harold Wilson then had to re-trace his steps and retrieve his own raincoat from a nearby chair, and then depart for the long trip down to London.
What happened after that? It was a mixed result for the relevant parties.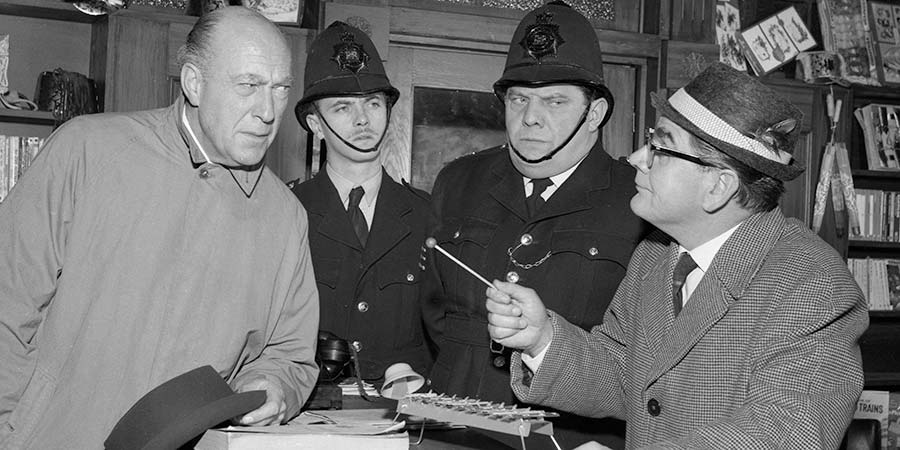 Harry Worth suffered some collateral damage. Through no fault of his own, the decision by the BBC bosses to go ahead with Here's Harry backfired badly as far as some critics, and viewers, were concerned. In stark contrast to BBC radio, which replaced its scheduled output with what was described as 'a programme of solemn music,' the television service's screening of a sitcom struck some, in the circumstances, as 'crass,' 'tasteless' and 'offensive,' and the BBC received more than two thousand phone calls and five hundred letters and telegrams protesting about its behaviour (as well as criticism inside the House of Commons). The name of Harry Worth, for the next few days, was dragged through the dirt.
Harold Wilson, on the other hand, emerged from the chaos with his profile enhanced. Unlike his rival leaders, who tended to get a lukewarm reception for their improvised tributes to the fallen president - Jo Grimond's contribution prompted barely any positive comment, and the Prime Minister was criticised by some for appearing 'too obviously caught on the hop' - Wilson was widely applauded for what one newspaper described as a 'polished performance - relaxed, anecdotal [and] nicely rounded-off'.
Just under one year on, and both men were back in the news but for very different reasons: doing what each man did best. On 13 October 1964, Harry Worth was back on the screen to begin a new series of Here's Harry, and this time no one complained. Two days later, on 15 October, the Labour Party won the General Election, and Harold Wilson became the new Prime Minister.
There would be plenty of pictures of Wilson and Worth in the coming days and weeks. Both of them now, waving and beaming, looked as though they were back where they belonged - safely inside their respective raincoats.