Just very naughty boys: Dave Allen, Peter Cook & Dudley Moore Down Under
Fifty years ago, something funny happened on Australian television. This is not to suggest, of course, that nothing else funny happened on Australian television before or after this particular moment. It is just that, on the evening of Saturday 18 September 1971, something funny happened that caused such shock, outrage and debate that three bona fide comic greats visiting from Britain ended up being banned from all Australian screens.
The comedians in question were Peter Cook, Dudley Moore and Dave Allen. Each one of them had recently arrived in Australia purely with the intention of making as many people laugh as possible. None of them expected the madness that was about to happen.
Peter Cook and Dudley Moore, for example, were looking forward to the world premiere of their brand new revue. Having ended the five year run of their much-loved television series, Not Only... But Also... the previous year, they were now embarking on an international tour of a show called Behind The 'Fridge (the title was inspired by an Italian waiter who had repeatedly mispronounced Beyond The Fringe), which, after its debut at the Canberra Theatre on 24-29th September, followed by a three week season at Melbourne's St Kilda Palais from 1st October, was set to move on first to London and then New York.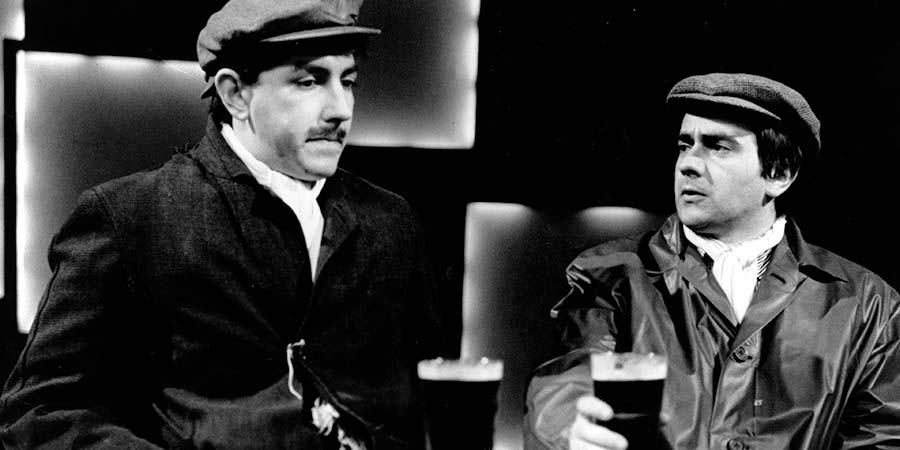 Dave Allen was similarly upbeat. He had just started his new BBC series, Dave Allen At Large, was planning to make more of his innovative documentaries and was in discussions to take on his first serious acting role in the Royal Court's forthcoming production of Edna O'Brien's play A Pagan Place.
All three comedians had good reason to expect a warm welcome when they flew in to Australia. Cook and Moore had been very popular there since at least the mid-1960s, thanks to the fact that their television shows had been shown and frequently repeated all over the country, and their invention, intelligence and irreverence had made them a particular favourite of the student community.
Dave Allen's popularity, on the other hand, was upon a different level entirely - he was not just popular, he was adored by millions of Australian people (whom he could make laugh, according the The Age newspaper, 'as easily as turning on a tap'). He had, after all, started his television career in this country, becoming the host in 1963 of a live US-style talk show, Tonight With Dave Allen, on Sydney's Channel 9. Running for a couple of years, it was a ground-breaking and multiple award-winning show - fast-moving, full of variety and wildly unpredictable - with Allen not only interviewing an unusually wide range of guests, but also taking part in stunts, mocking his own sponsors and sometimes continuing far past the scheduled shut down. He was unlike any other host that Australian audiences had ever seen, and was, as a result, one of the most talked-about TV stars of the time.
His visit in 1971, therefore, was treated like the return of the conquering hero. Although he was now an established figure on British television, he continued to be seen, by his Australian fans, as 'their' Dave Allen, and so, in their eyes, they were now welcoming him home.
It was a mark of how well-regarded he still was that Channel 9 had chosen him to act as compère of a TV spectacular it was planning to mark its fifteenth anniversary on the air. As a magazine of the time observed, his presence was considered 'the best birthday present Australian viewers could have': 'Dave is their boy, their love, their favourite TV man, who carries part of their hearts with him wherever he goes'.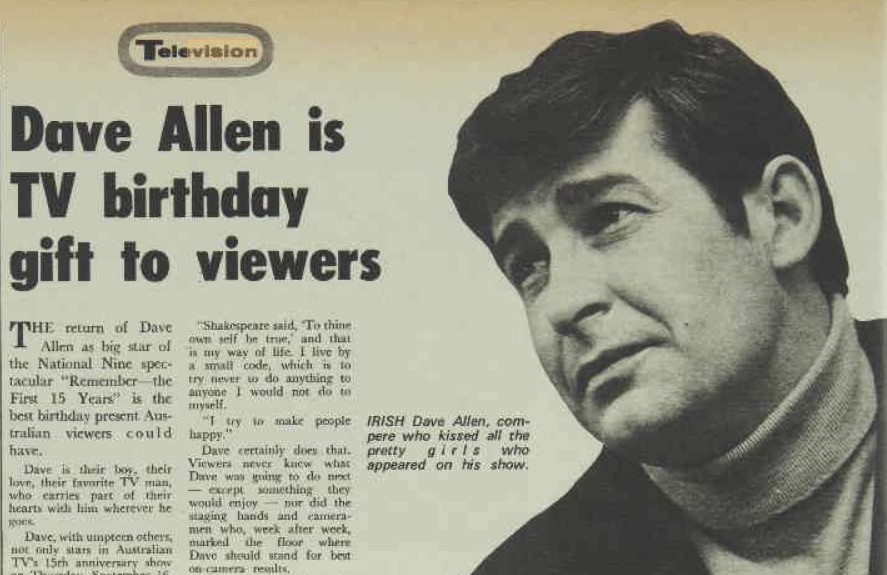 The anniversary show (entitled Remember - The First 15 Years and featuring many stalwarts of the channel, such as all-round entertainers Bert Newton and Bobby Limb, as well as the likes of singer Normie Rowe, Olivia Newton-John and The New Seekers) was scheduled for 16th September, and was due to be followed by a very special, two-and-a-half hour, one-off revival of Tonight With Dave Allen two days later. It was all set up to serve as a kind of victory parade for the comedian, an affectionate and respectful reaffirmation of his unique relationship with the Australian public.
The Channel 9 celebrations went ahead without any problems. Recently described by a national newspaper as 'perhaps the most versatile of compères ever to have presented an Australian variety programme', Allen, as expected, received a standing ovation upon his arrival, and the proceedings continued in an appropriately party-like atmosphere. Then, the next day, he went straight into preparations for the Tonight special.
His guests for this show included the then-ubiquitous Olivia Newton-John and her fellow young pop singer John Farnham, along with the actor Dick Curtis, the singer Mary Jane Boyd, the current Miss Universe and Miss World, the local rock band Daddy Cool and Peter Cook and Dudley Moore.
When it began, on the evening of Saturday 18th, Allen proceeded to do the same kind of things that he used to do on the old shows: he spoke directly to members of the audience; he teased and joked with members of the crew; he sent up all the advertisements he was obliged to read out; and he kept changing the order of proceedings whenever a new idea popped into his head and interested him sufficiently to pursue it there and then.
The audience, according to some of those who were there, were very much in the same 'loose' mood as Allen was, and were encouraging him - some of them daring him - to grow ever more mischievous. 'How often do you masticate?' someone shouted out. 'Three to four times a day,' Allen shouted back. It was that kind of show.
It was when Cook and Moore came on, however, that the broadcast really became, depending on one's own perspective, either exceptionally entertaining or offensively unprofessional. Dave Allen himself, recalling the occasion many years later, would describe it like this:
It was a live show, and we had live adverts, and people would come on and talk about shirts or motor cars or saws or ladders or paint or whatever it might be, and they used to throw to these live. And I was there, as the host, and I had to explain that there was another advert coming up, and then they'd do them live. The show was going very well with Peter and Dud - it was really zooming along, it was really kind of clouting along - but we kept on getting these interruptions from the producer. So at one point I said, you know, to the viewers: 'I'm sorry. I'm very sorry. I know that you want to have a whole evening of commercials and we keep on interrupting you with this chat'. Which got a little giggle. And then, eventually, I got quite annoyed when he threw yet another ad at me and - John Collins was his name - I said to him: 'John, do me a favour, please: just down the back of the studio there's a curtain; just go there, masturbate quietly, and you'll be happy, and we'll be happy!'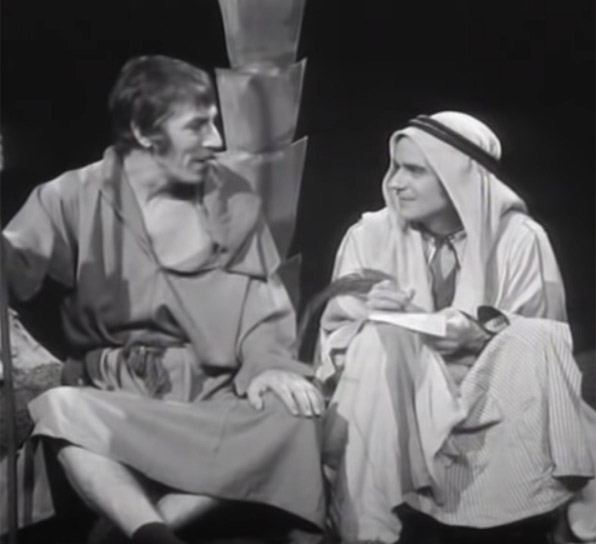 It was then the turn of Cook and Moore to cause a stir with a partly pre-recorded excerpt from their forthcoming Behind The 'Fridge revue. The routine they had chosen to serve as a preview was 'The Gospel Truth', a lengthy and knowingly provocative sketch which featured Moore as Matthew the Apostle interviewing Cook's character, a discontented shepherd called 'Mr Arthur Shepherd' ('Shepherd by name, shepherd by nature') whose claim to fame is that he was present at Jesus's birth in Bethlehem. A section of the dialogue, following on from a reference to the disappointing gift-giving of the three wise men, went as follows:
ARTHUR: But Jesus, give him all credit, he was so polite about it. He sat up in the manger, adjusted his swaddling, and said: 'Thank you, gentlemen, for the lovely prezzies. I hope you have a nice trip back.' You know? Delightful little kid, he really was.
MATTHEW: Yeah. Very precocious, of course.
ARTHUR: Well, speaking at half an hour old is pretty good going.
MATTHEW: Mind you, not long after that, he was confounding the elders, y'know.
ARTHUR: Confounding the elders?
MATTHEW: Oh, yeah.
ARTHUR: Ooh, they can't stand that, the elders, being confounded!
MATTHEW: It's the one thing they can't stand, is being confounded. And he was confounding them left, right and centre, you know, with his tremendous knowledge. He had his fantastic knowledge of algebra, trigonometry, philosophy, billiards, tap dancing, music -
ARTHUR: Tap dancing and music?
MATTHEW: Oh yeah. Wonderful musician, Jesus, wonderful musician.
ARTHUR: Well, I'm interested in that musical side of Jesus. I've never heard about that. I always thought that carpentry was his main line of business.
MATTHEW: Yes, well, it was. But, as a matter of fact, Jesus as a conventional carpenter wasn't much cop. It was his little brother, Jimmy Christ, who did all the joinery.
ARTHUR: He had a brother?
MATTHEW: Yeah. Little Jimmy Christ.
ARTHUR: Jimmy Christ? I never heard of Jimmy Christ.
MATTHEW: You never heard of Jimmy Christ?
ARTHUR: Jesus, yes, but I never heard of Jimmy Christ.
MATTHEW: Oh, lovely boy, Jimmy Christ. Yeah, lovely - very shy, y'know, he shunned publicity. In fact, he used to say to Jesus: 'Jesus,' he said, 'you save the world, I'll take care of the built-in cupboards.'
ARTHUR: Well, that's a fair division of labour, I suppose.
MATTHEW: Yeah, he knew his place.
It might seem tame by today's standards, but back in 1971, eight years before The Life Of Brian, this kind of material was enough to draw gasps, as well as nervous laughter, from an audience.
Things continued to be edgily amusing when Cook and Moore re-joined Allen for a longer chat. The interaction between these three very bright, witty and fairly like-minded performers was playfully competitive, with Cook and Allen especially challenging each other to come up with ideas and observations and language that would test the tastes of mainstream viewers.
The problem, however, was that Dudley Moore was drunk, and Peter Cook was very drunk. The pair of them had been left to their own devices upstairs in the green room before the show had started more than a couple of hours ago, and, with nothing else to do, they had been drinking ever since.
When the floor manager had gone to bring them on set for their chat with Allen, Cook announced that he was 'going off for a piss' and promptly disappeared, leaving Moore to arrive in front of the cameras on his own. Allen welcomed Dudley and asked where Peter was. 'He's taking a piss,' Moore replied with a nervous giggle. 'Fuck him, then,' said Allen, to an explosion of audience laughter, and the two of them chatted on amiably until, to a loud burst of applause, Cook finally wandered on to the set and joined them.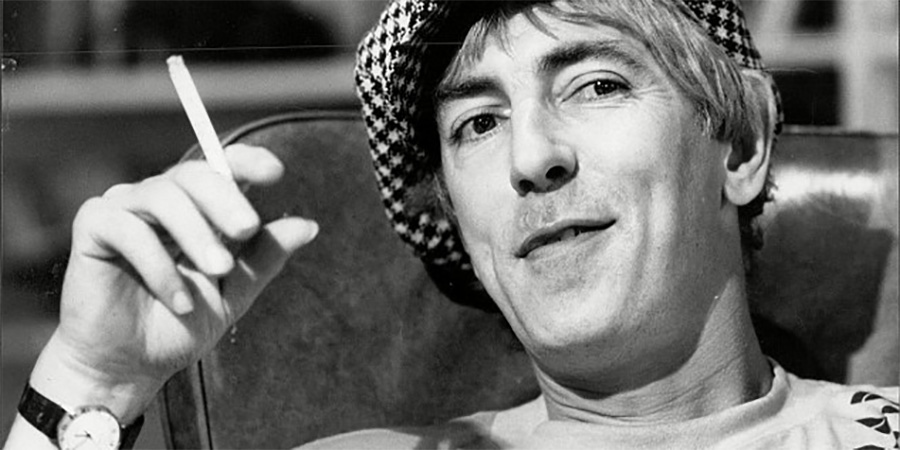 Cook, in spite of his inebriation, was more or less his usual brilliantly witty self, except that, by the sound of it, he had possibly ingested some other form of stimulation during his much-publicised toilet break, because he was now not only slurring his words but also talking so quickly that even Moore and Allen were sometimes struggling to understand him.
The studio audience, none the less, seemed to love it, and, when the show finally came to a close, the applause was long and loud. It was only after they had finally gone off air that the broader reaction began to be known.
The telephone lines were practically jamming up as the angry calls flooded in. Some were complaining about Allen's use of the word 'masturbation' along with what some perceived as his 'offensive' remarks about religion, politics and various advertisers, institutions and individuals. Some were complaining about Cook and Moore's 'Gospel Truth' sketch, and their use of such words as 'pissed' and 'bum'. Some were complaining, it seemed, about all three of them and most of the show.
If it was not already clear at the end of the evening that Channel 9 was in trouble, then it was certainly obvious the next morning, when the newspapers, along with various official and unofficial arbiters of responsible broadcasting, started demanding urgent discussions.
Religious leaders, police officers, politicians and broadcasting bosses all made damning statements and pointed fingers at whose heads needed to roll, and the three comedians were condemned from the pulpits of countless churches all over the country (with several clergymen banding together to brand as 'blasphemy' the Cook and Moore sketch that 'questioned the veracity of the gospels, the wisdom of God and the parentage of Christ').
'I couldn't believe what happened [after the broadcast],' Dave Allen would recall. 'It just exploded. The place exploded. I mean, the audience laughed, but from then on: the phone calls! I mean, there were old ladies fainting in Melbourne and throwing themselves off the bridge! And I left early the next morning and flew back to London and then found out I was banned from live television in Australia.'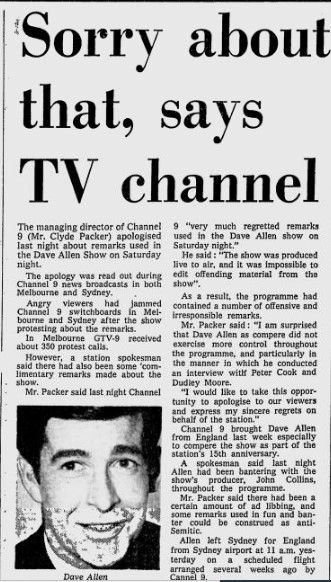 It was true: come Monday 20th, Allen, along with Cook and Moore, were quickly hauled across the coals. While everyone else looked to shield themselves from censure, the comic trio was left exposed to all those who were baying for blood.
Acknowledging that nearly four hundred viewers from Melbourne and two-hundred-and-seventy from Sydney had called in to complain (but ignoring the fact that plenty of others had called in with congratulations), the powerful media mogul Sir Frank Packer - the chairman of Consolidated Press Holdings Limited, which controlled Channel 9 - denounced all three men by name, singled out Allen for special criticism for failing 'to exercise more control throughout the programme', and announced that he was ordering a full scale inquiry into how the incident had been allowed to happen.
He also called the show's executive producer, Patrick Condon, ordering him to sack Dave Allen on the spot for saying 'fuck' and 'masturbate' on air. Condon resisted the temptation to remind the audibly apoplectic Sir Frank that, as Allen had only been contracted for that single show, he could not actually be sacked (and certainly not 'on the spot' as he was currently thirty-five thousand feet in the air flying back to England, sipping champagne and reading a book), and any form of censure would thus be an empty gesture. He simply assured his employer that Allen would indeed be 'sacked' with immediate effect.
Then it was the turn of Sir Frank's eldest son, Clyde Packer, the managing director of Channel 9, to get involved. He rushed to agree with his father and boss, claiming that he, too, had been very surprised, upset and offended by the behaviour of all three comedians. He promised that action would be taken against them for their 'offensive' and 'irresponsible' behaviour.
The frantic attempt to keep the matter 'in-house' failed to calm the bigger broadcasting powers, however, and within hours the Australian Broadcasting Control Board (ABCB) - the government agency responsible for most aspects of broadcasting regulation - had weighed into the controversy, banning Cook, Moore and Allen 'indefinitely' from appearing live on all forty-seven television and radio stations then in existence across Australia.
Channel 9, now realising that this was a matter that went far beyond these three visiting comedians (and could potentially rebound in future on to any of its regular talents), started to re-train its sights on to the ABCB itself. On Thursday 23rd September, the station challenged the ban on Cook and Moore making any live appearances, on the grounds that they were already contracted to take part in a Night Of The Stars charity spectacular in aid of the Freedom from Hunger Campaign, which was being broadcast from Melbourne's Dallas Brooks Hall in three days' time. The ABCB refused to back down, but, in a remarkable piece of slippery political spin, advised that it would 'probably' not object if Channel 9 pre-recorded Cook and Moore's planned contribution and then incorporated it into the live broadcast - and that is what actually happened.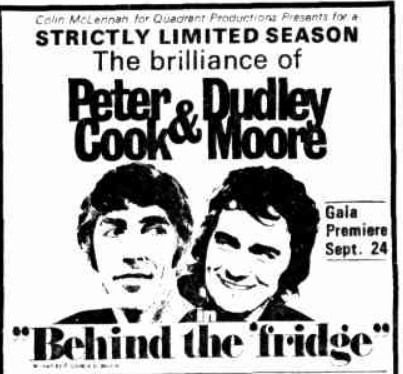 Cook and Moore then, with some trepidation, prepared to commence their theatrical tour in Canberra. 'It was a very sensitive moment,' wrote one reporter of their first night on the Australian stage, 'the exposure of these "over-exposed" comedians to Canberra - "live".' The reaction, however, was far more positive than some in the media had expected, with what the reporter described as the 'eager-to-be-pleased' audience being very quick to show their support. The ban, it started to seem, might be backfiring.
The days that followed would indeed prove to be an embarrassment to the ABCB, as Cook and Moore discovered that, far from the ban undermining their popularity, it had actually boosted it. They were now celebrated, especially by younger fans, for their enhanced aura of 'dangerousness' and notoriety, and embraced as inspiring icons by anyone interested in battling censorship and promoting free speech. They were selling out shows at a rapid rate.
By Monday 27th September, Channel 9, sensing institutional weakness, again contested the decision, with Clyde Packer questioning the right of the ABCB to issue such bans to television performers, arguing that, in his judgement, it was illegal and beyond the authority of such an agency. Questions were also asked in the Senate (the upper house of the Australian Federal Parliament), with the Leader of the Opposition, Lionel Murphy, attacking the ban and arguing that the right of freedom of the press should be extended to radio and television, and the ABCB should in future be made to 'stay strictly within the requirements' of the Act that governed it.
All of Australia now seemed gripped by the story, and the general political climate, by this stage, was decidedly tense and bad tempered. Everyone had an opinion, and a position to defend, with broadcasters battling monitoring bodies and free speech campaigners clashing repeatedly with more conservative figures. Most entertainers working in the country at the time seemed 'spooked' by the whole affair, with none appearing to be willing to speak out in support of their three fellow performers.
Des O'Connor, for example, when he flew into Sydney at the end of that week for a cabaret engagement, appeared nervously over-eager to assure reporters that Australia had nothing to worry about with him: 'Without being a goodie-goodie,' he declared, 'I feel very strongly about this subject and will go out of my way to entertain and not offend my audience'.
It was the reaction of Cook and Moore themselves that was (and would remain) the strangest. Their initial public response had been one of contrition, combined with an alarmingly craven willingness to throw Dave Allen under the bus. They - along with their Australian tour manager, Colin McLennan (whose first production this was) - had rushed out a meek apology, expressing their regret for causing any offence whilst claiming, quite blatantly disingenuously, that 'most of the trouble had occurred before they had appeared on the show', and blaming Allen for allowing the show to go 'beyond the bounds of decency'.
Even once it became evident that the ban had not really damaged them, they made no serious attempt to defend themselves - let alone Allen. Peter Cook could not resist sending a cheeky telegram to the head of the ABCB thanking him 'for all the free publicity', but other than that they appeared to prefer to ignore the ongoing arguments and concentrate instead on their own stage performances.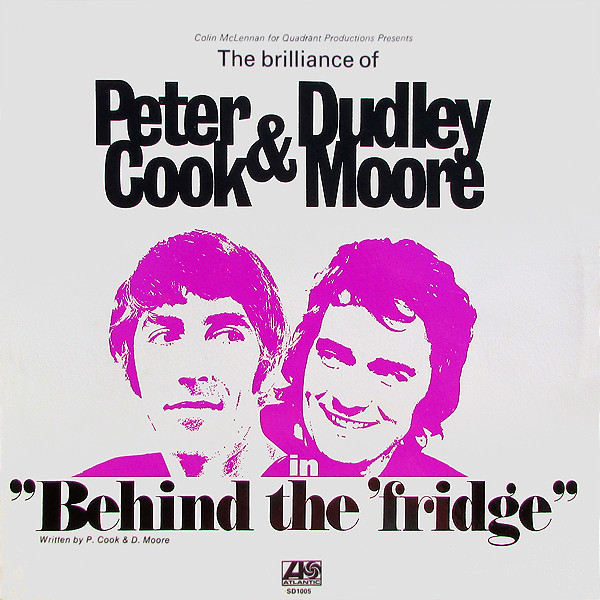 One might speculate that this very uncharacteristic behaviour was mainly the result of intense pressure on them to protect the box office performance of Behind The 'Fridge. It is clear that Colin McLennan, and his company Quadrant Productions, had been horrified by such apparently bad publicity just days before the revue was due to start its Australian run, and had certainly wasted no time in starting damage limitation management. Cook and Moore would, to an extent, have been obliged to comply.
What is harder to explain, however, are their subsequent recollections of the incident, which saw them become increasingly economical with the truth as they talked, in rather evasive and apologetic terms, about what supposedly had happened. This was, after all, Peter Cook - the man who had championed Lenny Bruce at The Establishment Club; and who owned that enemy of intolerance and hypocrisy, Private Eye magazine; and the man who only a few months before had suffered his own lonely horrors as host of the short-lived talk show Where Do I Sit? - and Dudley Moore - who normally had always been happy enough to mock authority - but whenever 'The Australian Incident' was brought up the two men seemed to bow down and pass the buck.
When, for example, they appeared in the US on The Dick Cavett Show in 1973, long after the dust had settled and the 'lifetime' ban had been (very quietly) lifted, and one might have expected them to revert to their usual liberal and irreverent selves, they - and especially Dudley Moore - still seemed strangely uncomfortable discussing it, as well as disinclined to defend Dave Allen:
CAVETT: How did you get thrown off the Australian telly - or is that a lie?
COOK: Oh, we did the most terrible thing on Australian television. On a live television show. We said two very naughty words. We said 'pissed' and we said 'bum'.
MOORE: Of course, 'bum' means, um, 'bottom'.
COOK: Bottom, yes.
MOORE: In England, of course. And in Australia.
COOK: And how about 'pissed'?
MOORE: That means 'pissed'.
CAVETT: Well, at least you weren't concealing anything. That seems straightforward enough. What on earth could they have objected to about that?
MOORE: Well, in fact, the tone of the programme was slightly bent, shall we say, by the chap - Dave Allen - who was hosting the show. Because he told one of the floor managers, who was bothering him, to go off and masturbate, and this sort of hit the ground with a dull thud.
COOK: It produced a deathly silence.
MOORE: Followed by hysterical giggling. And then we came on and said these two words, not really wanting to be sensational at all, but-
COOK: What we were doing, we were doing a live commercial, weren't we?
MOORE: Yes.
COOK: And you got the words wrong.
MOORE: That's right.
COOK: And I said, 'I'm sorry, he's pissed again'. And that was all.
Cavett - a comedian himself - was one of the most intelligent and liberal-minded figures on American television at the time, and a loyal and vocal supporter of many anti-establishment entertainers, so Cook and Moore must have known that, had they wanted to be more aggressive and less submissive, they would have been pushing against an open door. Once again, however, they stuck to the old script.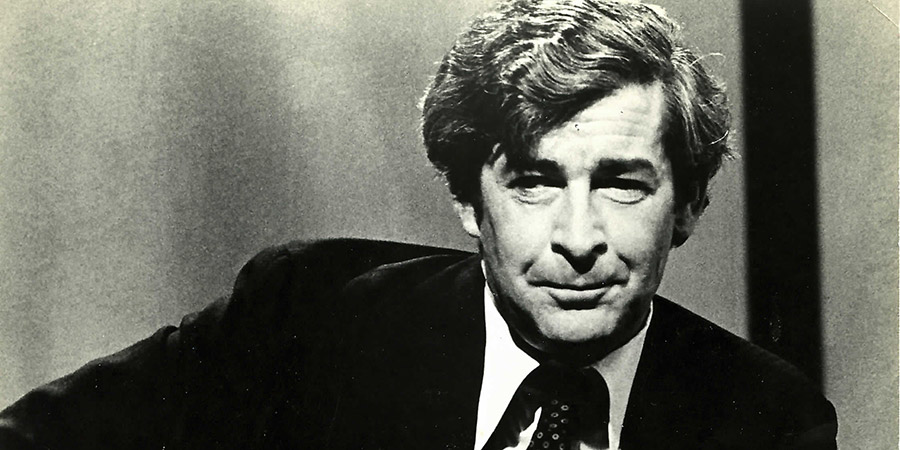 Dave Allen, in contrast, never expressed even the slightest hint of regret, and he never once complained about Cook and Moore, either for what they said at the time, or for what they failed to say then and after. He also, to his great credit, remained good friends with both of them, and continued to praise them whenever the opportunity arose. That was simply the kind of man that he was.
His own Australian ban would be lifted, like Cook and Moore's, in 1973 (without any public acknowledgement), and, at least in pre-recorded form, he was straight back on the nation's screens in his own new series. 'It is two-and-a-half years since I appeared on Australian television,' he started his first show by saying, before adding, with a sly grin: 'Live, that is'.
He would go on from strength to strength. Back in Britain, his show on BBC1, Dave Allen At Large, ran for five series and three specials over the course of eight memorable and successful years (from 1971 to 1979), winning a Silver Rose at the Montreux Golden Rose television festival; and numerous other national and international awards; as well as maintaining a very large and loyal viewing audience. He would also continue to make occasional appearances on Australian TV, and would sometimes return there with his stand-up show, which was always warmly received.
The bond that he had with that country was never really broken. He would always be, in their eyes, 'Our Dave'.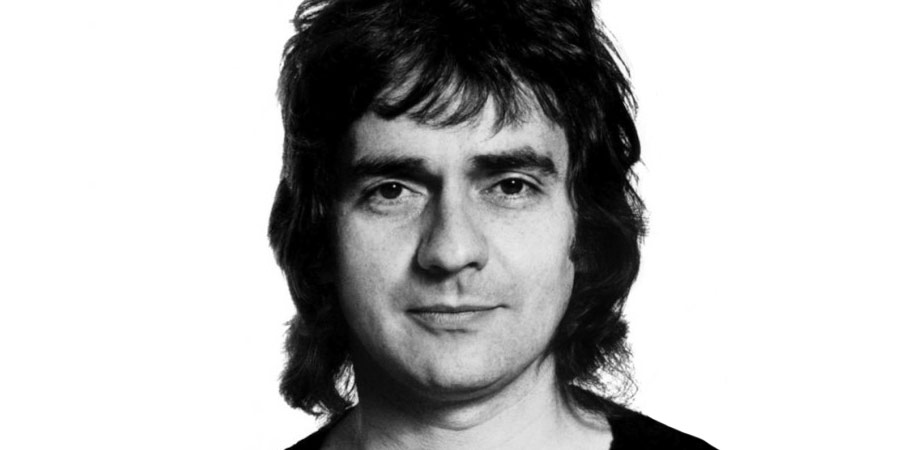 Cook and Moore would have a more awkward and erratic time as a partnership. Peter Cook, by this stage, was growing somewhat bored and disillusioned by what passed as 'mainstream entertainment', and was struggling to find strategies that would help him do what he wanted to do without having to endure the latest idiocies of the industry. Dudley Moore, meanwhile, was becoming increasingly keen on pursuing a solo career in Hollywood, and was in the process of edging away from anything, or anyone, that might undermine his charm offensive on the most influential (and most controlling) agents in LA. The double act was beginning to disintegrate.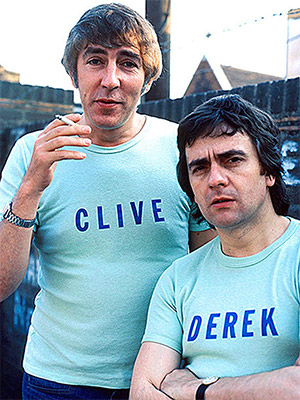 Both Cook and Moore and Dave Allen, however, would go on to court controversy all over again.
Ironically, after wincing and whining so many times about having said 'pissed' and 'bum' on Australian television, Cook and Moore, as if waking abruptly from a censor's spell, would suddenly remember who they really were when they reunited to release a magnificently offensive and enduringly funny trilogy of albums - Derek And Clive (Live) (1976), Derek And Clive Come Again (1977), and Derek And Clive Ad Nauseam (1978) - where the F-word and the C-word seasoned the scabrous humour of such routines as 'The Worst Job I Ever Had', 'Ross McPharter' and 'The Horn'. Indeed, one of the best of these sketches, 'The Critics', saw Peter Cook mock the sheer superannuated humbuggery of the censors with such energy, incisiveness, anger and brilliance that, even though it was a few years late, felt a little bit like a personal exorcism of certain antipodean demons:
CRITIC 1: What one has to wonder is why artists of the calibre of Cook and Moore...
CRITIC 2: Yes...
CRITIC 1: ...Should resort to material which basically could be done by...um...ah...
CRITIC 2: By me.
CRITIC 1: By you. Yes. And I, um, I mean...I don't know if you saw the play the other night on television - No Man's Land by Harold Pinter?
CRITIC 2: Yes, yes, yes, yes, I did, yes, yes.
CRITIC 1: Now Pinter...uses these words...these - I suppose to the general public, 'shocking' - words...
CRITIC 2: Yes, yes, of course...
CRITIC 1: ...But he uses them to EFFECT.
CRITIC 2: Yes, to punctuate his...his...
CRITIC 1: ...He PUNCTUATES his dialogue.
CRITIC 2: His drama, yes.
CRITIC 1: And when he uses the word 'arsehole'...
CRITIC 2: Quite.
CRITIC 1: It MEANS something.
CRITIC 2: Exactly!
Without any irony at all, meanwhile, Dave Allen continued to be the brave, daring, committed, morally consistent and wonderfully charming piercer of pomposity that he had always been. He kept on upsetting various religions, innumerable bigots and countless boors, until he finally even got some members of Parliament alarmed for using a 'rude' word while mentioning a commemorative clock:
And I always think about how we live by time. How we live by the watch, the clock. We're brought up to the clock. We're brought up to respect the clock. Admire the clock. Punctuality: we live our life to the clock. Isn't that right? You wake to the clock. You go to work to the clock. You clock-in to the clock. You clock-out to the clock. You come home to the clock. You eat to the clock. You drink to the clock. You go to bed to the clock. You get up to the clock. You go back to work to the clock. You do that for forty years of your life and then you retire. And what do they fucking give you? A CLOCK!
All three of the comedians ended up having the last laugh. All three kept upsetting those without a sense of humour, while delighting those who, in spite of mounting pressure to relinquish it, still possessed one.
They might, back on that day in Australia in 1971, have strayed a little too easily, and too loosely, from the constrained behaviour demanded of them by the culture of the time, but they were just being proper comedians, with proper comic spirits. While those who tried to silence them have long since been swallowed up by the darkness, the brilliance of Allen, Cook and Moore shines on.