Watching
Perhaps it is due to their less-celebrated longevity in comparison to BBC counterparts but ITV sitcoms seem to have something of a chequered history. For every long running hit there appears to be an almost never-ending stream of shows that only lasted a single series.
However, Watching is firmly in the former camp. The show ran for seven series with fifty-six episodes, all of which were penned by Liverpool based writer Jim Hitchmough. While Alan Bleasdale wrote hugely successful dramas Boys From The Blackstuff and Scully, Scouse sitcoms were, if not a rarity, certainly more scarce than others, especially in the mainstream. For a long time, they were almost exclusively the property of Carla Lane, the brains behind smash hits The Liver Birds and Bread. Others, such as Joe Boyle's almost completely forgotten Help! failed to find an audience.
Hitchmough initially conceived the idea for a sketch during a workshop at Liverpool's Everyman Theatre. He subsequently pitched it to Not The Nine O'Clock News but was rejected. Nevertheless, he developed the concept into a stage play, which eventually led to a commission from Granada Television.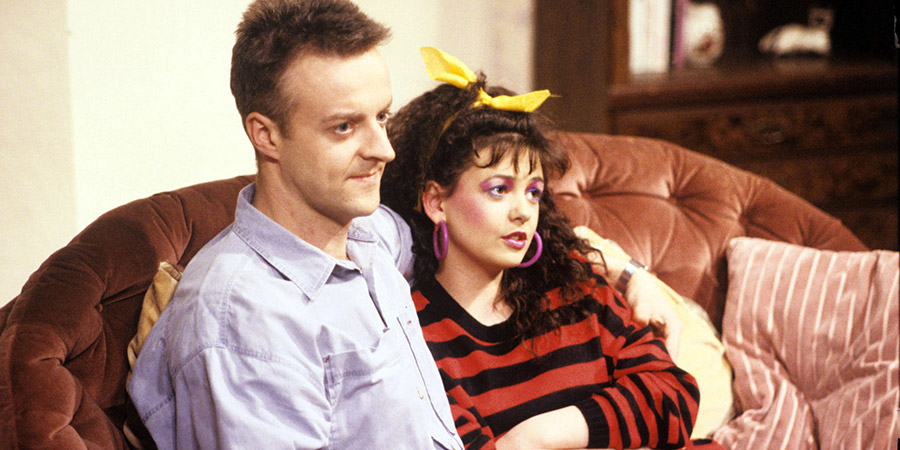 The show centres on the developing relationship between garrulous gossiper Brenda Wilson and the shy, retiring Malcolm Stoneway, as played by Emma Wray and Paul Bown. The series' title has a double meaning for both characters. Brenda's outlook on life is ostensibly positive, full of vim and vigour, but she confesses in the first episode that she is unemployed and prefers to spend her time people watching in her local pub. For Malcom, his watching is more of an ornithological nature, as Brenda finds out to her chagrin in the opening episode.
The primary source of conflict and comedy is the antagonistic but good-natured bickering between Brenda and Malcolm. Brenda's extroverted nature constantly pushes Malcolm out of his comfort zone, while his stoicism and droll demeanour tempers her behaviour. While Brenda matured, she also allowed Malcolm to unleash his inner extrovert, slowly picking up her habit of facetiousness.
There are other sources of conflict in the form of Liza Tarbuck as Brenda's brash sister Pamela and Patsy Byrne as Malcolm's mollycoddling mother Marjorie. The sitcom also gave future EastEnders star Perry Fenwick's his first regular TV job, playing Malcolm's best friend Terry.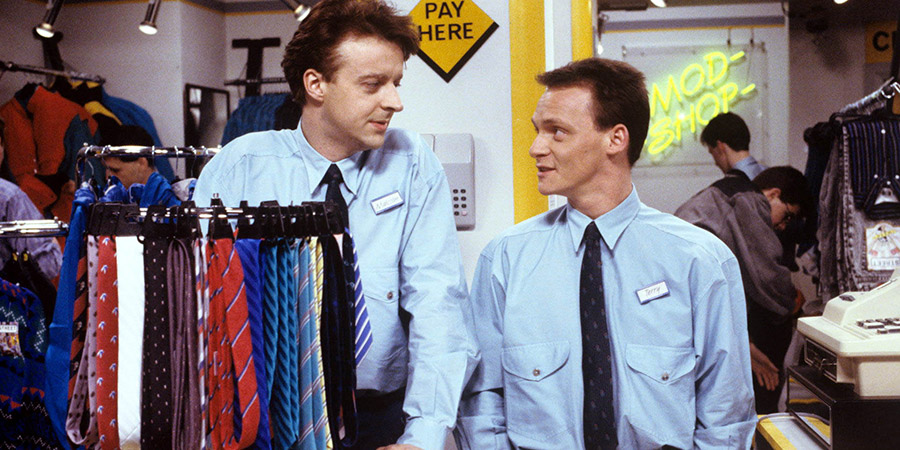 Although the overarching plot focuses on Brenda and Malcom, it is the relationship between Brenda and Pamela that gives the show its heart. Wray and Tarbuck share terrific chemistry, slinging barbed banter at each other, such as the following exchange about Pamela's latest boyfriend:
Brenda: How are thing's going with you and Desperate Dan?
Pamela: It's purely platonic. And his name is not Dan.
Brenda: No, but he must be desperate!
Harking back to his grounding in soap opera, unlike many sitcoms, the golden rule of which is to keep the characters trapped, Watching excelled at developing the characters over time. Brenda starts the series as an unemployed cynic and by the series' end she is married with a huge extended family.
Hitchmough learnt his craft writing on Brookside, and the same soap sensibility runs through Watching, in that the storyline develops over several episodes rather than each instalment being plot heavy. The first series gradually interweaves the lives of Brenda and Malcolm as they slowly warm to one another, Brenda's sharp tongued Scouse attitude in constant contrast with Malcolm's softer, sensitive demeanour.
The series built a steady audience, and Hitchmough expanded the cast of characters, introducing rivals for Malcolm's affections in the form of Susan Roberts, played by Liz Crowther in Series 2 and 3, then Lucinda, as played by Elizabeth Morton. But the chemistry between Malcolm and Brenda is ever present. John Bowler, of Auf Wiedersehen, Pet fame, played Pamela's boyfriend, later husband David from Series 2. It took until Series 5 for Brenda's equally outspoken mother to be introduced. Noreen Kershaw, who originated the role of Shirley Valentine on stage at Liverpool's Everyman Theatre, imbued Joyce with every tic of Brenda's dialled up to eleven. What started as essentially a three hander gradually evolved into an ensemble piece.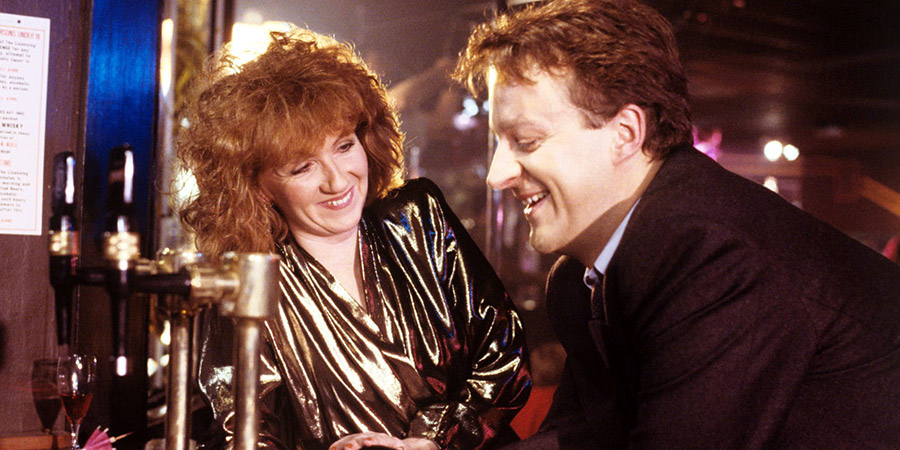 Wray also sang the theme tune, which was written by Charles Hart, who had huge success in musical theatre contributing to the book of The Phantom Of The Opera. The lyrics outline the central conflict of the characters - "It was boredom at first sight/You could hardly call him bright/He is no one's Mr Right, so what do I see in him?"
Hitchmough's writing style is poles apart from many studio sitcoms, whose remit of cramming in gags didn't fit with Watching's tone. Although the laughs are plentiful, Hitchmough is quite happy to let his characters simply sit and talk, an archaic writing style that to a modern audience could be seen as dry, sometimes with huge stretches of dialogue passing without a laugh line. Hitchmough's great strength though lay in his creation of characters. Brenda's habit of incessantly interjecting with wry one-liners, for example, meant that any scene that was lagging could be pepped up. It betrays its theatrical origins in that respect and viewed through a modern lens it seems rather quaint. It evokes a time where television executives respected writers enough to let them produce the work they wanted to, trusting that the eventual programme would be worth the investment. And considering Watching's humble origins at the Everyman, it turned out to be a very good investment indeed. By the final series, upwards of thirteen million viewers were invested in the story of the young couple.
Slapstick would also be used sporadically, Brenda falling in the mud when accompanying Malcolm on a birdwatching trip or highlighting the comic contract between Malcolm on his motorbike with Brenda saddled in the sidecar. In that respect the show has aged very well, aside perhaps from the fashions of the day. Wray's outfits matched her character's attitude - unapologetically brash and loud. What kept audiences coming back week after week was the tremendous warmth that radiated from Hitchmough's scripts.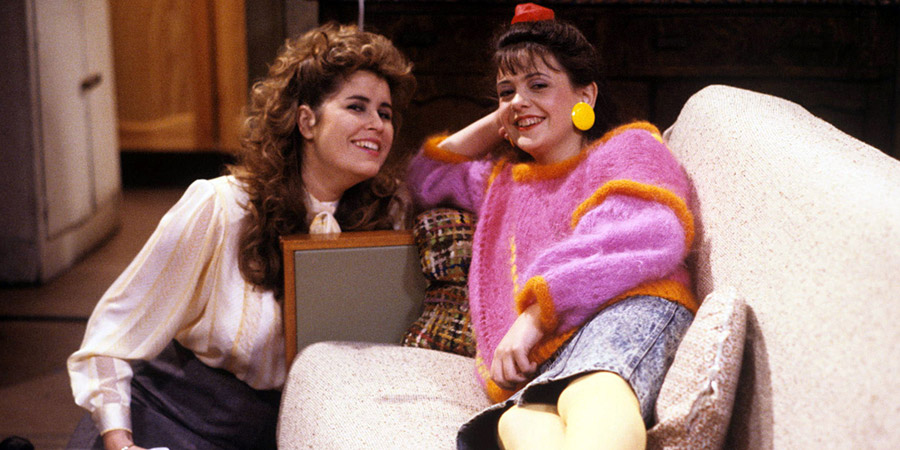 Remarkably Watching was also Wray's first professional acting job - not that you would know it from her barnstorming performance. She went on to star alongside Dennis Waterman in Stay Lucky, followed by major roles in Simon Nye's True Love and her final television role to date My Wonderful Life, neither of which have had a commercial release.
Wray retired from showbusiness and very rarely gives interviews about her sitcom successes. Bown featured in the very first episode of Mr Bean as his rival in the exam sketch and also went on to work with Simon Nye, fronting the little-remembered period sitcom about AA patrolmen, The Last Salute, in 1998. Tarbuck continued to act in a variety of parts, including the title role in Linda Green and recently completed a memorable stint on Taskmaster. Hitchmough, while never writing another sitcom, in 1993 authored Emmy award winning television play The Bullion Boys, a comic heist thriller starring David Jason, Brenda Blethyn, Tim Pigott-Smith and Geoffrey Hutchings.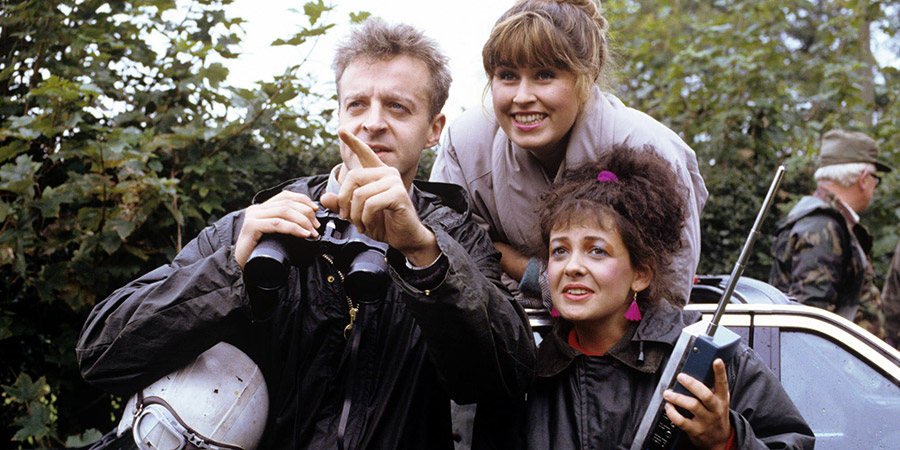 Watching ended on a high. After seven series of 'will they, won't they?', viewers were finally treated to the wedding of Brenda and Malcolm. This feel-good ending brought the saga to a close, and the series is still remembered with great fondness. There is surprisingly little information about the show online, with both creator and cast giving very few interviews and it is only thanks to the efforts of Network that the series got a substantial DVD release.
As the theme tune attests, Brenda may not have been "gentle or genteel", but Watching manages to be both, dialogue spiked with cynicism but always enveloped by the chemistry that is shared between the ensemble. A testament to Hitchmough's skill that stands as a triumphant example of one of the few sitcoms with a genuinely Liverpudlian worldview.
Where to start?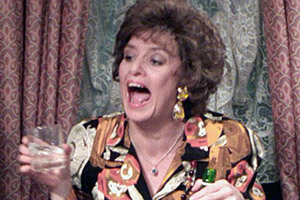 Watching - Series 5, Episode 7 - Homing
This is the episode where we finally meet Brenda's mother, the crass, outspoken Joyce, the antithesis of Malcolm's mother in every conceivable way. Brenda has moved back home, fed up sharing with two families. She now has to contend with her abrasive mother (pictured) and younger brother, all the while trying to thaw her frosty relationship with Malcolm.