The Mighty Boosh
Starring and written by Julian Barratt and Noel Fielding, The Mighty Boosh is the epitome of surrealist comedy. From a Polo-visioned, big-thumbed Cockney hitcher roaming the woods to find the Fountain of Youth, to a washed-up junkie fox who lives in the bins behind a boutique, the series introduces audiences to a vast array of absurd characters.
So distinctive is Boosh that even someone who's never sat down to watch a full episode will probably recognise the show's artistic elements or some of its absurd characters. Whether that be Old Gregg with his seaweed hair, pink tutu and infamous 'mangina'; or the wide-eyed, shaving cream-covered, Moon watching the goings on from above, elements of this comedy remain iconic and influential more than fifteen years after its debut.
The Mighty Boosh apparently got its name from a friend describing the childhood hairstyle of Michael Fielding, co-star and brother of Noel, as a "mighty bush". After winning the Perrier Award for Best Newcomer for their stage show at the Edinburgh Fringe in 1998, the Boosh went on to play a residency at the Hen and Chickens Theatre in Islington. The stage show Arctic Boosh, set between a post office and the Arctic Tundra, was directed by Stewart Lee.
The group (then a trio comprising of Barratt, Fielding and Rich Fulcher) went on to make a BBC radio series in 2001, in which many ideas later seen in the first television series were born, including Jungle, Jazz (later, Electro) Mutants, Tundra and Hitcher.
From that debut TV outing, The Mighty Boosh consistently combined various elements of production, including music, dance, costume and animation, to great surrealist effect. The narratives often cross over into the magical realm, where animals are given the power of speech and independent thought, and a "Board of Shamans" squabble about a talking bladder's ability to drive a flying carpet. Top all that off with a dash of hairspray and a sprinkling of glitter, and you've got cult comedy sensation on your hands.
The Mighty Boosh television show (a follow on from the stage show and radio series of the same name) began its life in the Zoo-niverse, with a small core cast of characters. Five minutes ahead of every fashion trend, Vince Noir (Fielding) might easily be mistaken for an airhead upon first watching. His biggest concerns are the strength of his hairspray and the fit of his mirrorball suit, which stands in stark contrast to our other main protagonist, Howard Moon (Barratt). Howard is a lover of tweed, stationery and general organisation, so Vince is naturally a large source of irritation for him.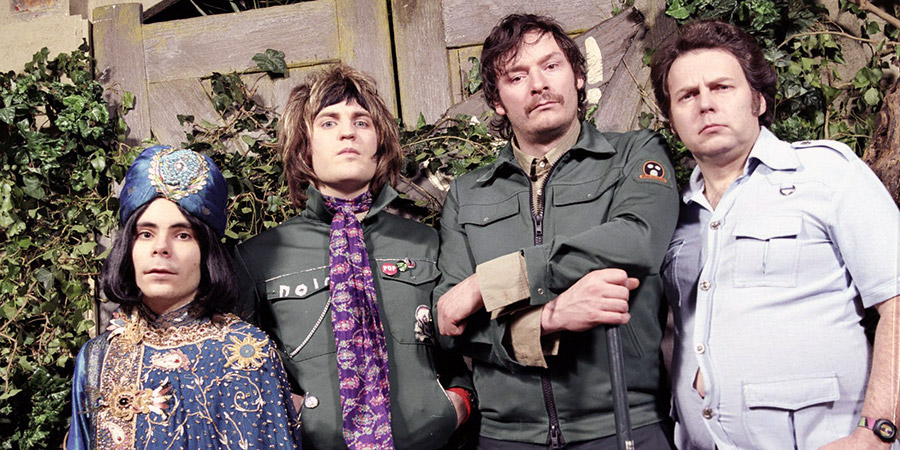 The pair work as zookeepers, despite being easily distracted and entirely incompetent at their jobs. They are joined by fortune-telling shaman Naboo (Michael Fielding), who works on the zoo's kiosk; and Bollo the gorilla (Peter Elliot in Series 1, later played by Dave Brown), with whom Vince forges a friendship when they discover they can understand each other. Rich Fulcher completes the line-up as zoo manager Bob Fossil.
For the majority of this first series, our characters are largely tied to one setting - although, even for a zoo, it is no ordinary setting, for this zoo certainly has mystical elements.
Never the less, the backdrop of the zoo grounds the Boosh's early narrative. Most incidents involve animals of some kind, from Fossil's illegal Killeroo boxing match to the arrival of mod wolves in the jungle room. Even when Howard gets mistaken for dead, it's monkey hell he ends up in, and when the Hitcher rears his ugly Polo head, it's as Vince and Howard are on their way to drop a delinquent bear at the Zoo for Animal Offenders.
Music, as mentioned, plays a heavy part in the show. In the very first episode of Series 1, Killeroo, Vince and Howard perform their first 'crimp', Captain Cabinets. Crimps are the name given to the pair's spontaneous, comedic acapella duets, punctuating scenes throughout the series' run and allowing the protagonists to hark back to better times. The music isn't confined to vocal word play alone, however, with Noir and Moon performing the Tundra Rap in Tundra; a group of mutants singing their own liberation song in Mutants; and, in Charlie, a giant bubble gum arriving at the zoo with a demonic soundtrack.
Also key to the Boosh world is animation, created by Nigel Coan and Ivana Zorn. The frequent animated sequences, - narrated by the core characters - are colourful and psychedelic, detailing the origin stories of a range of Boosh characters, both friend and foe. Again, this is something established from Series 1 and carried through all three series.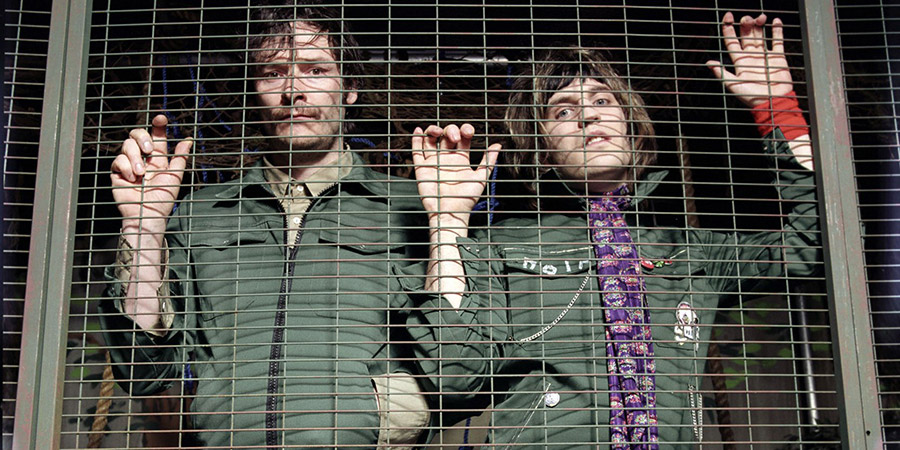 Series 2 (2005) brings with it a change of scenery and a subsequent shift in the character dynamic. Howard, Vince, Naboo and Bollo have moved out of the Zoo-niverse and into a flat in Dalston, east London, where they cause mischief as a bona fide quartet.
Against this slightly more mundane backdrop, Fielding and Barratt branch further afield within each episode, exploring ever-more mystical themes and settings. Series 2 takes us to the Black Lake, a desert island, and even Naboo's home planet, Xooberon. The environments are more magical, and often sinister, and the characters match this. While leaving the zoo means saying goodbye to the likes of Bob Fossil (for a while anyway), Mrs Gideon and Dixon Bainbridge, room is made for a new set of recurring characters, in particular, the Board of Shaman (including Richard Ayoade as Saboo). We also meet the now iconic Old Gregg and the demon Nanatoo, and see the return of the Hitcher.
The soundtrack to this series is a step up from the previous, with Old Gregg's Sea Funk song being a particular highlight, as well as Nanageddon's leitmotif. The series also has a much more sinister undertone, with some very dark and fiendish figures stepping into the light. The green-faced cockney Hitcher returns, who is a self-proclaimed 'peppermint nightmare', and Vince mistakenly summons the demon grandma 'Nanatoo', who comes armed with knitting needles and a nifty throwing arm.
However, this proved a mere taster for the creepiness that was to come when Boosh returns for its final series in 2007.
Series 3 is set in the Nabootique, a shop owned by Naboo, with Howard and Vince now working as shop assistants: it's a dream job for Howard as the shop is home to Stationery Village, and they sometimes sell elbow patches.
This set of episodes is a combination of everything that really proved successful through the preceding two series. While Series 2 is relatively short on crimps, they return in full force for the final run. In fact, there is an dedicated 'Crimp Off' when Vince and Howard have their act stolen by two lookalikes, Lance Dior (Tom Meeten) and Harold Boom (Simon Farnaby).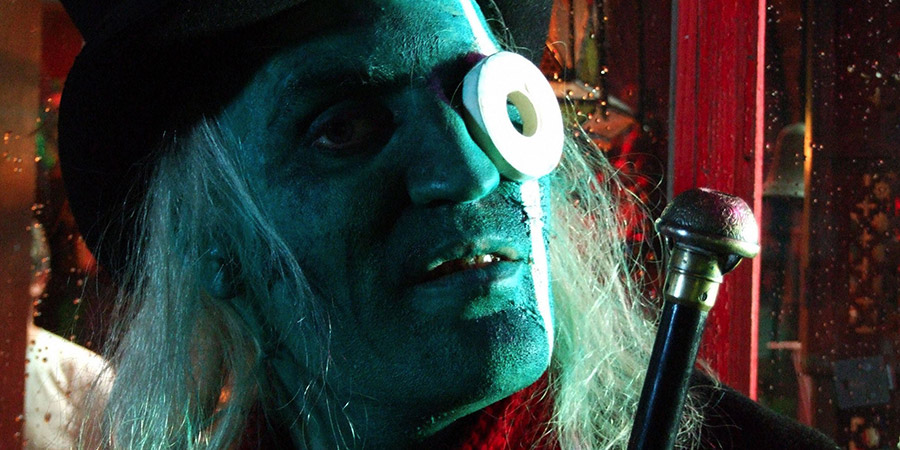 The creepy undertones are amplified even further: this series is surely Boosh distilled, purified, and dialled up to eleven. The Hitcher (pictured) returns once again, this time even more threatening, demanding money in exchange for Howard's life, and singing a jarring tune about jellied eels. But by far the most discomforting new face in this series is the mysterious old Crack Fox, a cackling, dirty fox with needles for fingertips who lives in the bins outside the Nabootique. While the series is relatively family friendly, the Crack Fox perhaps pushes things a little too sinister for younger viewers.
This final Boosh episodes feel almost as though the characters have come home. They are largely grounded in and around the shop, with the weird and wonderful characters coming to them, rather than the protagonists going out in search of trouble (or Eggs of Mantumbis, or Fountains of Youths) themselves. What follows is a sometimes unsettling, often ridiculous, always hilarious set of perilous adventures that can be enjoyed by all.
Where to start?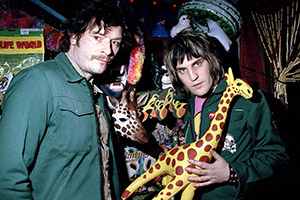 Series 2, Episode 5 - The Legend Of Old Gregg
Aping in this instance the traditional studio audience sitcom format, each episode of The Mighty Boosh is essentially a self-contained story, so you needn't necessarily watch them in order to appreciate the madness. If you're looking for a strong place to start for a quick introduction to the show, there's no better edition than The Legend Of Old Gregg.
This episode has a bit of everything that makes The Mighty Boosh iconic: it begins with immediate foreboding undertones as Vince and Howard decide to go fishing on the sinister-sounding Black Lake; after bickering about Vince's annoying ability to catch fish without trying, Howard stays out on the lake alone, but not for long; and soon enough the flirtatious and extremely unsettling manfish Old Gregg appears from the water and abducts an unsuspecting Howard. Cue one daring rescue mission...