Check It Out: Tripper's Day and Slinger's Day
Brian Cooke was one of the most prolific sitcom writers of the 1970s, if not of all time. Creating fourteen sitcoms during his career, often with Johnnie Mortimer, Cooke's comedies were among the most popular of the era. Man About The House was spun off into George & Mildred, and both were sold to America with huge success, becoming Three's Company and [The Ropers respectively.
By 1984, Leonard Rossiter was among the most recognisable stars in British comedy. Having had two smash hit sitcoms - in Rising Damp and The Fall And Rise Of Reginald Perrin - Rossiter could afford to be choosy about his next roles. Cooke and Rossiter were veterans in their respective professions and everything pointed to Tripper's Day, which one would write and the other star in, being a roaring success.
Utilising a single, immediately recognisable setting (a mid-tier supermarket chain called Supafare), the show focussed on the conflicting personalities of the staff as they butted heads with the officious and over-zealous manager Norman Tripper (Rossiter). Tripper had the trappings of many archetypal boss characters, craving power where he had none and attempting to wrangle a workforce who loathed him. Rossiter's considerable talents help to lift what are at times hackneyed jokes, but Tripper's Day was painted with much broader brushstrokes than either Damp or Perrin.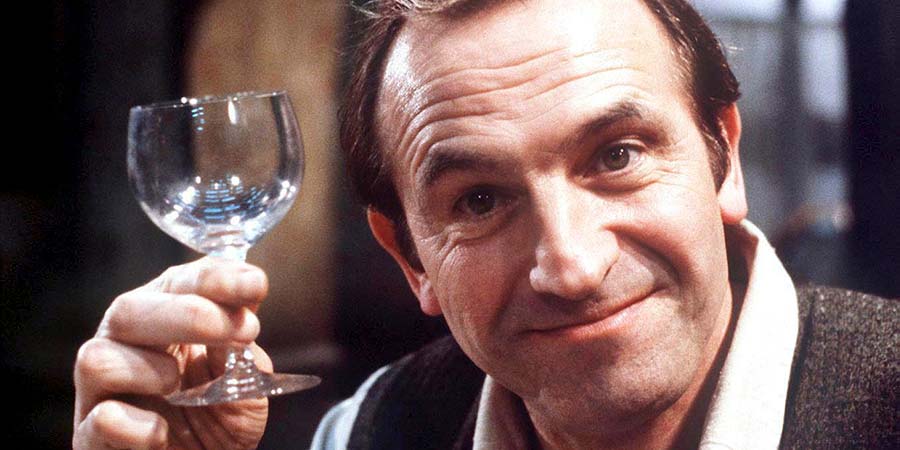 The supporting cast comprised of veteran comic actors including Pat Ashton, perhaps best known as a Cockney chancer from On The Buses; Liz Crowther, who went on to a regular role as Susan in Watching; future The Bill favourite Andrew Paul; and Shakespearean actor Gordon Gostelow, for whom it was his first regular sitcom role since 1967's Mr. Aitch, a long-forgotten Harry H. Corbett vehicle featuring scripts from luminaries Galton and Simpson and Clement and La Frenais, of which unfortunately no copies are known to have survived.
While this glistening ensemble performed their respective roles with aplomb, sadly none receive sufficient screen time to add significant depth to their characters.
Each episode follows the staff as they move from crisis to crisis, Tripper stuck in the unenviable position of both being held responsible for the failings of the staff without having the authority of personality to improve their performance. Part of the problem with the series and especially for Rossiter, is that with the pressure of having two iconic characters to his name, it was an inevitability that Tripper would face harsh comparison - tarring the show with a pressure of expectation that could never have been met.
All this isn't to say Tripper's Day doesn't succeed, far from it. Rossiter's skill was such that he could elevate any material to greater heights. While Norman Tripper doesn't hit the heady heights of those earlier roles, his performance adds depth beyond the written dialogue. In this entertainment-first era of comedy-making, Cooke's greatest strength lay in jokes rather than character or convoluted plot, with each cast member spewing one slick zinger after another. Take Tripper's attempt at admonishing a staff member: "You've come to a battle of wits, unarmed."; or the man who pleads with Tripper to employ him: "It's the drinking isn't it? You noticed? I swore that I'd never drink on the job again. I haven't touched a job for ten years."
Tensions were high between Cooke and Rossiter throughout production, with Rossiter being the cock of the walk who deigned to choose Cooke's script over the hundreds that sat on his desk. In an interview for the DVD release, Cooke explains how he had to match Rossiter's ego if he was to get him to sign on the dotted line. Thankfully, Rossiter relented and despite several disagreements over the script, Rossiter's performance of Tripper was just as thoughtful and committed as it was for Rigsby or Perrin. However, the star suffered a fatal heart attack in the week between the broadcast of the second and third episodes, nixing any notions of further series.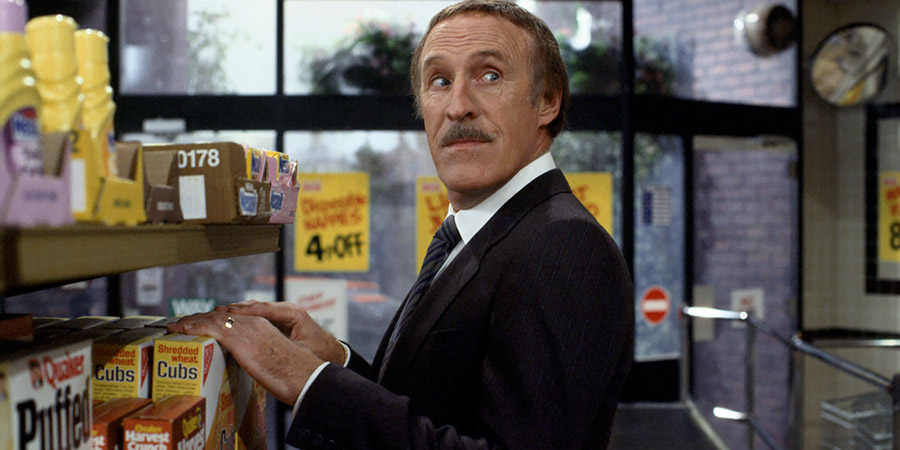 Cooke was as surprised as anyone when Thames Television informed him they wished to return to the format. Casting Bruce Forsyth in his first starring sitcom role as the equally maddening new manager Cecil Slinger, Slinger's Day hit the airwaves in September 1986.
On the surface Forsyth was a solid choice with years of television experience behind him and a built-in audience, but putting him in the lead in his first narrative role was never the less risky. Then as now, he was known for game shows and variety on stage, including a still-legendary double-act performance with Norman Wisdom on a 1960 instalment of Sunday Night At The London Palladium that had been affected by an Equity strike. The pair performed the entire episode alone and it is cemented in history as one of the greatest examples of comic chemistry captured on film, the centrepiece being a ten-minute decorating slosh scene direct from the music halls.
His acting credits, however, were of limited nature and lay solely in film, having featured alongside Julie Andrews in 1968's Star!; Noel Coward's TV play Red Peppers the following year; Bedknobs And Broomsticks; and the film adaptation of The Magnificent Seven Deadly Sins.
Success in film, or even variety, was no guarantee that he could carry a sitcom almost entirely on his shoulders. Of course, as it turned out, Forsyth slipped seamlessly into the role, drawing on every facet of his skillset to achieve the delicate balance of performing in front of a live audience, but not overplaying it for the cameras.
This exchange from the first episode is indicative of the skill in Cooke's writing, inserting innuendo without overstepping any boundaries:
SLINGER: I didn't have a father, Higgins. You know what that makes me?
(A BEAT)
HIGGINS: Yeah...
SLINGER: No it doesn't, it makes me an orphan!
HIGGINS: Yeah, that as well.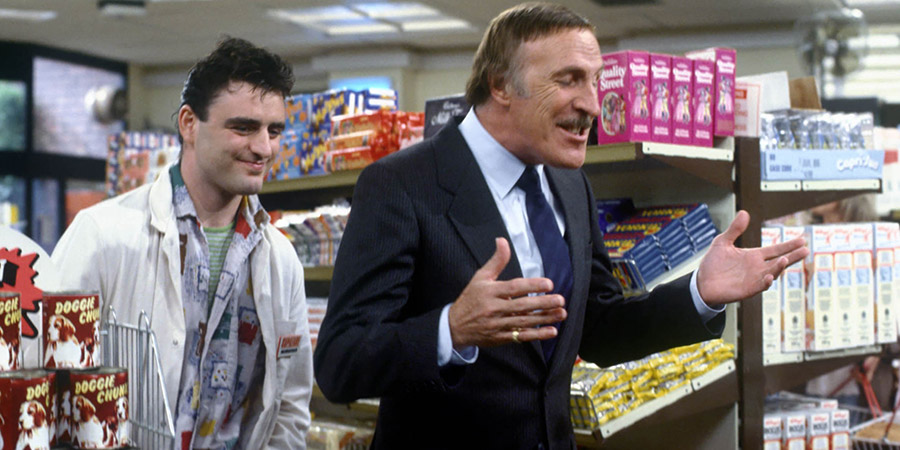 Unlike Tripper's Day, Cooke only wrote the first two episodes before passing the series onto other writers, most of whom were old hands with the genre. The majority were written by Vince Powell (Bless This House, Never The Twain) in what would be among his final television credits, whilst two were written by Alex Shearer, who had just launched successful Nicholas Lyndhurst vehicle The Two Of Us. The remaining two episodes were written by Ian Davidson and Peter Vincent, and Andrew Marshall and David Renwick, respectively.
For Marshall and Renwick in particular, Slinger's Day was a departure from their blackly comic, satirical roots and is a rare example of them writing an episode to order (as it were) on somebody else's show. Yet their plot is identifiably them, containing many of the hallmarks that would feature in their later work, notably the construction of a chain of logical events that escalate to an unbelievably farcical conclusion.
Like its predecessor, Slinger's Day rounded out its supporting cast with comedy veterans. Amongst them was David Kelly as work-shy security guard Fred, a role not dissimilar to that of O'Reilly, whom he played in Fawlty Towers episode The Builders. The majority of the supporting cast, including Philip Bird, Liz Crowther, Paul Clarkson and Vicky Licorish reprised their Tripper's Day roles as the hapless Supafare staff members.
As a format, Tripper's Day was successful enough to be sold to America, remade as Check It Out!, a series that outlived both Tripper's Day and Slinger's Day combined, running for three seasons and sixty-six episodes. Arguably the modern-day equivalent is Superstore, while in Britain the Sky One sitcom Trollied followed a near identical formula to large success; perhaps because it made much more of the ensemble dynamic and fleshed out its characters to a greater extent. The minutiae of the setting's mundanity was also examined in Shelfstackers, which ran for a single series on BBC Two in 2010.
Both Tripper's Day and Slinger's Day are prime examples of sitcoms with a setting that render them timeless - outdated technology aside. Any episode could be aired now with few edits, the comedy firmly in the category of family entertainment and the world still so keenly recognisable. As a showcase of two comedy behemoths in Rossiter and Forsyth, the series never gets near the apex of the best work of either, but nevertheless both men throw themselves into their characters with aplomb. Forsyth in particular seems to relish playing a part that allows him to be far nastier than had ever been before, venting vitriol at his staff in a manner that was a million miles away from his usual onscreen persona.
Whilst neither are remembered with acclaim today, both sitcoms stand as a fitting testament to two titans of British comedy - Rossiter at the premature end of his illustrious career and Forsyth arguably at the height of his - and to a very different era of sitcom. Hidden amongst the over-lit eighties production design and over-produced synthesised theme music are scores of corking one-liners delivered with the skill of seasoned comic actors, penned by the cream of comedy writing crop.
Where to start?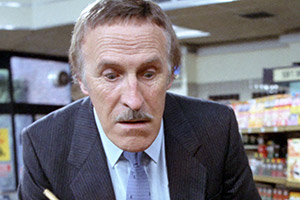 Slinger's Day - Series 2, Episode 4 - Initiative
Since there is little in the way of set up, you can jump in almost anywhere. But this, the only episode written by Andrew Marshall and David Renwick, is a fascinating insight into how two writers with a very distinct style imprint their vision onto a show with very strict guidelines, confined as it is to a single location with minimal characters. The staff of Supafare must work together - something hitherto unseen - in order to get rid of over five hundred fishcakes before they go stale. When Slinger's plan actually works, he has to contend with security guard Fred's newfound sense of self-worth.