Laughing All the Way to the Bank: Comedians Cashing in on Adverts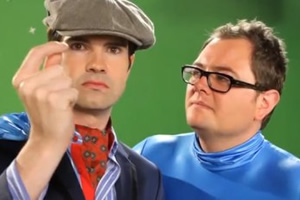 When it comes to pushing us products, the marketing men have made a trillion dollar industry out of appealing to our primal urges. Sex sells - everything from the latest Ford Focus to dandruff shampoo will apparently have the ladies crawling all over you. Fear sells - worried about cavities? Well you should be worried about gum disease too. Worried about gum disease? Wait till we tell you about the corrosive, acid-packed, enamel-destroying power of fruit.
Besides scaring us into buying the latest brand of toothpaste, those smart ad men have another trick up their sleeve - tickling our funny bones. Comedy has long been a favourite marketing trope, never more so than in today's sharing internet age. In recent years, ads, more than anything, have sought to make us laugh, and those that succeed quickly spread around the world wide web like wildfire - every marketing man's dream - the viral hit.
And who better to help them achieve this goal than comedians? We've recently seen comedians and comic actors falling over themselves to star in or lend their voices to TV ads - and some surprising alt-comedy names too. It's a quick buck for them, but does selling out mean losing cred? That all depends on whether the ad makes us laugh (and how much cred the star held in the first place). Here are some favourite comic cameos, old and new - LOL or fail, you decide...
Barbara Windsor for Jackpotjoy
From her Carry On cackle to her catfights with Pat, Babs has been one of the nation's favourite comic actresses for decades. Now our East End queen is the official Queen of Bingo and, in her latest ad for online bingo brand Jackpotjoy, presides over a drag race with a difference. Switching traditional teen tearaways for OAP rebels and souped-up sports cars for revved-up mobility scooters, this ad shows age is nothing to fear when you're growing old disgracefully.
Johnny Vegas for PG Tips
PG Tips packed more comedy references into this one ad than you can shake a stick at. Poking fun at the brand's penchant for chimp stars, modern day comic genius Johnny Vegas gets some help from a loveable knitted monkey and a couple of old-timey comic geniuses to boot, in this homage to an all-time classic Morecambe & Wise routine.
John Cleese for BT
When it comes to shameless sell-outs, Monty Python legend John Cleese is hard to beat. Over the years he's popped up in commercials for pretzels, Schweppes, Orange, the AA, Compaq, DirecTV, Accurist, Intel, Sainsbury's and the Liberal Democrats - and that's not the half of it. One of our favourites comes from 1993 and sees Mr Cleese cashing in on his Flying Circus heyday, putting his classic Ministry of Silly Walks sketch to use as an oddball judge trying to hire a locksmith in the middle of nowhere.
Jimmy Carr & Alan Carr hijack ads for Channel 4
The two funniest (and richest) Carrs in showbiz have frequently shown up together on chat shows, panel shows and stand-up stints on the telly, but for the last couple of years Channel 4 have brought the two comedy namesakes together like never before. Frequently mistaken for brothers (just Google their names and "are they related?" appears as a top search), the channel teamed them up side by side in a series of adverts broadcast during their Comedy Galas. Hijacking the ad breaks proved a roaring success, poking fun at adverts we love to hate from brands like Cadbury's and Go Compare, surprising us with a dose of comic relief when we were least expecting it, and helping to raise cash for Great Ormond Street Hospital in the process.