Cadbury Lolly Stick Joke Competition Winners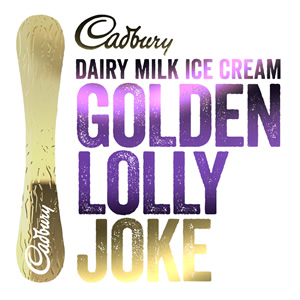 At the time of writing, it looks like summer has finally arrived here in the UK. Thus it is with perfect timing that Cadbury Dairy Milk Ice Cream announces the results of its competition seeking out the funniest jokes to put on its lolly sticks.
So what was the top winning joke? Drum roll...
Who is in charge of the hankies?
The hankie-chief.
OK, maybe not the funniest joke in the world, but it'll certainly result in a suitable groan when parched holidaymakers polish off their lollies and have a read of the stick. That's what it's all about isn't it?... if jokes printed on packaging and in crackers don't make you groan they're not doing their job right.
The above joke was penned by Charlie Thomas, a Newcastle scaffolder by day and part of a Rat Pack tribute act by night. He, along with more than 2,000 other people, submitted jokes to Cadburys via Twitter earlier this month in the hope of winning the £5,000 prize on offer.
Charlie is going to spend the money on a family holiday. He says: "As a child, the jokes were as much of a treat as the lolly itself. I entered the competition to share some of my silliest jokes and I'm delighted that I have won!"
The joke has now been engraved onto the world's first ever 18 carat gold lolly stick, which the British public will have the chance to win this weekend. The stick - worth a cool £10,000 - has been put into a random Cadbury Dairy Milk Ice Cream Lolly for a member of the public to find. The lollies will be given out in London's Covent Garden from Friday 25th May until Sunday 27th May so head into the centre of London if you fancy seeing if you can find the gold.
Here's the full top 10 jokes submitted to @goldenlollyjoke. All the entries were judged by a panel of experts, and the best gags were then put to a public vote... the result of which is below: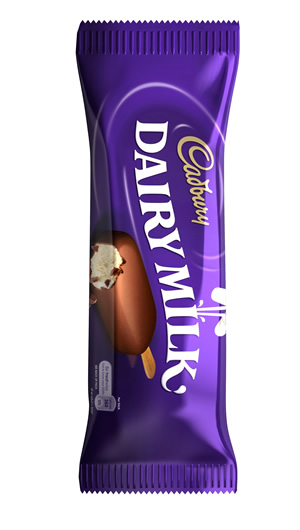 1. "Who is in charge of the hankies? The hankie-chief!" - (12.4% of public vote) - @swingitcharlie
2. "Why are crabs trying to take over the sea? Because they're shellfish." - (11.6%) - @dave_giz
3. "What did the buffalo say to his child when he was leaving for uni? Bison." - (8.7%) - @MartinDarko
4. "Where did Noah keep all of the freshwater fish? In his multi-storey Carp Ark." - (8.45%) - @TonyCowards
5. "Why did the cow get thrown out of the darts competition? Because she hit a bulls eye." - (7.2%) - @bellmusic
6. "I've got a joke about Elton John. It's a little bit funny." - (7.1%) - @jcodfishpie
7. "Why did the cheese maker walk with a limp? Because he only had one stilton." - (6.95%) - @QuintinForbes
8. "Who is president of the Zoo animals? Barack O'Llama." - (5.35%) - @zoolander1978
9. "What is Bilbo Baggins' favourite part of a cooker? The hob bit." - (5.1%) - @Alan_Machnik
10. "Who did King Arthur get to look after his napkins? Sir Viette." - (5%) - @hilaryobcorne
Comedy critic Bruce Dessau, who was one of the judges sifting through the submitted gags, says: "There has never been a better time to revive the tradition of the lolly stick joke. Short form text mediums like Twitter have focused people on delivering bite-sized wit and shown us that a joke doesn't have to be long to be good."
Stand-up Tony Cowards (pictured) specialises in the kind of jokes you might well find on your lollipop stick, and in fact he does indeed have a joke in the top 10. He thinks the old stick jokes may have had an influence on the style of comedy he specialises in now: "I used to love the jokes on lolly sticks. They were mostly Christmas Cracker type jokes weren't they? 'What's black and white and red all over? A Newspaper' that sort of thing."
For comedy writer Dave Cohen it was no laughing matter when his lolly sticks went blank: "I can remember how much more enjoyable they made the prospect of buying lollies, and how disappointed I was when they stopped. Now is definitely the perfect time for their return. What makes a good lolly joke? One that is short, silly, funny and enjoyable for all the family."
Stand-up Adam Bloom, who hones his gags on Twitter, remembers the lollipop jokes fondly: "What worked was the innocence and cheek combined. They had to be silly enough for small children but clever enough for older kids and adults."
Jenny Bostock, Consumer Marketing Manager at Cadburys, says: "We are proud to be reviving a great summer time tradition and what better way to do it than with the help of the nation. Twitter has re-energised our passion for joke telling and sharing. We want to bring back the fun to ice cream and put a smile on our customer faces."