Britain's sitcom invasion
As his new book on 1970s sitcoms is published, author Robert Sellers takes a look at the topic of British sitcoms being re-made for an American audience, in the process sharing some of the conversations he had with the original writers involved.
It isn't unusual for TV producers to adapt successful UK sitcoms for an American audience. US series based on Ghosts and This Country are set to start soon, and follow on from such transfers as The Office, Shameless and The Thick Of It.
It's a trend that began way back in the late 60s when Hancock and Steptoe And Son creators Galton & Simpson flew to Los Angeles to talk to network executives about adapting Steptoe And Son for the American TV market. The big question was where they were going to locate the new show. The network executives were at pains not to upset any particular ethnic group. "If they put it in New York people might say, oh it's Jewish," recalled Ray Galton. "In Boston they'd say they're Irish. If it was Chicago, they're Italian. In Los Angeles, they'd be Mexican."
After much debate Ray suggested, 'What about making them black?' One of the executives sat bolt upright in his chair. 'Oh wonderful, great idea, but impossible.' The political climate of the time just wasn't right, according to Alan Simpson. "Any black characters on TV had to be doctors, politicians, they had to be upwardly mobile. Then about four years later we were called by Turner Productions, who'd picked up the option, and they said to us, would we mind if they cast it black, and we said, 'Well, wonderful, we thought of that four years ago.' They said, 'You couldn't do it four years ago, but you can do it now.'"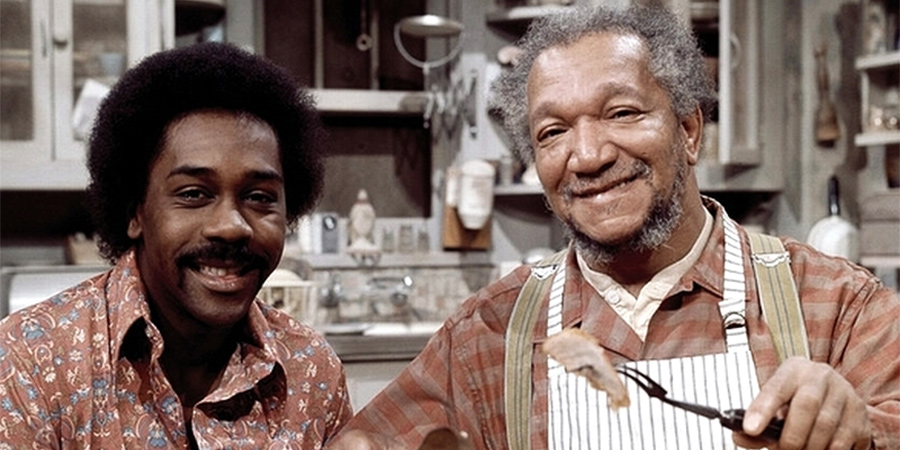 Sanford And Son starred Red Foxx as the cantankerous Fred Sanford and Demond Wilson as his frustrated son Lamont. It ran from 1972 to 1977 on the NBC network and was a ratings smash, although Galton & Simpson hardly had anything to do with it. "The first season they used some of our scripts," says Alan. "But in the end, they did what they always do, get a team of writers in and write their own."
Just as successful was an American version of Man About The House, renamed Three's Company, which ran for 169 episodes from 1977 to 1984. "ABC came to us and said they'd like to do the show in America," recalls co-writer Brian Cooke. "We knew that the odds were very much against it because at that time there had only been a few British shows that ever made the transition to America."
Just to make sure they got it right, three pilots were made, with a separate producer attached to each one. Two of the producers made a complete hash of it, with one of them introducing the idea of the Richard O'Sullivan character being an airline pilot rather than a student and the two girls as air hostesses. "Then the third producer said 'hang on a minute, if it worked in Britain why wouldn't it work here?'", recalls Brian. "And for something like the first 30 or so episodes they stuck with exactly what we did, word for word. They also put Three's Company up against M*A*S*H and it beat it; it actually beat M*A*S*H."
Some of British sitcom's most iconic characters never quite made the grade in America. Michael Crawford rejected a five-year contract to play a similarly themed American version of Frank Spencer set in New York, while Mel Brooks favourite Harvey Korman played a version of Basil Fawlty in a pilot for ABC in 1978 that never made it to a series (Chateau Snavely - it was the first of three attempts to bring Fawlty Towers to America; Amanda's and Payne followed).
Uber bigot Alf Garnett, however, did find favour in All In The Family (NBC 1971-79). Here the Garnetts became a working-class family living in Queens, New York, and the patriarch was one Archie Bunker. Carroll O'Connor's performance in the role was to achieve cult status. His chair from the series was preserved for posterity in the Smithsonian Museum in Washington DC.
A few years later that show's producer John Rich invited Dick Clement and Ian La Frenais to work on a US version of Porridge. The result was On The Rocks. The series featured a lot more location shooting than its British counterpart. "We went to a real hardcore prison called Chino", recalls Ian, "and spent five days filming inside maximum security. Dick and I had prison blues on, we were extras. I don't know how we weren't all taken hostage, wandering round pretending we were inmates. I can't believe we did it."
On The Rocks is something the writers do not look back fondly on. "We didn't have fun doing it", says Dick. "It was a grind." After the first series the executives over at ABC asked Dick and Ian to do a second series - and they said no. "I think we must be in the American TV history books as the only writers to turn down a second series", says Ian.
Both writers felt the show just wasn't working. Essentially prison isn't funny, a hurdle the writers did manage to navigate in the UK. "But American prison is particularly not funny", says Dick, "because inevitably race comes into it. American prisons are divided much more along racial lines and that ain't funny. In Britain class can always be funny, and the gradations of class, you get so much humour out of it. But if you start getting into class in America you reach race before very long and suddenly everybody's prickly and sensitive and nervous because it's a difficult subject."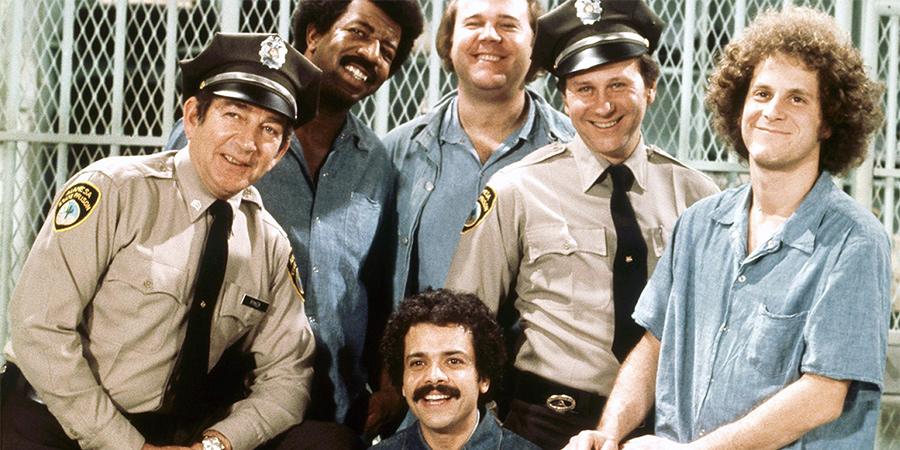 Sometimes one doesn't need hindsight to work out which shows were going to succeed and which had no chance. This was certainly the case with three of the most 'British' of sitcoms. Firstly, Dad's Army. David Croft and Jimmy Perry were invited to Los Angeles to watch the recording of a pilot episode for ABC. The writers were left scratching their heads to see Captain Mainwaring turned into a Jewish tailor and Sgt Wilson hailing from Italian stock. The American producers had chosen the classic German U boat episode as a try-out, but according to Croft the whole proposition of transferring the show to the USA was something of a lost cause and, in the end, died a natural death. Not surprising really, given that America was never threatened with invasion in the way Britain had been, so it seemed odd why executives over there believed the show would resonate with audiences.
Incredulously, ITV managed to sell the On The Buses concept to NBC where the scripts were reworked by the team behind The Dick Van Dyke Show. Renamed Lotsa Luck, the Reg Varney role went to Dom DeLuise; not a bus driver here but a lost property clerk for the New York bus department. Lotsa Luck didn't come close to matching the success of its British cousin, running for just the one series during 1973-74.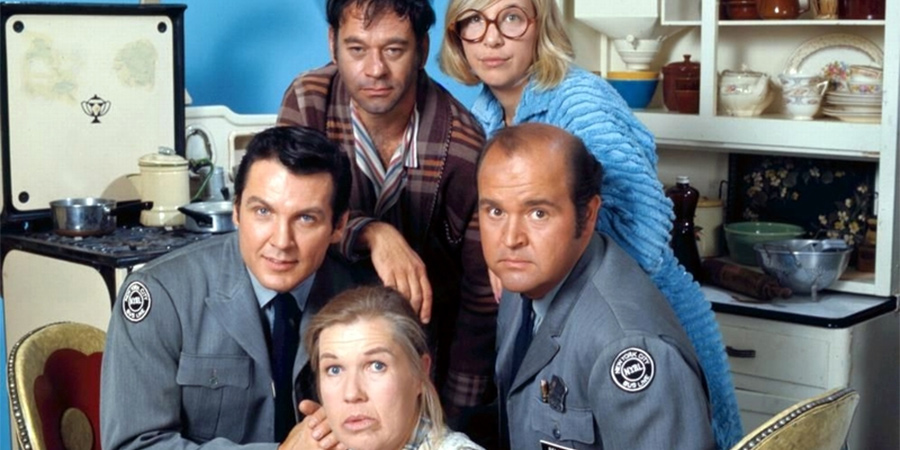 And then there was Are You Being Served?, which attracted the attention of Garry Marshall, who'd written and produced Happy Days. Croft and co-writer Jeremy Lloyd arrived in the States to help with the writing and casting of what turned out to be a doomed venture. Croft remembers one young actor, then a huge success at LA's Comedy Store, coming in to read for Mr ("I'm free") Humphries. His name was Robin Williams. While Croft thought Williams was very funny, his personality was so over the top that he convinced himself that the comic would sabotage the whole production. As he wrote in his autobiography: "I turned him down and thus prevented myself from becoming a millionaire."