Castlewood Primary in Horsham have won Beano's competition to find Britain's funniest class. Their joke was:
At the bank a lady asked me to check her balance, so I pushed her over.
The gag, by Castlewood's Foxes class, received a third of the 7.4 million votes on Beano.com, resulting in them being crowned the ultimate champions.
Beano.com presenter Emma Shaw today presented the class with the official Beano Britain's Funniest Class trophy along with prizes including a bundle of Beano annuals and comic subscriptions. The class will also be treated to a special joke workshop to help further hone their budding comedy skills.
Headteacher Rachel Nunns says: "We are all so very proud of our Foxes class and their joke. We have been amazed by the support of the parents of the class and how the entire school has rallied behind them. Also the immense public support and votes on Beano.com that have led to this wonderful result!"
Katy Smith, the Foxes class teacher, comments: "The class are just so thrilled, they can't quite believe they have won! We all want to say a huge thank you to Beano, we've had so much fun writing jokes for the competition."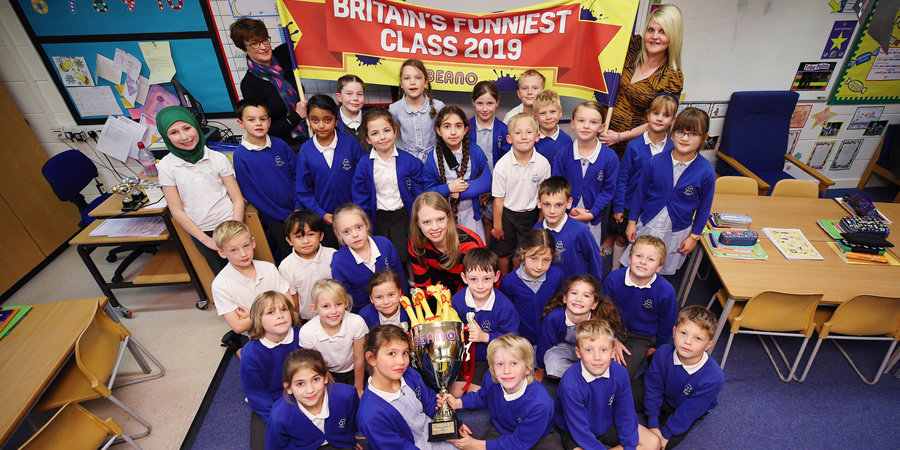 The final involved ten classes, as shortlisted by Harry Hill and Beano's 'gag masters'.
Polperro Primary in Looe (Cornwall) were the runners-up with their joke:
YouTube, Twitter and Facebook are making a joint website. What would it be called?
YouTwitFace.
Blackpool's Bispham Endowed CE Primary School were third. They submitted this joke:
A Mexican man says to his friends, 'I can disappear in three seconds. Uno...dos...' and then he disappears without a 'tres'!
All shortlisted schools will have their jokes added to Beano's joke generator at beano.com/jokes and receive special Beano certificates marking their achievement.
Mike Stirling, editorial director at Beano Studios, says: "This competition has now proved to Britain and beyond that we have a nation of funny kids! A huge congrats to Castlewood Primary and all the shortlisted schools - keep that LOLZ comedy genius coming!"