Remembering Bob Monkhouse: Bob's your uncle
Ten years ago, cancer claimed the life of one of British comedy's most influential, clever and witty - yet often misunderstood - personalities. Here, blogger, fan, enthusiast and occasional comedy historian Georgy Jamieson looks back at the life and work of the man: Bob Monkhouse.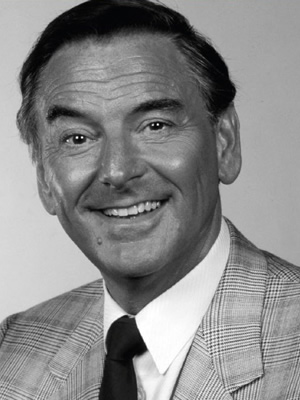 "He was the best technician of comedy this country's ever had" - Denis Norden
"A jack of all trades and a master of all of them" - Barry Cryer
I asked 100 people what word or phrase they associate with Bob Monkhouse, and they said: game shows, smarmy, slick, comedian, professional, sharp, and quick; but the top answer was: funny.
Bob Monkhouse was many things but above all he was funny. Yet, as much as the public laughed, and laughed in their droves, they never really warmed to him. In 1978 he was voted both the most loved and the most hated man on TV. Bob Monkhouse was 'entertainment Marmite'.
Bob was born in Beckenham, Kent in 1928 into the prestigious Monk and Glass Company family, manufacturers of custard powder and jelly. He didn't have the traditional working class, club comedian 'we were so poor...' childhood to draw his comedy from, yet his life wasn't without emotional hardship. As a child both Bob's mother and father could be cold towards him and when Bob married his first wife, Elizabeth Thompson in 1949, his mother refused to go to the wedding and didn't speak to him until after they had separated in 1967, believing Robert (as she always insisted on calling him), had married beneath him.
Bob found happiness again with his second wife Jackie, whom he married in 1973 but the loss of his two sons, Gary who was born with cerebral palsy and Simon who died of a drugs overdose, gave Bob more than his fair share of sadness. Those close to him, such as family friend Anita Harris, thought he never truly recovered emotionally from the death of his sons, yet as a consummate professional he never let this show on stage.
Professionally, Bob went from strength to strength with easy grace ("I forget why we called her that" - one of Bob's many one liners). He quickly graduated from writing gags with Denis Goodwin for all the greats of radio comedy in the 1940s and 50s (such as Arthur Askey, Ted Ray and Jimmy Edwards), to presiding over the microphone himself. A television series with Goodwin soon followed with the 1954 show Fast And Loose. However it soon became apparent that whilst the camera adored Bob, Goodwin struggled being centre stage and learning lines.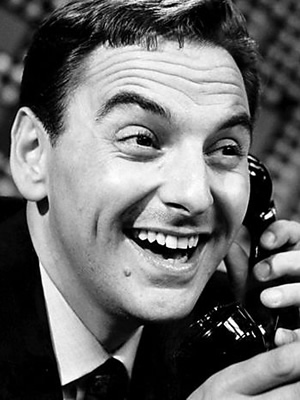 When they parted company, Bob carried on... quite literally, with Carry On Sergeant (the movie franchise's first title) and then the Dentist... films, which he hoped would become a franchise as big as the Carry Ons. This wasn't to be, and he later admitted to having made a mistake by choosing the wrong path in his movie career.
Falling out of love with comedy and suffering torment in his first marriage, Bob tried his hand at straight acting during the 1960s until a triumphant return to light entertainment in 1967 with comic game show The Golden Shot. Here began his tenure as Britain's premier game show host, an unofficial accolade that Dennis Norden believes ruined Monkhouse's comedy career and one I'm sure Bruce Forsyth would take umbrage with.
Whilst he was a permanent fixture on our screens with The Golden Shot, Family Fortunes, Bob's Full House, Bob Says Opportunity Knocks and The $64,000 Question, he was also travelling the length and breadth of the country doing late night cabaret gigs at clubs and corporate events. This was where Bob was most at home. He was live, a little bit blue and away from the restraints of family TV. He could be bolder, more adult and indulge in a healthy measure of whisky before and during his performance, choosing to never go on stage 'alone', as he called it.
During the 1980s, when the new wave of alternative comedians took over and regarded the likes of Monkhouse as old hat, Bob did a lot to break new American comedians in this country. On The Bob Monkhouse Show, his chat show that ran from 1983 to 1986 and celebrated his love of comedy, he first introduced the British public to Joan Rivers, Sandra Bernhard, Kelly Monteith, Rita Rudner and Jim Carrey.
Behind the professional image however was a man who craved the public's support and above all love, and who never felt part of the comedy establishment let alone the new wave. "They don't like me", he once said to Barry Cryer. "The gang, Eric and Ernie, Tommy Cooper, Brucie." Jimmy Tarbuck also reiterated this opinion when I went to see his live one man show in 2011. During the evening Tarby discussed his comedy heroes and when he got to Bob he said something very telling: "He was admired. Never loved, but he was admired."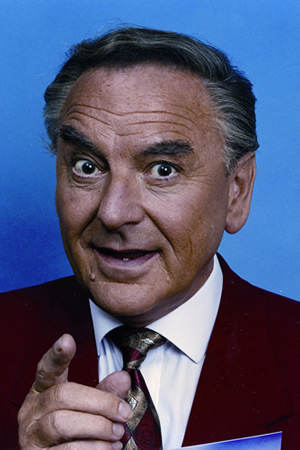 Whereas Eric Morecambe and Tommy Cooper were the kind of comedians you wanted to have a beer with, Bob was considered unapproachable. Yet he was anything but. When fans wrote to ask for an autograph he would send personal notes, cards and even cartoons. Friends of mine have a beautiful and very personal greeting with a cartoon sent to them for their wedding day, after the groom sent Bob a letter on the off-chance. It hangs pride of place, framed in their hallway and is as unique as it is thoughtful.
He would remember names instantly to put people at their ease. At after dinner corporate events he would spend half an hour with the organiser assessing all the company characters and getting all the names, then weave all this fresh information into his act without the need for prompting and without a single slip up. He offered Wipeout voice-over man, Tom Edwards, help and support to recover from alcohol problems with advice and financial help, and sent Tom postcards from his travels around the world to remind him that he was loved. When contractually unable to pay a fellow writer for a gag he'd used during a TV appearance, he sent him a case of his favourite whisky as a thank you.
These were all typical of Bob Monkhouse yet the public didn't see that side to him. So if Bob really was your uncle, at times it never felt like it. He was more like an oily insurance salesman who had come into your home to sell you something you didn't really need but made you laugh while he was doing it. You sat back and admired his skill but you wouldn't want to get too close.
Then in the 1990s everything changed. He rediscovered his comedy roots. He went back to stand-up on TV just when it was enjoying a resurgence in popularity, with his On The Spot show - and even had a go at improvisation. He appeared on Have I Got News For You and excelled with his quick wit and eye for the topical. He embraced and nurtured new comedians and writers such as Kevin Day, Dominic Holland, Bradley Walsh and Joe Pasquale.
"Bob was very keen to nurture new talent, he would be with a new comedian for at least two hours talking about comedy and what they might want to do with their act. A lot of comedians of the next generation benefited from Bob's advice" said his long time comedy writing partner Colin Edmonds, the man who inherited his prized 'joke books' that were famously stolen in 1995 but thankfully returned 18 months later with the help of Bob's manager, Peter Pritchard.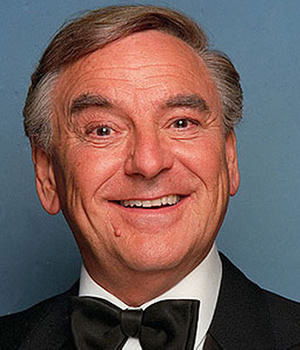 He also returned to straight acting and appeared alongside the likes of Hugh Laurie, Alan Davies, Caroline Quentin and Victoria Wood. Maybe the old guard hadn't liked him and the alternatives thought him old fashioned, but the next wave were coming around to his way of thinking. They were realising that Bob Monkhouse was the grandad of modern British stand-up comedy.
I still see his influence everywhere, most notably in Jimmy Carr, but also with comedians like Dara O Briain, who aren't afraid to draw the audience into their act much like the improv Bob did in On The Spot. There's also more than a sprinkling of Monkhouse magic in the surreal one-liners of Milton Jones and a strong element of the risqué nightclub Bob in the blue-tinged comedy of a Sarah Millican live show.
When his widow Jackie died, the full extent of Bob's legacy to the comedy world became apparent. Bob really did have a full house and his vast collection of whisky glasses, tinned foods and comic books were an indication of the compulsive nature of the man. But it was his obsession with collecting and archiving films, television and radio programmes that has led to some amazing finds. As one of the first people in the UK to own a video recorder, Bob had recorded literally thousands of VHS tapes, many containing programmes previously thought lost or wiped, including his own performances on Sunday Night At The London Palladium and The Golden Shot. His collection has delighted The Tony Hancock Appreciation Society with lost radio episodes of Hancock's Half Hour, and thrilled Lenny Henry with a recording of his first ever TV appearance, on live talent show New Faces.
10 years ago today Bob Monkhouse died from prostate cancer. He worked until just 6 weeks before his death and was stoic upon diagnosis, given 2 and half years to live by his doctors. On his last appearance on Parkinson he joked about knowing he was going to die. The other guests, Lulu and Peter Kay, both look faintly uncomfortable and almost sorry for Bob, but Bob's jokes are so witty, warm and brave he soon had them laughing. Bob would never have wanted their pity, just the sound of their laughter.
I never knew Bob Monkhouse. I never had the pleasure of meeting him or even seeing him live in cabaret. Yet there isn't a day goes by when I don't miss him. Bob and his comedy have been a life-long obsession. I wish he were still here to show us how topical comedy should be done on 8 Out Of 10 Cats or Have I Got News For You, and to battle wits and witticisms on QI. He would've been incredible and found yet another new audience for his talents.
My favourite Bob Monkhouse joke is typical of the man's comedy. It's sharp and clever, with not a word wasted and a great pay off.
"They laughed when I said I was going to be a comedian. Well, they're not laughing now."
That's just it though Bob; 10 years after you left us, you are still making us laugh.