Poppy Hillstead
Tackling the world of sport, with the champions of comedy.
How do you take a deep dive into the farthest corners of a comic's psyche? By asking what footballer they'd be. Naturally.
This week it's the agreeably antagonistic Poppy Hillstead, whose excellently illustrated face you'll find in all the best podcast places right now. Poppy Hillstead has Entered the Chat
is anything but your average natterfest, and as she'll explain below, the latest episode is sportier and naughtier.
Actually Poppy will also bashfully suggest that - unlike her chosen footballer - she doesn't set up chances, but over at Hillstead's hub there's a whole page of posters for fellow comics, as she does the aforementioned illustrating, too. Commissions probably welcome. Remember when people needed posters? Sigh.
Right, onto the big question.
So, Poppy Hillstead, Which Footballer Are You?
I am English football manager and former player, Teddy Sheringham. I picked him 'cause when I was young, I decided I was a Nottingham Forest supporter and that he was my fave player. I think mostly based on the fact that he had a cool name and looked the friendliest out of my football sticker collection.
I should stress I've never known anything about football or any sport, I just liked collecting stickers and bits of crap. I also got heavily into Beanie Baby dealing around this time, I think it got so bad at one point that I caused a middle-aged couple to move into a shed 'cause I scammed them into buying so many knock-off Beanie Baby bears.
Let's move on from this dark time in my life.
Teddy started as a glory-hunting goalscorer then became a provider of opportunities for others - any parallels there?
I don't think I give many people opportunities. To bring it back to the Beanie Baby couple, I gave them plenty of opportunities to admit to selling me a fake Britannia Bear (the rarest beanie baby at the time), £40 is a lot of money to a ten year-old.
They started the bad blood between us which ultimately led to me scamming them back which, in turn, could well have affected their living situation and probably what led to their divorce. Who knows?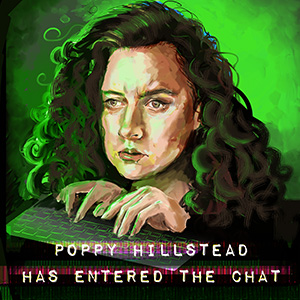 As a player, Teddy loved winding up opposition fans - as a comedian you love winding up random surfers?
I'm very annoying to people. Basically, I have a podcast where I go into chatrooms and have real conversations with real people, then me and guests re-enact them for the listeners at home. The only real anger I get is when I don't message people back quick enough. A lot of effing and jeffing gets thrown at me when I don't immediately reply to offers of 'Come to York. I have a holiday home. Make love to me...'
Your latest episode is a sports edition. How does that turn out?
Don't know ought about sports. But thought I'd try and get into it so I can have a go at being a 'Ladette'. That's what it's all about. 'Ladette' vibes. I'm bringing her back. Pints, football, banter. 'Ladette'.
The sports episode turns out with me, shoulder to shoulder with my idol Teddy Sheringham, smashing through the 'trials' to get into the Nottingham Forest team. Have a listen!
Teddy won lots of trophies - do you have big ambitions, comedy-wise?
To sell out Madison Square Garden.