Lloyd Griffith interview
Tackling the world of sport, with the champions of comedy.
Stand-up comedian, classical chorister, sports presenter, popular YouTuber, half-decent goalkeeper, and now an increasingly busy actor - Lloyd Griffith certainly has some side-hustles. When career doors close due to a global catastrophe he throws himself at others, like a Grimsby Gordon Banks.
(Actually the late, great keeper Ray Clemence was from nearby Skegness... but we digress)
As Lloyd reveals below, he's recently popped up in some huge TV shows, but clearly misses the cathartic joys of live stand-up, and singing. Thankfully proper gigs are imminent though, and his Not Just A Pretty Face tour has just been rescheduled, starting in Birmingham on September 1st (dates). A cracking show it is too - but why did Euro 21 cause a rewrite?
This chat actually came about after some tweets about his fantasy footballing, which sounds like another full-time job (so many leagues!) but does help with another project: Premier League Fan Reactions. He's annoyingly good at accents, too.
Right, onto the Zoom.
How has this last 12 months been for you, Lloyd?
Weird. I went on tour for three weeks, then the day everything kind of kicked off here I was doing Sport Relief in Manchester. Me and Sam Quek, it was 12 hours in goal and she was doing 12 hours of non-stop penalties, so we got in the Guinness Book of World Records - and a Blue Peter badge, which is great. That's on the wall.
So this is all happening, Richard Curtis is coming down, Gary Lineker, but the whole time there's this rolling news thing saying 'the world's falling apart.'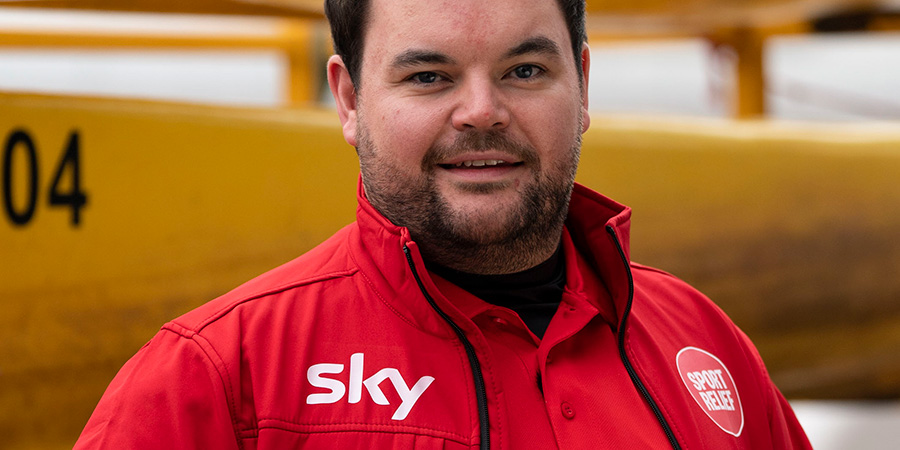 It was pretty surreal. And this latest lockdown?
It's been alright to be fair, I was back in Grimsby from mid-December, then London and had to go to Dubai for a bit - all above board - then I was filming end of January, for Ted Lasso Season 2.
It's amazing the impact that show has had, particularly in the States.
Mate, it's all kicked off. I was just looking on IMDb, and it's got 8.7, which is out of this world, a Golden Globes nomination for the ensemble, which is quite nice. You're working with Jason Sudeikis, he's one of the loveliest men, and so supportive onset of other people; there's a few people that have come back, and it was quite clear it was their first job back since [the Covid shutdown].
I'd really recommend it. I mean, as a football person you'll probably point things out: 'why is the linesman wearing glasses...?'
I heard Brett Goldstein [who's heavily involved in Ted Lasso] and Nish Kumar discussing how comedy was all about egomaniacs until Trump got in - now we want nicer protagonists, like Ted.
It's got heart. And it's really funny. And the acting - in the read-through Nick Mohammed just had everyone in stitches, oh my god, he was so good. It was great to be a part of it, then to come back for the second series.
What's your part?
I play a journalist - called Lloyd. I went in for the first episode, and they got me back for a few more, because they were writing as they were going on.
It's so popular in the States, is that a nice little 'in' for you there now?
I've been quite lucky, I'm in a film coming out this year, a Hollywood film, just a small little role, and then Ted Lasso, and I'm also in Its A Sin; again, tiny little cameo. But if you were to look at my IMDb - 'oh he was in Ted Lasso, It's A Sin, crikey....'
So yeah, more acting stuff's coming my way, and I've got other projects that I'm hoping to do, and obviously trying to not die, and eat healthily. I've lost just over a stone and a half since November; I'm running about 40/50k a week. The idea is to basically try and build up the profile, lose weight, and then the sweet spot is Soccer Aid.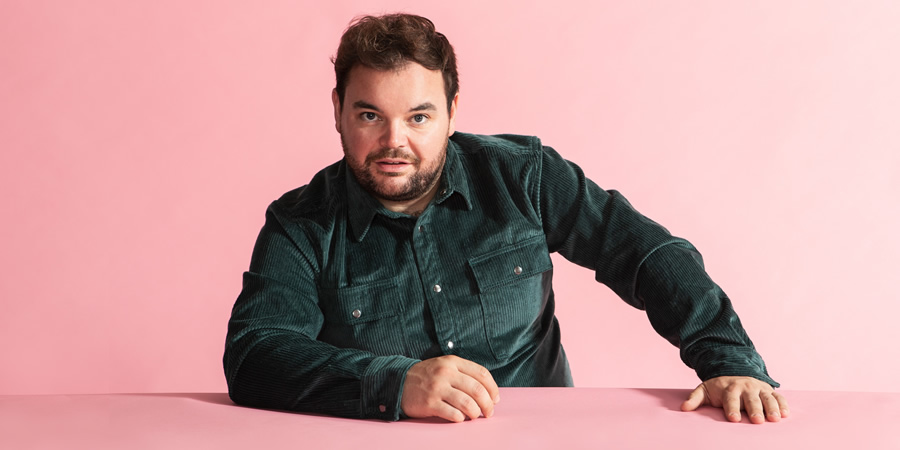 You'll not turn up for these acting roles and they'll go 'ah, when we saw you in September...'?
That happened for an advert a few years back, so I had about two weeks to put on as much weight as possible, but I didn't have time to do it properly. I'd just done a corporate for Ben and Jerry's, loads of vouchers, so I was just absolutely ploughing into those. It should be fish and avocado, good carbs, and I was ploughing cookie dough into me gob.
Speaking of guilty pleasures, I've spotted a few fantasy football tweets...
I do these Premier League Fan Reactions videos, so that kind of keeps me in the know, having to watch all the games. 'Alright, well Bamford's in a rich vein of form...' It's really interesting how it's developed.
It does keep you interested in random players.
This year I'm fully aware of Tyrick Mitchell, Crystal Palace - good defender to have who costs not too much money but occasionally makes appearances.
I actually messaged a mate who covers Palace, saying 'is it worth keeping Mitchell?' while he was trying to prep for a game. How seriously do you take it?
Not too seriously - every week, a day before or that morning I'll chop and change my team. There's a bit of pride at stake in a few leagues; one of them I have money on. He's got a little spreadsheet. But if I've been working, I'll just forget, sometimes I don't take my phone onto set...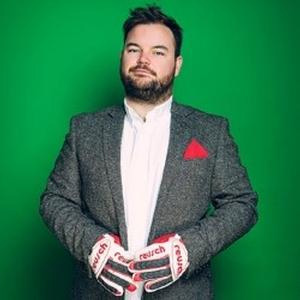 I think comedy people have a disadvantage anyway, because we're all busy in Edinburgh when the season starts...
That's different for you [as a journalist] - comedians have got too much time in Edinburgh. You're seeing stuff, you're reviewing stuff, but comedians aren't working so much: they're crying and they've got a lot of time. The comedian's league is pretty tasty as well. Joe Bor's top...
I'm in 19 Leagues, and I vary from being second to 6288. And I've got my own league, which has got I think 943 people in it. I do prizes at the end.
That sounds like a lot of admin.
It runs itself really, then I just have to go 'right who won this, I'll get you some gear out.' So it's not a job, but it forces me to take an interest in football; especially like two years ago when I was working on Soccer AM, it was perfect. You're fully aware of, you know, Burnley's backup defenders.
It can be embarrassing if you work in football though: I'd get invited to join leagues then be useless...
I'm in a league where there's quite a few names, YouTubers, musicians like Chelcee Grimes, Matt Osman - Richard Osman's brother - Alex Brooker, Jack Whitehall. Top of that league is Magnus Carlsen, the chess grandmaster.
Wasn't he winning the whole global league last year?
It's interesting, you look at his team going, 'how did he guess that?' Having just watched Queen's Gambit, it's insane to think that he's like the number one chess player in the world, and also is number one at this. That's just obviously down to his mind.
Has he got his team worked out longer term, like chess? It's funny who's great and who isn't...
I used to work in a restaurant called The Sidewalk in Grimsby, a lot of the lads there did it. But then my mum also used to work there, she basically just picked, like, 11 footballers that she fancied. And it did really, really well. I was genuinely angry, because I thought, from the days of reading Shoot and Match, well, I think I know what I'm doing. By week three, she was top of the league.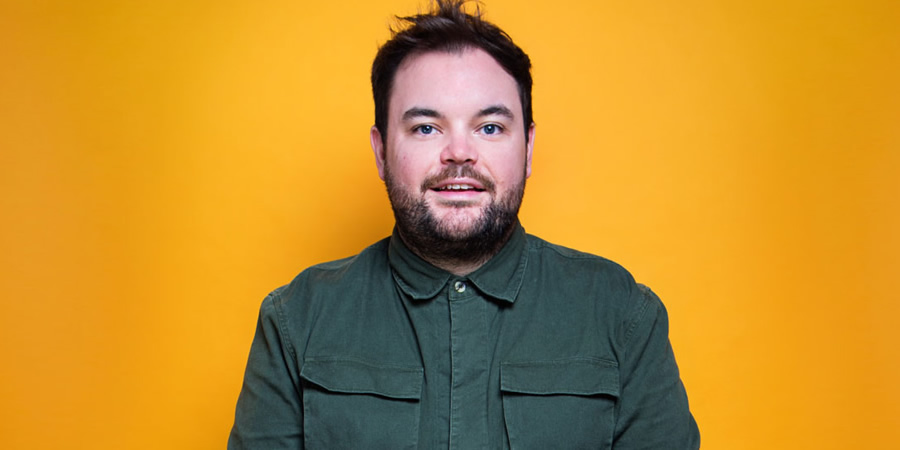 How's the comedians league going?
I think Ben Clark from Pappy's started it, it's usually people that play Tuesday afternoon football, like Joe Bor, Ben Clark, James McNicholas. Alfie Brown, Dowdeswell... Richard Osman is bottom. But he's the busiest man in TV.
He might shoot up the league now he's left Endemol. So how about your other work - the tour - that's being rescheduled for later in the year?
I was supposed to be on tour now, but we made a decision, let's just push it back to autumn. The show is about me wanting to sing the national anthem at the European Championships, so it'll just have to be a retrospective look at that [if the tour happens after the tournament]. If I did it, people will know already.
So I'm now working on that, and I'm working on a few TV shows about football and singing and stuff, in the run up to the Euros. September the tour kicks off, and touch wood, everything should be back on course by then. Because mentally, we need to be gigging.
You're like public enemy number one this year, as a chorister too - who knew that'd become a dangerous thing?
That's it. I was lucky enough to do stand-up online and in between those two lockdowns, that helps with my mental health, but I haven't been able to sing since February 2020. And that's been the biggest thing. I've been doing that since I was seven years old.
I've got friends who haven't worked at all since March though, so I can't complain. I'm fully aware I'm in a very lucky position. But yeah, hopefully in the next two years, it will start to kind of get back to where it was. And if everything goes to plan, then I can buy my third or fourth or fifth homes.
Even if you can only have people round in the garden...
Exactly, it'll be a hell of a garden.