Adam Riches
Tackling the world of sport, with the champions of comedy.
How do you take a deep dive into the farthest corners of a comic's psyche? By asking what footballer they'd be. Naturally.
Our very fitting first guest is the admirable Adam Riches, who's already nailed the sport/comedy crossover with two memorable shows, Coach Coach, and Coach Coach 2 (Coach Harder). The classy character comic has intriguing new plans for that gruff jock-bollocker, too, when normal service is resumed.
We'll return to Coach Coach at a later date then. Right now though, Adam Riches... Which Footballer Are You?
---
That's an excellent question. I would say I think about being a footballer almost every second of every day.
I've always looked at my age in terms of 'Where would I be as a footballer?' At 17, I'd have just broken through to the first team due to my extraordinary pace, and almost dismissive regard for higher reputation players. At 27 I was considered an established international. At 31 I'm the captain, then 39, where am I? I'm in coaching.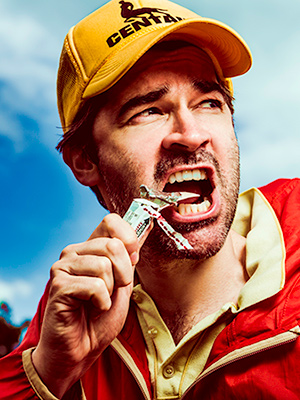 So I've always had that parallel with sport - you could say that it's motivated me far more than comedy when it comes to my own career, I read far too many books and watch way too many films and documentaries. You'd be correct in assuming that not only do I have very little on - and I'm not just talking about clothes here - but I am more than a little sports-obsessed.
In terms of players, I was always partial to a left winger, so when John Barnes came to Liverpool that was love at first sight. What was interesting about him was that as he got older he had to reinvent himself as a holding midfielder, who enjoyed Big Macs, which has a parallel with my attitude toward live performance too.
Being a character comic makes pushing the 'craziest guy in the room' routine harder when you're also pushing 47. Stand-up comedy can be enriched through age but, for me, lampooning a figure of authority to a room full of probably younger people just doesn't work. No-one wants to see an old man throw himself around a stage and make unintelligible noises - the 'Stones aside. So as my career has evolved, so too have my material and style.
I think that's probably why I switched up to performing single character shows like The Guy Who... and The Beakington Town Hall Murders, or working with a larger cast in things like Coach Coach and The Lone Dueller. I embraced a desire to do characters and work that felt so much more age-appropriate to where I am now.
Think of me as Rocky in Rocky 4. I've been the underdog. I've been the champ. Now I'm ready to enter the 'homoerotic/let's reboot the Cold War and toss some logs' period of my career.