'Ladies and Gents, Allow Me to Vent'
What would people do without live comedy? And by people we don't mean the audiences, who would obviously move on to some other form of laugh-inducing entertainment eventually, like movies, or theatre, or perhaps just wandering around Hackney Marshes on a Sunday morning watching haphazard grassroots football. You certainly hear some entertaining language there.
No, we're referring to the performers: how on earth would they cope if they couldn't do comedy? This is not a query about the money side of things either (given that a lot of comedians - possibly the majority - can only dream of ever making a profit), but the physical, psychological need to do it.
Taking up comedy is invariably a gamble, as budding performers try to balance work, life and the lottery of gaining a foothold in this stressful business, hoping that one day all that late-night travelling will pay off and they'll be rewarded with some lucrative slots. But it's more the emotional impact. Stand-up often involves serious venting - which is not to be confused with Genting, a different way of keeping yourself occupied, of an evening - and it's a safe bet that they'd miss it.
Read interviews with comedians and they'll often speculate about what they'd be like without a stage; that safe space where they're free to shout whatever they please about whatever's currently bothering them, at a bunch of people who may actually pay for the privilege. If you usually get to do that several nights a week, and then suddenly that outlet is taken away, what happens to all the stuff that clearly needed to come out?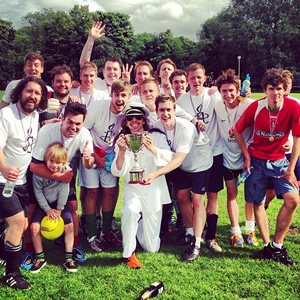 Actually football is quite a useful reference point in this respect, as this is one environment that's almost actively designed for male venting, whether you're playing or spectating. Hollering expletives from the stands at the antics of, say, Luis Suarez, is perfectly acceptable behaviour. And running around tackling people is a largely positive way of expending your extra energy, and aggression, as long as it's controlled. Hence so many comedians play regular football, too: they probably need that outlet, in case they've no gigs that week.
Launching into a hard - and fair - tackle is a good way to get a bad week out of your system, although screaming blue murder at a referee is going too far. Likewise, the over-the-top hack at a kickabout. Anyone who's played five-a-side has come across the random new bloke someone's brought along, who's clearly got some off-field stresses, completely ignores the pre-game talk that this is just a friendly game, then inevitably causes a major incident and is never invited back again, ever.
Audiences, though? They'll often buy expensive tickets to see someone go all blue-veined about whatever's gone wrong with their lives, as long as it's funny, too. And let's face it, someone really kicking off is always at least compelling, so long as you're a safe distance away. For the performer, it's basically primal scream therapy, that you get paid for.
Indeed, if that onstage venting goes well enough, you might also get to sit down with journalists at regular intervals and really talk those issues through. After a few years of that lifestyle, career comedians really should be the most well-adjusted people in the world. Funny that.