Meet the Yonderland puppets
A chance to meet the Yonderland puppets on Thursday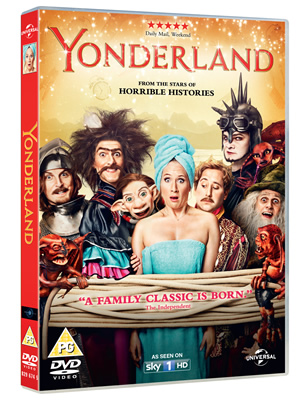 To celebrate the wonderfully fun and weird world of Yonderland Series 1, available on DVD from 17th February, we are giving you and a friend the chance to meet the extraordinary puppets from the show.
This Thursday (13th February), we are inviting a fan of the show to create their very own original video in a central London location, which will then be hosted on BCG.
As part of the prize you and your friend will meet Elf, Nick the Stick and Havelock in real life and see how Yonderland is brought to life. The puppeteers from the show - Wim Oppenheimer, Steven Kynman and Philip Eason - will also be there to guide you through creating your own video.
Yonderland follows 33-year old mum Debbie Maddox (Martha Howe-Douglas) who is bored of being an unappreciated stay-at-home mum. Little does she know this is all about to change when she unexpectedly finds herself on a quest through Yonderland, with only an Elf by her side. This extraordinary world is only accessible via her kitchen cupboard that is inhabited by a collection of eccentric (and usually idiotic) characters, some of whom happen to be puppets. Through Debbie's eyes, we're exported to a strange but spectacular getaway packed full of mayhem, Monty Python-esque silliness and humour that will have mum and dad in stiches too, guaranteeing giggles for the whole family.

The DVD features all 8 episodes from the series and a 25 minute behind-the-scenes featurette that includes interviews with all the main cast. Get the whole family ready to let their imagination and laughter run wild with Yonderland, available on DVD from 17th February 2014.