United We Fall
Win football film 'United We Fall' on DVD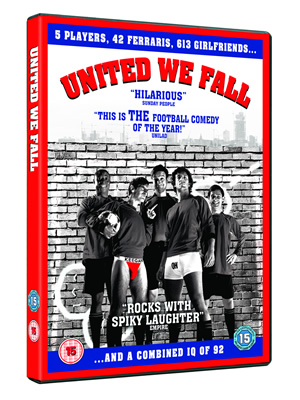 Football comedy film United We Fall is coming to DVD.
Scholes, Giggs, Neville, Neville, Butt and Beckham... the Class Of '92 transformed a football team, won trophies and international caps and ushered in a new era for football. Now meet Hunter, Fallis, Keegan, Kurtz and Amoako. They followed in their predecessors' illustrious footsteps and were on the verge of matching their achievements in one record-breaking season... and then it all fell apart!
Olly Hunter (Jack Donnelly) is the bankable brand of the team; Danny Keegan (Ryan Pope) the millionaire socialist; Stevo Fallis (James Rastall) the dirty player and practical joker; Kwasi 'Modo' Amoako (Matthew Avery) is a Ghanaian who likes the high-life and lives a rapper's lifestyle and 'Kurtzie' (Jonathan Broke) is the German keeper with an obsessive personality. They are the heart and soul of the United team, and at one point only a few hours away from a historical treble. How did it all go pear-shaped for them?
United We Fall charts the rise - and fall - of this quintet, via a spoof documentary format (a 'mock-soccumentary', if you will).
Improvised and filmed at breakneck speed by Gary Sinyor, the movie - which was released in cinemas across the country in October - tells the warts and all tale of footballers gone bad. And no one - not even the British Prime Minister and FIFA - is spared. Racism, homophobia, philandering footballers - all get a proverbial roasting in this comedy that's less 'Class Of 92' and more 'IQ of 92'.
United We Fall comes to DVD on the 9th February 2015 courtesy of Metrodome. Special features include: 'Jump For Ghana' video, Deleted Scenes and 'Danger of Improvisation'.