Still Game Live
Win 'Still Game Live' on DVD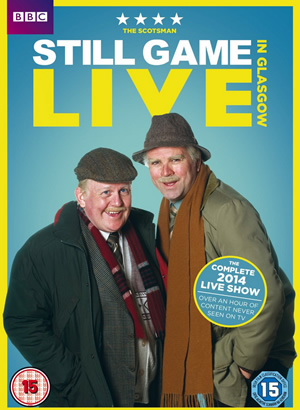 After a seven-year hiatus, Jack Jarvis and Victor McDade, the popular OAPs from hit sitcom Still Game, made a return earlier this year.
This time the BBC characters appeared on stage, performing their new show to thousands at the Hydro arena in Glasgow.
You can now relive the funny show on DVD. Still Game Live in Glasgow sees the much loved Scottish comics Ford Kiernan and Greg Hemphill return as everyone's favourite old friends, alongside Winston, Isa, Tam, Navid, and Boabby.
Jack is invited to Canada for his daughter's wedding vow renewal, however he decides to embrace technology instead and be there from the comfort of The Clansman...
The other regulars manage to make this much more difficult than it should be though!
The DVD is available now. It features the full live show - that's over an hour of content not seen on TV!
You can order from Amazon or download from iTunes
Here is the trailer: