Slightly Fat Features - Variety Soup
Win tickets to see Variety Soup from Slightly Fat Features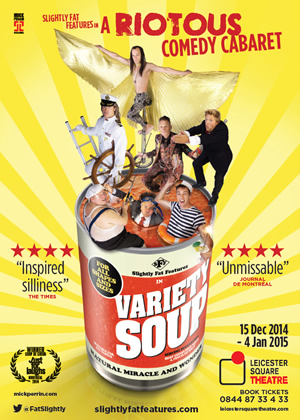 When was the last time you saw a variety show in the theatre? Such offerings used to pack out venues up and down the country, with stars like George Formby, Marie Lloyd, Tommy Trinder entertaining millions. In this modern era of comfy sofa viewing, 'variety' only appears to sort-of exist on ITV1, controlled by Simon Cowell. Until now, that is...
This Christmas, Variety Soup looks set to take the West End by storm. The family-friendly show is presented by the award-winning Slightly Fat Features troupe, and top comedy producer Mick Perrin.
Described as 'more Monty Python than Cirque De Soleil', Slightly Fat Features are a rabble rousing troupe of seven extraordinarily talented gentlemen who proudly pioneer Variety, giving this keystone of Great British entertainment a gloriously refreshing makeover for the 21st century.
Slightly Fat Features have been seen and loved around the world. They were awarded the 'Prix Coup De Coeur' at the Just For Laughs Festival, and have countless standing ovations at the Edinburgh Fringe under their 'buckling' belts too. The Independent have called this show "Comedy magic", Total Theatre label it "delightfully inventive, immensely funny" and the Radio Times point out there's "never a dull moment".
Variety Soup looks set to single-handedly rescue the variety genre when it crash lands into the Leicester Square Theatre this December. You'll see 'tiger' taming, bullet catching, dancing horses, an acrobatic elephant (possibly not a real one), miniature cowboys, knife throwing, clingfilm escapology, piano playing dogs and a strange man who genuinely goes by the name of Treehead.
Variety Soup will be at the Leicester Square Theatre in London from the 15th December 2014 - 4th January 2015. Tickets