Russell Howard - Wonderbox Live DVD
Win a copy of Russell Howard's Wonderbox Live on DVD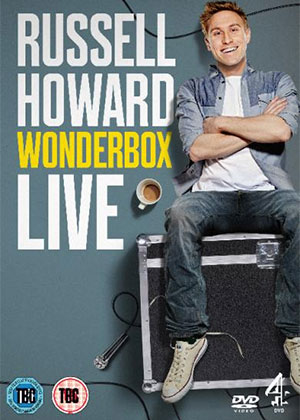 Wonderbox, the sell-out, twice extended world tour, which sees Russell Howard perform to his biggest audience yet, is released for the first time on DVD this autumn. With over 285,000 fans at 40 shows across the UK and Ireland, including four consecutive nights at London's Royal Albert Hall, and sold-out runs in the USA, Australia and New Zealand, fans have the opportunity to watch Russell live from their living room from 24th November, courtesy of 4DVD.
Recorded live at the Bristol Hippodrome, Russell returns to his hometown where he started his comedy career, to perform his first live stand-up tour for three years. With tireless energy and his trademark mix of upbeat and razor-sharp comedy, Russell eagerly recounts humorous tales about his family and fondly remembers how great life was as a child, with a mix of religion, politics, Noah's Ark and Chinese take-aways thrown in for good measure. This follows on from his triple-extended 2011 tour Right Here, Right Now, which included three sold out dates at London's O2 and saw Russell perform to over 240,000 fans nationwide.
Adding to his ever-increasing portfolio, this will be Russell's fourth live DVD, following in the footsteps of his best-sellers, Right Here, Right Now (2011); Russell Howard Live - Dingledodies (2009) and Russell Howard Live (2008).
Alongside the feature-length main show, the brand new Wonderbox DVD also includes a razor-sharp 'Unplanned And Unscripted' featurette, with a very funny question-and-answer session filmed on another night of the tour.
Wonderbox Live is released on Monday 24th November 2014 by 4DVD.