Pompidou DVD
Win a copy of Pompidou on DVD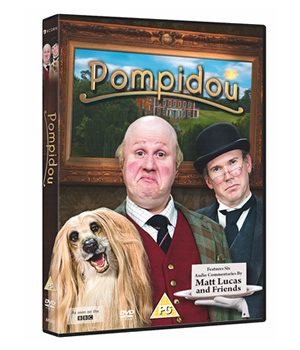 Pompidou, the charming visual comedy series about an elderly oddball aristocrat who has fallen on hard times, is coming out on DVD.
Starring Little Britain's Matt Lucas, the show focuses on a tubby, pompous, penniless, yet ultimately lovable aristocrat, kept company by his long-serving and loyal butler Hove (Alex Macqueen) and his devoted Afghan Hound Marion.
When there's no food, no heat and no money, what's a man like Pompidou to do? He tries the lottery or searches for an antique; he takes on a blind date or empties his cupboards for a jumble sale. But whatever he does, Pompidou embraces a whole new world or laughter as he tries to turn his life around - without being naughty... very naughty.
This endearing slapstick comedy comes to DVD on 12 October 2015, complete with an array of excellent special features and is great fun for all the family. Shop