Nina Conti - DVD recording tickets
Win tickets to Nina Conti's DVD recording in Leeds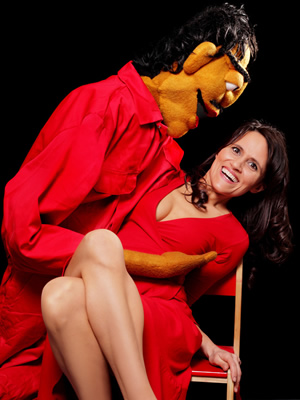 When it's done with skill and class, ventriloquism can deliver laughs like no other genre of comedy. However, it takes years of practice to get started, and then on top of that you still need some magic extra ingredients for the act to succeed (Peter Brough discovered this the hard way when he transferred his hugely popular radio show Educating Archie to television in the 1950s and it failed).
Most people would struggle to name three ventriloquists who are active on the comedy circuit today - a demonstration of just how hard it is to succeed in the art form. Probably the first name from everyone's lips though would be Nina Conti, a comedian who has been bringing ventriloquism to a new generation of comedy fans via live shows and TV programmes.
Conti had an amazing 2013. She picked up a BAFTA nomination for her critically acclaimed documentary A Ventriloquist's Story: Her Master's Voice before going on to win the British Comedy Award for Best Female in December. Her appearance on Live At The Apollo proved an online sensation and she was a regular fixture in Christopher Guest's cult HBO series Family Tree.
Her rise up the comedy ladder looks set to continue in 2014, with a DVD recording of her Dolly Mixtures show scheduled for the 15th April at Leeds City Varieties.
Dolly Mixtures, which she toured last year, introduces her daughter, her handyman, her gran, her oldest friend and a stray dog. Given there's some audience interaction, no two performances are ever the same - with the publicity material pointing out it's "a show that refuses to go as rehearsed."
The last few tickets to the DVD recording are available to buy via Nina's website, or you might like to enter our competition here to win a pair: