The Keith Lemon Sketch Show Series 1 DVD
Win a copy of The Keith Lemon Sketch Show Series 1 on DVD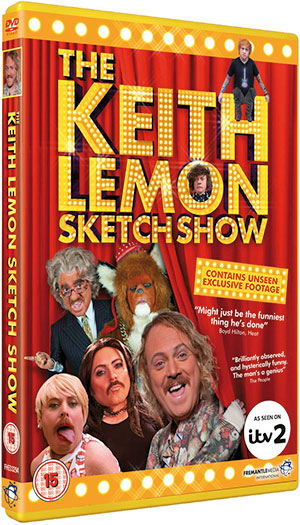 Keith Lemon's latest TV venture, the hit ITV2 series The Keith Lemon Sketch Show, comes to DVD later this month with its complete first series.
Ahead of a second series filming this summer, fans of the madcap comedy character - alter-ego of comedian Leigh Francis - can relieve the affectionate spoofing of TV, celebrity and music from 15th June.
An unbelievably buxom Holly Willoughby, an antisocial urban fox and the ultimate TV mash up that is the Big Fat Gypsy Kardashians are just a few of the characters plumbed from depths of the imagination of the one and only Keith Lemon and brought together in the most anarchic series of 2015: The Keith Lemon Sketch Show.
Guests throughout the series include Paddy McGuinness, Carrie Fisher, Jonathan Ross, Fearne Cotton, Phillip Schofield, Christine Bleakley, Dermot O'Leary and many, many more.
Keith says: "Really chuffed that me sketch show is now available on DVD, be nice if it was out on laser disc too! Although I know a lot of people don't have a laser disc player. I don't either but I like the idea of having a big DVD so if they shift loads I could have one framed on me wall, and live the dream like Rick Astley! I bet he's gut nuff big discs on't wall."
Alongside all six episodes of the series, this brand new DVD includes more than 50 minutes of exclusive extras to enjoy, including an unseen scene with the real Arnold Schwarzenegger, a behind the scenes featurette, unseen sketches and bloopers.
With an RRP of £15.99, the first series of The Keith Lemon Sketch Show will be released by FremantleMedia International on Monday 15th June. To pre-order a copy find details here