Keith Lemon's Back T'Future Tribute
Win a limited edition VHS packaging copy of Keith Lemon's Back T'Future Tribute on DVD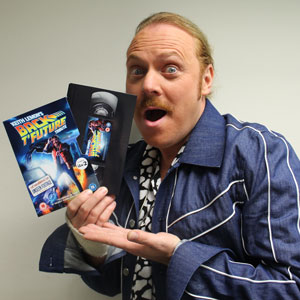 Back To The Future superfan Keith Lemon celebrated the film trilogy's 30th anniversay last month with his own special Back T'Future Tribute programme on ITV2.
Broadcast on Back To The Future Day - 21st October 2015 - the feature length comic documentary was watched by 1.2 million peope on its first broadcast alone, with the channel having its most successful day since its 1998 launch.
Keith Lemon's Back T'Future Tribute sees Keith recreate some of the films' best-loved scenes with friends including Paddy McGuinness and Gino D'Acampo, plus talk to stars and crew from the original films: including Doc Brown himself, Christopher Lloyd.
Keith also heads off on a transatlantic pilgrimage to visit some iconic filming locations and meet co-creator Bob Gale. He hangs out with the film's biggest fans, real-life time travel boffins and shows off his skateboarding skills.
Available now on DVD, Keith said: "They released me Back T'Future Tribute on DVD, but imagine if it was 30 years ago! It'd have come out on VHS! I'd love a copy of it on VHS just as a souvenir of the golden years before I'd discovered ladies magical zones!"
Keith Lemon's Back T'Future Tribute is out now on DVD and Digital HD through Universal Pictures UK, who love Keith's idea.
Unfortunately not many people have VHS players any more, so they've done the next best thing and produced a limited edition run of exclusive VHS-style packaging - and we've got three copies to give away.