Del Boy's autobiography
Win a copy of Del Boy's autobiography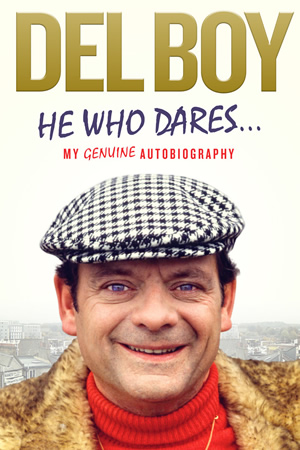 Only Fools And Horses has just, once again, voted Britain's favourite sitcom in a TV poll. Now a new book is giving fans a chance to hear the full story of the show's central character.
Peckham's prodigal son, Derek 'Del Boy' Trotter, has written his "official and unadulterated memoir."
Out now in shops, He Who Dares, has been published by Peckham Press (a division of Trotters Independent Traders) with the support and involvement of the late writer John Sullivan's family.
Growing up in Peckham and known to all as a wheeler-dealer and international playboy, Del matured into an award-winning (Trotters Independent Traders, employee of the year 1982 - 2003) man of business, thriving entrepreneur and glittering member of the jet-set.
In He Who Dares, Del shares never-before-told stories of his childhood, offer nuggets of business advice for budding entrepreneurs and tells his glorious tale of "rags to riches to rags to rich(ish)" in full.
The character says: "The buzz the book has created has been off the hook! Trigger, one of the first to see the first draft, can't recommend it highly enough... and he can't even read! That's how good it is! Next time you pop into Waterstones, forget your Lee Childs and JFK Rowlings, this is the only book you need!"
Shop now for 'Del Boy: He Who Dares - My Genuine Autobiography'