Boy Meets Girl DVD
Win a copy of Boy Meets Girl on DVD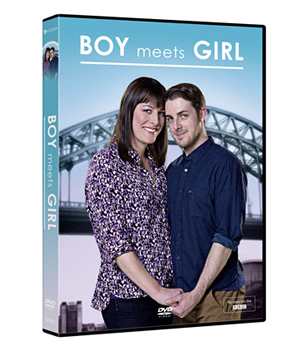 Britain's first ever transgender rom-com is currently entertaining audiences on BBC Two. Groundbreaking in its presentation of a trans woman who is at the heart of its story, Boy Meets Girl is set to arrive on DVD on Monday 12th October 2015, a few days after the series finishes on TV.
Boy Meets Girl starts with Leo (Harry Hepple), who is having a bad day. He's been fired (again) and is being given a hard time about it by his Mum (Denise Welch). And then, to make matters worse, he ends up playing gooseberry to his younger brother on their night out together.
Leo's about to write the day off as one to forget but then he bumps into Judy (Rebecca Root) and finds himself deeply attracted to this surprising and beguiling woman.
They bond over drinks and, unfazed by the fact that there's clearly a bit of an age gap between them, as well as the fact that Judy is transgender, they arrange to meet the following evening. Before long, they're going steady, but family matters - Judy's eccentric, often embarrassing family and Leo's possessive mother - ensure it's not an easy ride.
Written by Elliott Kerrigan, winner of the Trans Comedy Award, a talent search run by BBC's Writers Room, this extremely topical and heart-warming six-part comedy charts the burgeoning relationship between Leo and Judy.
Boy Meets Girl is now available to pre-order. Shop