Barking DVD
Win 'Barking' on DVD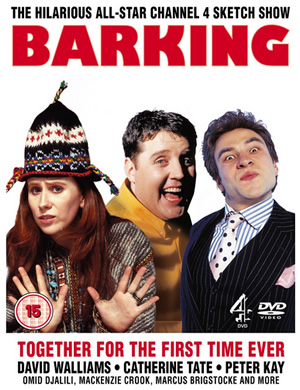 In the late 90s a talented bunch of up-and-coming comedians put their comedic heads together and wrote a sketch show for Channel 4; the result was Barking and their names: David Walliams, Omid Djalili, Mackenzie Crook, Catherine Tate, Peter Kay, Dave Lamb, Rhys Thomas, Marcus Brigstocke, Matt Lucas, amongst others.
Now for the first time ever this uproarious series comes to DVD, on Monday 7th November from Acorn Media. Sketches include David Walliams' deluded Royal tour guide; Mackenzie Crook's socially inept teacher; the doomed Vicars; the sniping airline pilots; the evangelical cyclist; and Catherine Tate as half of the right-on couple who are so wrong.
Barking is the series that launched the careers of some of the best-loved comedy stars of today. Comedy talents who have gone on to write and star in some of TVs most popular and ground-breaking comedy series, including Little Britain, The Catherine Tate Show, Phoenix Nights and The Office.
Mad, crazy or just plain Barking... you would be to miss this!