Adam Hills: Clown Heart DVD
Win a copy of 'Adam Hills: Clown Heart' on DVD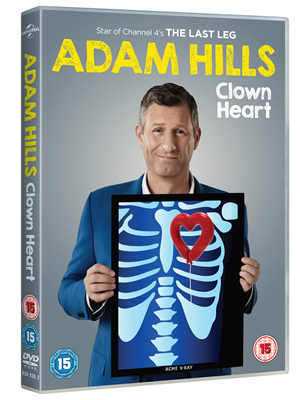 Adam Hills, star of The Last Leg, has a new DVD out.
Adam Hills: Clown Heart sees the affable BAFTA nominated comedian make a welcome return to the stand-up stage, delivering mischievous and wholehearted comedy that has become his trademark.
In this live recording, Adam and his willing audience journey deep in to modern life tackling everything from health, diets and exercise to parenting, relationships and mortality, with some very special guests joining him along the way. Adam embraces life with his inimitable positivity, laughing in the face of disaster.
Clown Heart proves once again why Adam Hills is one of Australia's most loved exports and it's sure to be the perfect present for any comedy fan this Christmas. His combination of positive, uplifting comedy and dynamic spontaneity has seen him receive numerous awards, glowing reviews and a legion of fans around the world.
Clown Heart is out now on DVD and Digital Download.
Watch a clip