About The British Comedy Society
The British Comedy Society (BCS) exists to preserve and foster the tradition of British comedy. From early works of comedic writing to the days of music hall and variety, and into the modern mediums of radio, film and television, we aim to honour and celebrate the greatest exponents of the art within Britain.
The society organises charity fundraising events and the dedication of blue plaques to honour the greatest achievements in the world of British comedy. Since our founding in the early 1990s, we have raised in the region of £250,000 for charitable causes as diverse as Variety and UNICEF.

Patrons
Management
The BCS is run by a dedicated group of comedy enthusiasts:
Gareth Hughes (Chairman)
Aaron Brown
David Fitzgerald
Jenny Hanley
Georgy Jamieson
Jane Wharam
Our History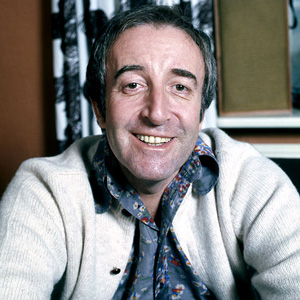 The Society originated in the front room of John Gatenby's Highgate home in May 1991. Whilst discussing Peter Sellers with friends, it emerged that the comedy star had lived as a boy just around the corner, in a cottage in Muswell Hill Road, and had attended the nearby Roman Catholic St Aloysius' College for some years. The possibility of a statue of the great Goon was considered but rejected in favour of a less expensive option, namely a plaque on the wall of said cottage. The idea of a money-raising event around the unveiling of a plaque was conceived there and then, and it was decided that if it were successful we could continue to honour more late comedians, forming "The Dead Comics Society". The name stuck, the motto was drafted and we were up and running.
Research soon established that English Heritage does not have a monopoly on putting up plaques; also they do not consider honouring someone who has not been dead for at least 20 years, and it then takes more time for them to decide whether to honour the candidate or not. We felt that comedians contribute enormously to the general happiness of society and are not sufficiently appreciated, so we would try to do something to raise their profile, and to thank those that had gone for the pleasure they gave. The Peter Sellers event attracted a lot of interest and it was wonderful to meet his first wife, children and grand-children, plus numerous colleagues such as Herbert Lom, Graham Stark, Alfred Marks, Burt Kwouk and Valerie Leon. A modest profit was made and funds given to St Aloysius' College to fund an annual Peter Sellers prize for humorous writing, which continues to this day.
Plaques and events followed at the rate of two or three a year and included Tony Hancock, Benny Hill, Frankie Howerd, Charlie Chaplin, Kenneth Williams, Arthur Lowe, John le Mesurier, Arthur Haynes and Sid James. We had to do Sid twice because the first plaque was stolen; the second was placed much higher up the wall!
After some debate and consideration over the 'Dead' portion of the society's name, in 1995 we renamed to become "The British Comedy Society". Official permission has to be obtained to include "British" in a company name, so we felt it quite an achievement to be accepted as of sufficient standing in the world of comedy when the powers-that-be approved the change. This also opened the way to our honouring comedians within their lifetime, such as the amazing Sir Norman Wisdom, the inimitable Ken Dodd and the lovely and evergreen June Whitfield. We have established a great relationship with Pinewood Studios, who have allowed us to establish our own Hall of Fame within their prestigious and historic working studio site. The Hall is now adorned with more than 20 BCS plaques and has been the venue for many memorable events. Those with a Carry On or Last Of The Summer Wine theme have been particularly popular. Similarly, Elstree Studios have dedicated a "Wall of Fame" for our use and it now bears plaques to TV sitcoms including Are You Being Served?, plus the films Peter Sellers made there. No-one who attended that unveiling by the late and much lamented Spike Milligan on one of his last public appearances will ever forget it. In addition, the foyer of the old Empire Theatre on Shepherd's Bush Green houses our plaques to Billy Cotton and Larry Grayson.
Profits raised from our events have gone to various good causes, usually ones associated with the comedian being honoured, including the British Heart Foundation, Leukaemia Research, UNICEF, Brinsworth House and Macmillan Cancer Support, to name but a few. The directors of the BCS do not take any fees or profit financially from our activities – the very opposite in fact!
Happily, there is virtually endless scope for continuing to pay tribute to the greats of British comedy, and we are always open to new ideas about candidates, venues and types of event. So please feel free to get in touch with your suggestions, offers of help and even donations! The events always require a lot of hard work and organisation so if you'd like to get involved do please let us know. Meanwhile, come to our events and enjoy yourselves, and long live British comedy!
The BCS and BCG
British Comedy Guide is proud to host The British Comedy Society's website. Whilst our two organisations remain wholly separate entities, we are extremely excited to be working together in our shared vision of celebrating and promoting the rich world and variety of British comedy, in all its forms.