Videos: Kevin Bridges' Guide to Scotland
Published September 2012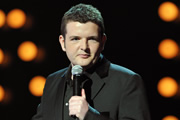 Kevin Bridges is following his best-selling debut DVD The Story So Far... Live In Glasgow with the release of The Story Continues..., out on 12th November. His thoughtful brand of social commentary and tales of life in Scotland are audience favourites, and to celebrate the release of his new DVD here's a video guide to Scotland, based on Kevin Bridges' own anecdotes.


Kevin Bridges on the Glasgow tourist board
Despite Glasgow's infamous reputation, Kevin Bridges remains proud of his home city's tough exterior. He confesses to having a problem with the way that the Scottish tourist board is attempting to dispel this notoriety however, with the aid of a perky sales assistant called Nathan, and insists that they should instead be using real Glaswegian characters such as a perilous fellow named "Mental Davey."


Scottish Kids
Kevin likes to refer to the youth of Scotland as hardcore, rugged individuals who laugh in the face of their na´ve and innocent peers and are not to be trifled with. He explains that, at the age of 12, they prefer cigarettes to ice cream and avoid holiday kids clubs at all costs, choosing instead to harass their new dad who "took the hit":


House Parties
A staple rite of passage for anyone growing up is the house party - those tender years when you can (illegally) acquire alcohol, but are not quite able to get into clubs. However Kevin tells of an altogether darker ritual for Scottish teens at gatherings known as "empties", where encounters with can thieves, old weirdoes and microwave crooks are commonplace and jackets disappear without question.


Kevin Bridges on the Scottish accent
In a recent survey those with Scottish accents were perceived as being the most honest. Despite this, Kevin acknowledges that he tones down his Glaswegian accent when performing to a national audience and observes that although he's found a good balance where fans can understand him, the honest Scots can't resist telling him otherwise.



'Kevin Bridges The Story Continues...' comes to DVD on 12th November 2012. Order here