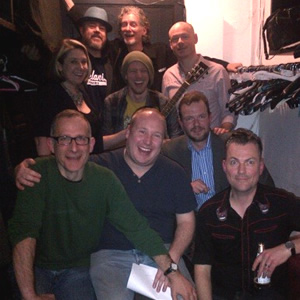 No Pressure To Be Funny is a topical comedy podcast presented by LBC's James O'Brien, produced by Alex Grace and written and performed by comedians Alistair Barrie and Nick Revell. A guest panel drawn from the arts, media and politics discuss the week's news in front of a live audience alongside comedy songs, monologues and diatribes.

To find out more visit www.nopressuretobefunny.com

Feburary 2014: In this edition, Dave Fulton inadvertently reveals the polyerotic undertones of being caught in an avalanche when a discussion of the Winter Olympics goes off-piste; Jonny and the Baptists share some of their fanmail from UKIP, while Alistair Barrie channels the party's soul with uncanny and chilling accuracy. Phill Jupitus and Ben Norris offer insight on why the British are not inclined to rebel, and Viv Groskop and Nick Revell try different ways of making sense of the situation in Ukraine.

Next Episode: The next episode will be recorded on Sunday 30th March 2014. The guests are set to include Robin Ince, Joe Wells and journalists Suzanne Moore and Alex Andreou. With musical interludes courtesy of Pippa Evans. Tickets
To download this podcast to your computer, click on the link above.
Date: 24th February Length: 49 mins Size: 44.54mb Page
Come and see the show live! It's a great night out.
You can subscribe to this podcast series via iTunes software.
This is the geeky option. You can subscribe via the RSS feed:
http://feeds.feedburner.com/NoPressureToBeFunny
Follow @NoPressureFunny on Twitter for updates.
'Like' No Pressure To Be Funny on the official Facebook group.
Previous Episodes
Date: 27th January Length: 44 mins Size: 40.34mb

Michael Deacon, Sara Pascoe, Miles Jupp and Nathan Caton join James O'Brien to discuss UKIP's meteorological theories, whether or not Lord Anelka and Nicolas Rennard should apologise, ...... Listen
Date: 25th November 2013 Length: 50 mins Size: 45.23mb

James O'Brien and the panel - Andy Zalzman, Tiffany Stevenson, Padraig Reidy and Nick Doody - deal with bankers, politicians and hard drugs (in the sense of 'discuss', not 'do business...... Listen
Date: 29th October 2013 Length: 48 mins Size: 45.04mb

This month on No Pressure To Be Funny, guest host Kevin Day wrangles a formidable array of talent whilst trying to be nice about The Great British Bake Off. The Guardian'...... Listen
Date: 23rd September 2013 Length: 58 mins Size: 53.89mb

James O'Brien reveals the shameless and frankly disgusting behaviour of some members of the British aristocracy when it comes to trying to return unwanted clothing; Dan Smith of Intern...... Listen
Date: 16th July 2013 Length: 53 mins Size: 49.25mb

Amongst other things covered in this month's show, host James O'Brien tries to defend pay-rises for MPs; James Sherwood melodically shows how tough the rich have it compared to the poo...... Listen
Date: 11th June 2013 Length: 51 mins Size: 47.84mb

In this month's show, Mitch Benn rocks the room with two pieces of satirical musical brilliance which contain more coherent and persuasive political arguments than we've heard f...... Listen
Date: 6th May 2013 Length: 47 mins Size: 43.58mb

May 5th 2013 - James O'Brien talks to Alex Andreou, Lee Camp, Gary Delaney and Nat Luurtsema about the nutty fruitcakes of British politics, and UKIP...... Listen
Date: 10th April 2013 Length: 53 mins Size: 49.08mb

This month's No Pressure sees guest host Kevin Day come up with some interesting new programme ideas for BBC3 based on some thoroughly historical suggestions for punishin...... Listen
Date: 4th March 2013 Length: 58 mins Size: 53.89mb

This month, firebrand of the left Owen Jones denies a love tryst with Tory donor and disgraced former party chairman Lord Ashcroft; Helen Lewis sets James O'Brien straigh...... Listen
Date: 5th February 2013 Length: 79 mins Size: 72.63mb

With guests Phill Jupitus, Andrew Maxwell, Miranda Sawyer and Wayne Deakin. Plus music from Loretta Maine. This month's podcast covers, amongst other...... Listen
Date: 11th December 2012 Length: 68 mins Size: 62.80mb

With guests Robin Ince, Matthew Norman, Sara Pascoe, Pete Johansson and James Sherwood. In this episode, the panel discuss prank phone calls, pregnancies, arguments in favour of terror...... Listen
Date: 13th November 2012 Length: 47 mins Size: 43.7mb

Rob Grant, Simon Munnery, Kevin Day and Polly Toynbee join James O'Brien, Nick Revell and Alistair Barrie to tackle the crisis at the BBC; Jimmy Savile; the US Election; Remembrance Da...... Listen
Date: 8th October 2012 Length: 37 mins Size: 34.35mb

In this edition, topics include Julian Assange, the truth about Boris Johnson, and what to give Vladimir Putin for his birthday. Also, the first plans are revealed for Koran! The Mu...... Listen
Date: 20th August 2012 Length: 84 mins Size: 77.88mb

No Pressure To Be Funny joins forces with Amnesty International UK for a podcast from the Edinburgh Festival Fringe. James O'Brien is joined by activist and comedian Mark Thomas...... Listen
Date: 12th June 2012 Length: 45 mins Size: 41.75mb

James O'Brien is joined by stand-up Hal Cruttenden, musical comic Paul Thorne, New Statesman journalist Helen Lewis, and Burma's best known political comedian Z...... Listen
Date: 15th May 2012 Length: 42 mins Size: 39.23mb

James O'Brien is joined by Nick Doody, Kevin Day and Lee Camp to talk about topics including democracy and underpants bombers. With some great topical songs from <...... Listen
Date: 17th April 2012 Length: 41 mins Size: 37.94mb

Thanks to a ridiculous insistence on taking his family on holiday, regular host James O'Brien isn't on the show this month, but we have called on our first reserve, Talksport's Matt...... Listen
Date: 15th March 2012 Length: 41 mins Size: 37.37mb

James O'Brien is joined by stand-up Ian Stone; New Statesman journalist Helen Lewis; and unquestionably one of the most important and funniest British comedians ever, ...... Listen
Date: 21st December 2011 Length: 48 mins Size: 44.23mb

A special edition of the topical panel show. Guests Ken Livingstone, Miranda Sawyer, Miles Jupp, George Monbiot and Rich Hall join host James O'Brien to review the year, with contribut...... Listen
Date: 18th November 2011 Length: 26 mins Size: 23.49mb

James O'Brien, Alistair Barrie and Nick Revell are joined by Tiffany Stevenson, Henning Wehn, Paul Thorne and New Statesman journalist Mehdi Hasan.... Listen
Date: 10th November 2011 Length: 32 mins Size: 29.43mb

James O'Brien, Alistair Barrie and Nick Revell are joined by Mark Steel, Rob Deering, Holly Walsh and journalist Matthew Norman to talk about topics including issues at the Home Office... Listen
Date: 3rd November 2011 Length: 31 mins Size: 28.63mb

James O'Brien is joined by Mark Thomas, Tiffany Stevenson, Elis James and Alistair Barrie to discuss who or what Kim Kardashian is... plus other weightier topics. With contributions fr...... Listen
Date: 27th October 2011 Length: 30 mins Size: 27.79mb

James O'Brien is joined by TalkSport's Matt Forde, News Quiz regular Paul Sinha, award-winning comic Nat Luurtsema, and the fantastic (Time Out) James Sherwood, with creators Ni...... Listen
Date: 20th October 2011 Length: 41 mins Size: 38.13mb

James O'Brien is joined by Australian comic Sarah Kendall, Cutting Edge regular Steve Gribbin, Just A Minute regular Chris Neill, and New Statesman journalist Helen Lewis...... Listen
Date: 13th October 2011 Length: 38 mins Size: 35.14mb

James O'Brien is joined by Mitch Benn of The Now Show, writer of Drop the Dead Donkey and Outnumbered Andy Hamilton, Observer journalist Miranda Sawyer and human-r...... Listen
Web Links