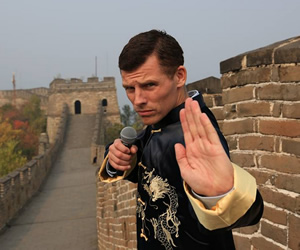 The Comedian's Comedian Podcast

The Comedian's Comedian Podcast (ComComPod) is Stuart Goldsmith's Chortle award nominated, widely praised show in which stand-up comedians are interviewed to find out how they create funny stuff. Not just "where do you get your ideas from?", but charting the journey of an idea from head, to page, to stage. It's for anyone who loves comedy, makes comedy, writes comedy, or just has an interest in comedians and what makes them so annoying.

Episode #116 - Des Bishop (Live). Burning with narrative intensity, Irish-American Des Bishop learnt to perform stand-up in Gaelic and now Mandarin, such is his commitment to following through on an idea. He gives us a compelling insight into how he morphed from a circuit headliner to a voracious documentarian, and rages at the reviewer who attacked his integrity.
To download this podcast to your computer, click on the link above.
Date: 17th April Length: 78 mins Size: 35.6mb Page
You can subscribe to this podcast series via iTunes software.
This is the geeky option. You can subscribe via the RSS feed:
http://feeds.feedburner.com/stuartgoldsmith
Follow @ComComPod on Twitter for updates.
'Like' The Comedian's Comedian Podcast with Stuart Goldsmith on the official Facebook group.
Previous Episodes
Date: 10th April Length: 86 mins Size: 39.7mb

'Russell Peters stole my shit!' So alleges dynamic and outspoken comic Gina Yashere, who sold up and left the UK to make it in the United States, becoming the only Brit e...... Listen
Date: 3rd April Length: 60 mins Size: 27.5mb

In the second part of this conversation, we look in detail at John Gordillo's principles for directing stand-up. Not so much a list of rules as a whole approach to helping a com...... Listen
Date: 27th March Length: 73 mins Size: 33.6mb

Director or script-editor of over sixty other acts including Michael McIntyre, Eddie Izzard and Reginald D Hunter, John Gordillo is a superb comedian in his...... Listen
Date: 20th March Length: 71 mins Size: 33mb

The second half of this conversation with the warrior poet/comic/divvy focuses on Tim's relationship with comedians Alex Horne and Mark Watson, and how his position as th...... Listen
Date: 13th March Length: 67 mins Size: 31.4mb

A lager-sodden 'not deliberately bad' poet, Tim Key is responsible for some of the most startlingly theatrical fringe comedy of the last ten years. From his outrageous origin as...... Listen
Date: 6th March Length: 76 mins Size: 35.1mb

A smart cookie based in New York, Liz Miele combines punchline density with social media acumen. She runs, she dates, she cries, she talks about it all. But is she actually as '...... Listen
Date: 27th February Length: 66 mins Size: 30.8mb

Brendon Burns returns to the show, live at Dave's Leicester Comedy Festival, to clear up some matters of condescension, technique and the petulance of his youth. In addition to ...... Listen
Date: 20th February Length: 83 mins Size: 38.5mb

Lou Sanders is off the rails. Her deliciously shameless stage persona is backed up by punchy writing, peppered with surreal flavours. From gurus to glitter, we discuss the techn...... Listen
Date: 13th February Length: 56 mins Size: 25.7mb

Occult comedian Andrew O'Neill describes jokes as 'spells to make people laugh'. We talk about the differences between magic and faith, getting information about the world throu...... Listen
Date: 6th February Length: 75 mins Size: 34.6mb

Cult-runaway, Harley Breen is a man mountain with a barnstorming club and festival act. Underneath his loudmouth lumbersexual persona is a deeply principled single father with a...... Listen
Date: 29th January Length: 64 mins Size: 29.9mb

South Africa-born Urzila Carlson is now one of New Zealand's favourite acts, winning Best Female Comic there an astonishing five years running. Irrepressibly cheerful, she combi...... Listen
Date: 24th January Length: 74 mins Size: 34.2mb

A wilfully preposterous boozehound in a pashmina, Thom Tuck is a superbly theatrical stand-up, one third of fringe-conquering sketch outfit The Penny Dreadfuls, and co-ri...... Listen
Date: 15th January Length: 76 mins Size: 70.2mb

Star of the brain-smashingly surreal sketch show Anna & Katy, and Daisy in Not Going Out, Katy Wix[/]p is an actress with an exceptional comic mind. We talk about the ...... Listen
Date: 8th January Length: 94 mins Size: 108mb

Alfie Brown is variously known as the future of British comedy, the enfant terrible of the comedy circuit, and/or a jumped-up posh kid rebelling against anything that'll have hi...... Listen
Date: 19th December 2014 Length: 70 mins Size: 81.8mb

Mickey 'D' Dwyer is an outrageously charismatic comic, with an almost mutant ability to win over the toughest room, from the UK to his native Australia and back. Retaining the d...... Listen
Date: 19th December 2014 Length: 69 mins Size: 79.5mb

David McSavage is one of Stu's all-time favourite performers, with an incredibly elastic, glib and scathing sense of humour. In between slinging barbs at his homeland and his fe...... Listen
Date: 4th December 2014 Length: 84 mins Size: 96.2mb

Fiercely intelligent political and socio-political comic, friend of the show and self-confessed 'great laugh', Nish Kumar is at the height of his powers. We discuss the self and...... Listen
Date: 27th November 2014 Length: 70 mins Size: 80.6mb

It's episode 100 of the podcast and Stu's been saving this one up! If you've donated in the last few months you'll have heard this one as a sneaky pre-release but here it is for the re...... Listen
Date: 20th November 2014 Length: 84 mins Size: 96.5mb

Luisa Omielan has established herself as a comic force to be reckoned with, by-passing the usual club/progression route, and cultivating an audience all her own. We explore the ...... Listen
Date: 14th November 2014 Length: 53 mins Size: 60.3mb

In part two of this conversation with the free-wheeling comedy craftsman, Ross Noble argues that ideas with unusual logic are often mistaken for 'surreal' comedy, and explains h...... Listen
Date: 6th November 2014 Length: 73 mins Size: 84.6mb

Ross Noble makes apparently casual improvisation into an artform, breathing life into nonsense for hours at a time and provoking gales of laughter. In the first part of this con...... Listen
Date: 31st October 2014 Length: 80 mins Size: 90.9mb

Prince Abdi is a sublimely daft story-teller, whose material spills out of a life where he can't help saying 'yes'. We talk about his upbringing and his reluctant involvement in...... Listen
Date: 24th October 2014 Length: 66 mins Size: 76.8mb

In the second part of our conversation, stand-up and comic actor David Cross explores offence, outrage and sensitivity. We also talk about his work on Arrested Development[/i...... Listen
Date: 16th October 2014 Length: 70 mins Size: 80.3mb

The star of Arrested Development, Mr Show and The Increasingly Poor Decisions of Todd Margaret, David Cross is also a phenomenal stand-up, whose work howls ...... Listen
Date: 10th October 2014 Length: 83 mins Size: 95.5mb

Bloody lovely Trygve is a superb physical improviser, and more of a "weird lanky white brittle idiot" than a clown. We dissect the hilarious savagery of his imaginary worlds, and talk ...... Listen
Date: 2nd October 2014 Length: 75 mins Size: 86.3mb

Although he's frequently referred to as a 'philosophical' or 'stoner' comic, Tom Stade is actually a Level Twenty Comedian. He waxes lyrical about striving for wisdom in his wri...... Listen
Date: 25th September 2014 Length: 63 mins Size: 58.8mb

Eleanor Tiernan makes tremendously articulate comedy, often out of morally murky ideas and subjects. She talks here about the comedy scene in her native Ireland, how to find the...... Listen
Date: 17th September 2014 Length: 66 mins Size: 75.8mb

Irrepressibly positive, and relentless in her pursuit of betterment, deliriously funny Josie Long is much more than a figurehead for 'whimsy'. We talk here about how her humour ...... Listen
Date: 15th September 2014 Length: 64 mins Size: 74.2mb

Impro aficionado Steen Raskopoulos has mastered a style of audience interaction that lets his volunteers contribute to the show, rather than simply supplying a punchline. Nomina...... Listen
Date: 5th September 2014 Length: 61 mins Size: 84.8mb

The leading voice of feminism in UK comedy, devastatingly funny Bridget Christie is adept at unearthing humour in difficult or important topics. She talks here about her comic o...... Listen
Date: 28th August 2014 Length: 78 mins Size: 108mb

From Porky the Poet to Never Mind The Buzzcocks to his own stand-up tours, Phill Jupitus is responsible for a prodigious comic output. We discuss his origins as a perform...... Listen
Date: 14th August 2014 Length: 70 mins Size: 95.8mb

Sam Simmons is not a 'surreal' comic, despite his propensity to turn into a horse whilst windsurfing. He's responsible for some of the funniest, most imaginative comedy in the w...... Listen
Date: 30th July 2014 Length: 80 mins Size: 90.9mb

John Hastings has the soul of an alt comic, hiding between the power-chords of a bullet-headed club-jockey. He describes in detail how the Canadian circuit differs to the UK, an...... Listen
Date: 24th July 2014 Length: 74 mins Size: 85.1mb

A master of off-the-wall wordplay, Noel James is disarmingly honest about his struggles with comedy and real life. We analyse his use of metaphor and analogy as well as delving ...... Listen
Date: 17th July 2014 Length: 59 mins Size: 66.9mb

A self-confessed 'sad, bearded white dude', Kyle Kinane has more empathy than the next road warrior, and more bite than the next peddler of whimsy. He talks here about eschewing...... Listen
Date: 10th July 2014 Length: 80 mins Size: 74.1mb

Nick Doody is a textbook 'unsung hero' of comedy: fiercely analytical, and with an approach to jokes that is both cerebral and instinctive. He talks here in fascinating detail a...... Listen
Date: 1st July 2014 Length: 64 mins Size: 59.3mb

Aamer Rahman was on the verge of giving up his career in overtly-political comedy when his YouTube standup clip on 'reverse racism' went life-changingly viral. We talk about ang...... Listen
Date: 24th June 2014 Length: 86 mins Size: 78.5mb

The grand high sultan of Bullshit-istan, Andy Zaltzman is one half of the incredible Bugle Podcast, and combines densely-written satirical nonsense with improvised flights of fa...... Listen
Date: 19th June 2014 Length: 78 mins Size: 89.4mb

New York-based former cabaret comic Adrienne Truscott is an articulate, passionate and hilarious new voice in stand-up. Her Asking For It show won the panel prize at the ...... Listen
Date: 11th June 2014 Length: 80 mins Size: 110.8mb

An improvisational powerhouse, Jarred Christmas finds the time to pepper his irrepressible joie de vivre with damn fine jokes. He spills the beans here about his current state o...... Listen
Date: 5th June 2014 Length: 55 mins Size: 100mb

Although still new, Sydney-based Luke Heggie is a breath of dry, dusty air to a circuit stuffed with comic book-readers and 'star-fuckers'. A blue-collar Aussie bloke who won RA...... Listen
Date: 28th May 2014 Length: 60 mins Size: 100mb

Autobiographical and observational New Zealand comedian, blogger and feminist, Michele A'Court speaks passionately about authenticity, insecurity and the right to challenge. We ...... Listen
Date: 22nd May 2014 Length: 78 mins Size: 107.9mb

A softly-spoken, foppish figure who luxuriates in language, Tom Wrigglesworth is equally at home spinning a yarn or smashing up a weekend club. He talks here about authenticity ...... Listen
Date: 20th May 2014 Length: 82 mins Size: 112.84mb

Laidback observationalist Ben Hurley made a foray to the UK some years ago, and returned to his native New Zealand to become a TV hero. We get stuck into the relationship betwee...... Listen
Date: 30th April 2014 Length: 65 mins Size: 75.04mb

Carey Marx is a silver-tongued charmer who delights in navigating boundaries of logic, language and taste. With a unique take on verbal dexterity and misdirection, informed in p...... Listen
Date: 26th April 2014 Length: 61 mins Size: 83.36mb

Claudia O'Doherty is a genuine comedy pioneer, who uses high concepts and holograms in order to have fun behaving like a dickhead. We talk about the inspiration behind topics li...... Listen
Date: 17th April 2014 Length: 62 mins Size: 85.43mb

To call Max & Ivan a comedy double-act with a narrative doesn't really do justice to this pair of rubber-faced, multi-voiced storytellers, who have a penchant for sneaking actua...... Listen
Date: 11th April 2014 Length: 62 mins Size: 85.65mb

Does 'whimsy' have to mean fairy lights and bunting, or is it just owning a bag? David O'Doherty is a multi-award winning comic and musical noodler, with a real emotional depth ...... Listen
Date: 3rd April 2014 Length: 81 mins Size: 111.41mb

A recipe for a happy life as a comic? Kerry Godliman is a superb observationalist, and a tremendous comic actor. She shares her philosophy on writing, gigging and how to achieve...... Listen
Date: 31st March 2014 Length: 58 mins Size: 79.25mb

Alongside his famously prodigious output of punnery, Tim Vine is a wonderfully imaginative comedy creator. As well as talking us through his writing techniques, he describes how...... Listen
Date: 19th March 2014 Length: 62 mins Size: 86.62mb

Ed Byrne is a charming, argumentative sod - with a fantastically natural comic ability. We discuss whether it's funnier to take time finding the truth of a subject, or to switch...... Listen
Date: 13th March 2014 Length: 58 mins Size: 100mb

Sean Hughes is a thoughtful, reflective performer, with a passion for self-expressive and profound comedy. A pioneer of the themed, narrative stand-up show, after the 90s he qui...... Listen
Date: 5th March 2014 Length: 89 mins Size: 121.89mb

Punchline virtuoso Gary Delaney knows one-liners inside and out, and in this crackling live episode recorded in Wolverhampton he treats us to a comprehensive technical analysis ...... Listen
Date: 27th February 2014 Length: 55 mins Size: 75.48mb

Will Franken is a one-man sketch explosion who creates multi-layered and mind-bending comedy with the exuberance of a bedroom DJ. From writing a new 90 minute show monthly to be...... Listen
Date: 20th February 2014 Length: 75 mins Size: 89.14mb

Nick Helm grunts and sweats his way through a hilarious hurricane of jokes, songs, poetry and swearing, all the while undergoing a total emotional breakdown on stage. In this po...... Listen
Date: 12th February 2014 Length: 57 mins Size: 78.31mb

Tony Law's regeneration from acquired-taste surrealist to must-see force of nature has been borne of depression and crippling debt. He exists now in a dynamic between ecstatic m...... Listen
Date: 6th February 2014 Length: 59 mins Size: 81.95mb

Sidetracked by youthful addictions, and making up for it with an incredibly intense approach, Marcus Brigstocke produces brilliant political comedy underpinned by passion and ri...... Listen
Date: 30th January 2014 Length: 61 mins Size: 83.96mb

Rambling man Norman Lovett is the comedy equivalent of a tai chi master, using subtlety and gentleness to often devastating comic effect. In this episode Norman is convinced to ...... Listen
Date: 22nd January 2014 Length: 60 mins Size: 81.63mb

Bo Burnham is a frighteningly talented YouTube-wielding wunderkind, with a gag-filled show that defies you to write him off as precocious. We explore the inherent amorality of c...... Listen
Date: 15th January 2014 Length: 59 mins Size: 67.58mb

Susan Calman is fierce and fiercely funny, unleashing her personal demons to devastating comic effect in her work and here in conversation. As well as exploring how not to appro...... Listen
Date: 8th January 2014 Length: 61 mins Size: 70.82mb

According to his mother, Rob Delaney is 'a monster who does good things'. We talk about the differences between his stand-up persona and his voice on Twitter, as well as detaili...... Listen
Date: 21st December 2013 Length: 54 mins Size: 62.99mb

Sarah Millican returns for a live sequel, in which we go into detail on how she copes with her ever-increasing fame, and being regarded as one of the 100 most powerful women in ...... Listen
Date: 16th December 2013 Length: 61 mins Size: 42.57mb

Effortlessly charming observationalist Jason Manford is arguably comedy's Mr Accessibility. With a touring schedule designed to cover the entire country, we investigate the moti...... Listen
Date: 11th December 2013 Length: 59 mins Size: 67.82mb

Consistently better-informed than the motor-mouthed 'funny fucker' he appears, Andrew Maxwell explains how he turns his opinions into comedy without the use of a writing desk. W...... Listen
Date: 27th November 2013 Length: 58 mins Size: 39.83mb

One of the greatest joke-smiths in the world, Milton Jones is a consistently funny powerhouse of verbal cartoons, wordplay and clowning. We explore his process, his persona, and...... Listen
Date: 12th November 2013 Length: 60 mins Size: 41.89mb

From Wembley sell-out star to complex comic philosopher, David Baddiel returned to this year's Edinburgh Fringe with a stand-up lecture about fame. We discuss his rigorous self-...... Listen
Date: 29th October 2013 Length: 60 mins Size: 41.63mb

For nearly twenty years, Al Murray has been at the forefront of British character comedy. We talk about the genesis of the Pub Landlord and really dig into the methods behind th...... Listen
Date: 17th October 2013 Length: 63 mins Size: 43.79mb

Virtuoso sketch comedians The Pajama Men combine rich characterisation and zinging one-liners, to the extent that one of their recent shows was the single best-reviewed work at ...... Listen
Date: 1st October 2013 Length: 60 mins Size: 41.99mb

Although they are both of the highest quality, Phil Nichol keeps his two performance styles very separate. He gives us some very specific insight into the unusual dynamic betwee...... Listen
Date: 18th September 2013 Length: 62 mins Size: 42.62mb

'The Smartest Man In The World' speaks frankly about life, lyricism and the pursuit of laughter. There's talk about the evolution of Greg's linguistic style, and how he borrows from au...... Listen
Date: 12th September 2013 Length: 59 mins Size: 40.49mb

After years of superb work at the top of the circuit, Hal Cruttenden is finally breaking through into the mainstream. We talk about how the best subjects are the ones that scare...... Listen
Date: 2nd September 2013 Length: 59 mins Size: 40.82mb

Raconteur, bon vivant and flanneur extraordinaire, the award-winning Marcel Lucont is inching his way up the comedy ladder. Alexis Dubus, Marcel's confidant, talks frankly about...... Listen
Date: 9th August 2013 Length: 60 mins Size: 41.46mb

Edinburgh comedy award winner Brendon Burns speaks candidly about 'the most self-absorbed art-form there is', and savages what he sees as the covert bigotry and condescension in...... Listen
Date: 18th July 2013 Length: 57 mins Size: 39.59mb

Part two of the interview which sees Richard Herring talking about his stand-up. He explores his status and persona onstage, admits which subjects he finds difficult to include ...... Listen
Date: 10th July 2013 Length: 77 mins Size: 53.44mb

Richard Herring is a prolific comedian, blogger and podcaster, comprehensively mining his every experience for comic potential. As well as exploring the unique resource of his d...... Listen
Date: 24th June 2013 Length: 73 mins Size: 50.02mb

How do you make comedy out of stuff that hurts? The low-falutin' Jarlath Regan opens up about the near-tragic event he turned into a show, and why he had to leave his own countr...... Listen
Date: 12th June 2013 Length: 80 mins Size: 54.63mb

Milo McCabe is a superb character act with an unusual origin. We discuss growing up in the shadow of a comedian father, and the use of NLP and other psychological techniques to ...... Listen
Date: 5th June 2013 Length: 70 mins Size: 47.70mb

It's the second Live special, and London-based Australian gagsmith Benny Boot lets us in on his effervescent cartoon-like imagination. We talk about the unusual techniques he em...... Listen
Date: 29th May 2013 Length: 82 mins Size: 56.65mb

The creator of barnstorming character acts such as hospital radio DJ Ivan Brackenbury and 'spirit comedium' Ian D Montfort, comedian Tom Binns now faces a unique challenge. As w...... Listen
Date: 22nd May 2013 Length: 81 mins Size: 55.65mb

A study in confidence, Australian Tom Gleeson trades in lean, punchy material that batters an audience into submission. We discuss how "comedy's Lex Luthor" changed from being a...... Listen
Date: 14th May 2013 Length: 70 mins Size: 47.93mb

Talented, dedicated and analytical, Melbourne-based Alasdair Tremblay-Birchall is part of a new generation of comics. We discuss the acquisition of stage-time in a town with rel...... Listen
Date: 8th May 2013 Length: 80 mins Size: 54.85mb

Felicity Ward hilariously combines expert physical characterisation with heartfelt storytelling. Speaking just after the recording of her first DVD in Melbourne, she describes h...... Listen
Date: 5th May 2013 Length: 73 mins Size: 50.39mb

The quintessential comic raconteur, Tom Allen's work sizzles with wit, candour and warmth. We discuss his rhythm, musicality and sociable methods of generating material, as well...... Listen
Date: 24th April 2013 Length: 61 mins Size: 41.92mb

With an unselfconscious charm and a superb skill for finding the funny in true stories, Geraldine Hickey is a delightful comedian to spend an hour with. We talk about her recent...... Listen
Date: 16th April 2013 Length: 59 mins Size: 40.43mb

Known for his hyper-personal material about death, infidelity and suicide, David Quirk is happy to be an outsider, to the comedy community as well as his audience. We discuss th...... Listen
Date: 10th April 2013 Length: 66 mins Size: 45.26mb

Rubber-legged comedy mantis Asher Treleaven has been nominated for the most prestigious awards in the UK and Australia. He talks here about his transition from art-house darling...... Listen
Date: 2nd April 2013 Length: 74 mins Size: 51.11mb

Variety superstar Clarke MacFarlane blends elements of stand-up, clowning and skills to create the show-stopping, crowd-surfing Mario, Queen of the Circus. Touring with La Cliqu...... Listen
Date: 23rd March 2013 Length: 59 mins Size: 40.31mb

Lindsay Webb is comedy's Mr Queensland. A hard-working positive-thinker, he once held a Guinness World Record for the longest stand-up show, and manages to make waves in the ind...... Listen
Date: 12th March 2013 Length: 76 mins Size: 52.62mb

Suede-hooved waffler Carl Donnelly makes comic storytelling look easy. His turn of phrase and relaxed narrative style has influenced a wave of newer acts, but his eye for a genu...... Listen
Date: 4th March 2013 Length: 61 mins Size: 41.90mb

Heath Franklin performs stand-up as his alter-ego Chopper, a caricature of Australia's infamous career criminal and self-promoter. We explore the careful path Heath treads to av...... Listen
Date: 28th February 2013 Length: 55 mins Size: 37.80mb

The only man who can say 'cunt' in America, Jim Jefferies uses his brutal comic instinct to tell somehow heart-warming stories. He discusses here the self-deprecation that makes...... Listen
Date: 21st February 2013 Length: 62 mins Size: 42.76mb

How close is Rhod Gilbert's furious persona to his real self? In this revealing interview, the workaholic wizard discusses truth and fiction, lonely walks on Welsh cliff paths, ...... Listen
Date: 12th February 2013 Length: 82 mins Size: 56.18mb

He might look like he's just won a Duke of Edinburgh Award, but he's got a mean streak a mile wide... In this special episode recorded live after a 30 minute performance, thrillingly t...... Listen
Date: 5th February 2013 Length: 74 mins Size: 50.74mb

One of the nicest men in comedy, with an effervescent wit and fantastic jokes, Rob Rouse is also better placed than most to observe the ups and downs of a career in TV. He talks...... Listen
Date: 28th January 2013 Length: 66 mins Size: 45.4mb

Stephen Grant is one of the hardest-working comedians in Britain, with an unshakeable belief in the meritocracy of comedy. We go into depth on how we writes for himself and with...... Listen
Date: 13th January 2013 Length: 65 mins Size: 44.84mb

Terry Alderton is an electrifying comic, with extraordinary energy, passion and invention; he's also one of the bravest performers on the circuit. In spite of his hugely loved a...... Listen
Date: 7th January 2013 Length: 62 mins Size: 43.15mb

Big-hearted gangshow Pappy's are the sweatiest, loveliest bunch of dickheads you could ever hope to see pretending to be in their twenties on BBC Three. In this live show they d...... Listen
Date: 17th December 2012 Length: 69 mins Size: 47.88mb

Are stand-up comedians simply repressed clowns? That's the question posed by Phil Burgers, iconoclastic creator of the deliriously funny Dr Brown. He passionately explores the i...... Listen
Date: 11th December 2012 Length: 64 mins Size: 43.87mb

Rapper and comedian Rob Broderick aka Abandoman is a force of nature, whose invincible positivity is matched only by his breathtaking performance skill. He talks in depth...... Listen
Date: 4th December 2012 Length: 72 mins Size: 49.23mb

Mike Gunn survived a serious drug addiction to become a circuit favourite, loved for the warmth in his dark humour, and for his exceptional joke-writing. As well as including so...... Listen