BBC to broadcast 8 hours of live comedy from Edinburgh Fringe
Thursday 9th August 2012 @ 8:44pm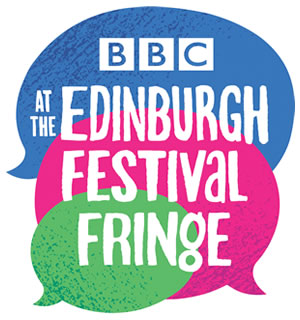 The BBC has announced it is to broadcast comedy from its Edinburgh Fringe Festival venue for eight hours in a live overnight broadcast.

Viewers will be able to tune into the performances live via the Red Button service, or through the BBC website, from 9pm on Friday 17th August to 5am on Saturday 18th.

The full line-up has yet to be finalised, but the MCs confirmed so far include Chris Ramsey, Andrew Maxwell and Susan Calman. These comics will introduce a number of acts performing at the Edinburgh Festival.

Amongst the performers currently scheduled to appear during the evening are Carl Donnelly, Marlon Davis, Paul Foot, Matthew Crosby, Rob Beckett, Tony Law, Sam Simmons, Des Clarke, Matt Rees, Mark Nelson, Daniel Sloss, Jimeoin, Nick Sun, Jason Byrne, Phil Kay, Joey Page, Romish Ranganathan, Naz Osmanoglu, Totally Tom, Ben Target, Ellie Taylor, Dane Baptiste and Stephen Carlin.

The BBC is running the unique broadcast event to help bring the festival to the wider population. BBC Executive Producer Will Saunders says: "We have always supported the Fringe. The acts we've spotted and given opportunities to are countless. In the last two years having our own BBC Venue has just allowed us to put on bigger and hopefully better broadcast events."

The broadcast is taking place overnight so as to avoid the watershed and allow the acts to perform their sets un-interrupted and as much like a real 'live' show as possible.

Saunders commented to The British Comedy Guide: "I hope it's the Fringe as it is. Late, live and a little bit of the unexpected. What's great is that so much TV comedy has to sit in a space where it's made in the edit. Of course that may still be the case for some of the TV shows we have to make from this content but if you press Red on August 17th you get to see some very funny, clever people down a camera showing you just how funny and clever they are. I hope it's about as close to actually being at the Fringe as we can make it."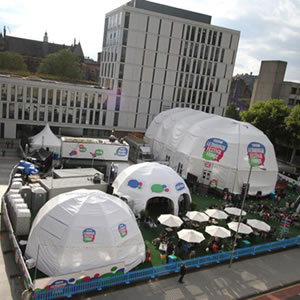 The BBC is aiming to get as many interesting acts on the show as it can. Explaining more about the line-up and scheduling, Saunders said: "Who goes when is partly down to availability, and when people's shows finish and can make it to our venue. And in the wee small hours it will be important we can get some names who will help keep the venue full. Which acts is partly down to our broadcasters, as we're commissioned by BBC Three, BBC Scotland and BBC Northern Ireland so we need the right mix for them. It's also important we pick a lot of new and up and coming names and give them their first broadcast opportunity with the BBC."

For those who aren't able to press Red to watch live on the night, or don't have time to sit through the eight hours, the BBC will be recording the performances, with edited highlights due to be added to the BBC website and broadcast on BBC Three.

Comedy fans who are in Edinburgh on the night of the broadcast can apply for free tickets to be in the audience at the BBC's Potterrow venue. The evening is being divided into two hour slots, but organisers say "if there is space on the night, you may be allowed to remain with us for later segments". To apply to be in the audience visit SRO Audiences

The Red Button broadcast will not be the only comedy from the festival broadcast by the corporation. Notably, BBC Three will have new episodes of Edinburgh Comedy Fest Live after the festival. This year the show will be hosted by Seann Walsh and Josh Widdicombe, with the line-up including Charlie Baker, Dead Cat Bounce, Des Bishop, Marlon Davis, Neil Delamere, Paul Chowdhry, Shappi Khorsandi, Simon Evans, Suzi Ruffell, Jimeoin, Andrew Lawrence, Dana Alexander, Daniel Simonson, David O'Doherty, Jason Byrne, James Acaster, Mark Watson, Russell Kane, Sara Pascoe and Marcus Brigstocke.

Meanwhile, on the radio, special episodes of shows including The Unbelievable Truth and Just A Minute have been recorded at the festival for broadcast later this month.

Below is footage of a performance from The Boy With Tape On His Face, recorded by the BBC at last year's festival.



The British Comedy Guide is providing full listings for the 1,400+ comedy shows at this year's Festival Fringe, including a review aggregation tool that collects up reviews from all publications, making it easy for fans to see which shows are attracting good and bad press. BCG Coverage
Latest News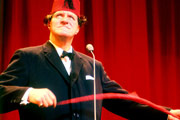 David Threlfall, who plays Frank in Shameless, is to portray Tommy Cooper in a new ITV biopic about the comic magician.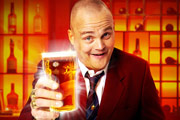 Al Murray wishes to make a film featuring his pub landlord character. Plus, he will return to BBC Radio 5 Live with topical comedy show 7 Day Saturday.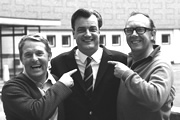 Eddie Braben, one of Britain's top comedy writers, who wrote for many famous comedians, most notably Morecambe & Wise, has died aged 82.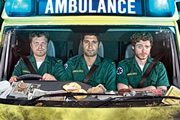 American television channel USA Network has commissioned a full series adaptation of Channel 4's 2011 comedy drama, Sirens.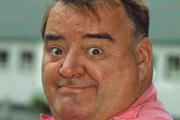 Actor Paul Shane, best remembered for his lead role in sitcom Hi-De-Hi!, has died at the age of 72.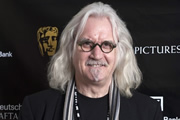 Ben Miller, David Tennant and Billy Connolly are amongst the cast set to star in new film What We Did On Our Holiday, from the writers of Outnumbered.