Chortle Awards 2012 nominees announced
Wednesday 22nd February 2012 @ 3:46pm by
Aaron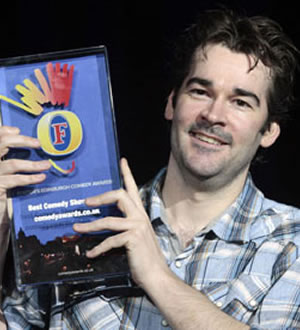 Stand-up comedy website Chortle has revealed the nominees for its annual awards.

The nomination shortlist for the Chortle Awards, which focus on the stand-up comedy market, is arrived at by a panel of journalists. Voting is now open for the publicly decided categories. The results will be revealed on Tuesday 20th March.

Comedian Adam Riches (pictured), who picked up the prestigious Best Show title at the 2011 Foster's Edinburgh Comedy Awards, leads the shortlist with nominations in three categories: Breathrough Act, Character or Sketch Act, and Best Show.

Other nominees include Humphrey Ker, Sam Simmons and Tony Law in the Breakthrough category; Mark Cooper-Jones, Mark Stephenson, Matt Rees, Patrick Cahill for Best Newcomer.

For the first time, the website is awarding separate prizes for radio and television comedies. Nominees in the TV category are Charlie Brooker, Channel 4's Fresh Meat, kids' sketch show Sorry, I've Got No Head and stand-up series Stewart Lee's Comedy Vehicle.

Those shortlisted for the radio award are: presenter Danny Baker, Robin Ince's science chat show The Infinite Monkey Cage, sketch show John Finnemore's Souvenir Programme, and satirical sitcom Party.

In 2011, winners included The Boy With Tape On His Face as best Breakthrough Act, Stewart Lee: If You Prefer A Milder Comedian Please Ask For One for best Stand-Up DVD, and The British Comedy Guide's Richard Herring podcast As It Occurs To Me in the 'Internet' category.

The full list of nominees in the main body of this year's awards is as follows:


Best Newcomer
Mark Cooper-Jones
Mark Stephenson
Matt Rees
Patrick Cahill


Breakthrough Act
Adam Riches
Humphrey Ker
Sam Simmons
Tony Law


Club Comic
Adam Bloom
Alun Cochrane
Dana Alexander
Hal Cruttenden
Michael Fabbri


Compère
Jimmy McGhie
Ray Peacock
Toby Hadoke
Susan Calman


Character or Sketch Act
Adam Riches
Beta Males
Humphrey Ker
Idiots Of Ants


Variety and Music
Kunt & The Gang
La Soiree
New Art Club
The Rubberbandits


Best Show
Bring Me The Head Of Adam Riches
Doug Stanhope
Tim Key
Sam Simmons: Meanwhile


Best Tour
Dave Gorman's Powerpoint Presentation
Dylan Moran: Yeah, Yeah
Jerry Seinfeld's European tour
Mark Thomas: Walking The Wall
Stephen Merchant: Hello Ladies


Television
Charlie Brooker
Fresh Meat
Sorry, I've Got No Head
Stewart Lee's Comedy Vehicle


Radio
Danny Baker
The Infinite Monkey Cage
John Finnemore's Souvenir Programme
Party


Internet
Business Mouse (Channel 4's Comedy Blaps)
Do The Right Thing (The British Comedy Guide)
The Fast Show (Foster's)
Richard Herring


Stand-Up DVD
Dylan Moran: Yeah, Yeah
Greg Davies: Firing Cheeseballs At A Dog
Stewart Lee's Comedy Vehicle - Series Two
Tim Minchin And The Heritage Orchestra Live At The Albert Hall


Innovation
Sanderson Jones for comedysale.com
Set List
Simon Munnery for La Concepta
The Wrestling


The website also awards prizes for the best comedy venue in various regions across the UK, voting for which is available here
Latest News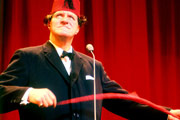 David Threlfall, who plays Frank in Shameless, is to portray Tommy Cooper in a new ITV biopic about the comic magician.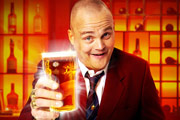 Al Murray wishes to make a film featuring his pub landlord character. Plus, he will return to BBC Radio 5 Live with topical comedy show 7 Day Saturday.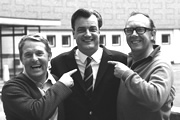 Eddie Braben, one of Britain's top comedy writers, who wrote for many famous comedians, most notably Morecambe & Wise, has died aged 82.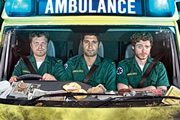 American television channel USA Network has commissioned a full series adaptation of Channel 4's 2011 comedy drama, Sirens.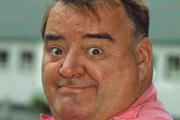 Actor Paul Shane, best remembered for his lead role in sitcom Hi-De-Hi!, has died at the age of 72.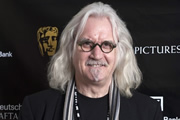 Ben Miller, David Tennant and Billy Connolly are amongst the cast set to star in new film What We Did On Our Holiday, from the writers of Outnumbered.