Loaded LAFTAs 2012 nominees announced
Tuesday 8th November 2011 @ 12:25am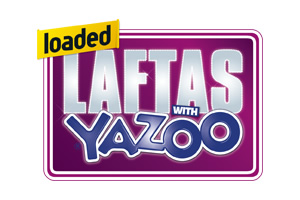 The nominees for the Loaded LAFTAs 2012 - the comedy awards organised by the lads mag - have been announced.

Alan Carr, Jason Manford, Kevin Bridges, Micky Flanagan and Russell Kane are in the running for the stand-up prize, whilst Chatty Man, Facejacker, Fresh Meat, Outnumbered and PhoneShop have been shortlisted in the 'Funniest TV Show' category.

This year sees the unveiling of two brand new categories, 'Best Internet Viral Show' - with nods to Alan Partridge, Harry Hill and the Misery Bear series; and 'Funniest Joke' which will showcase the top of the rib-ticklers from the past year.

The 'Funniest Double Act' category is perhaps the most interesting, with childhood heroes The Chuckle Brothers nominated; plus Anna Crilly & Katy Wix on the list, the first nomination of an all-female double act in Loaded LAFTAs history.

The winners are chosen via a public vote, with voting opening on Loaded.co.uk on Wednesday 9th November 2011. The winners will be announced at a ceremony in February.

The full nominations for The Loaded LAFTAs 2012 - sponsored by YAZOO:

FUNNIEST MAN
Al Murray
Jimmy Carr
Jon Richardson
Lee Evans
Leigh Francis

BEST STAND-UP
Alan Carr
Jason Manford
Kevin Bridges
Micky Flanagan
Russell Kane

FUNNIEST WOMAN
Andi Osho
Isy Suttie
Katy Brand
Morgana Robinson
Sarah Millican

FUNNIEST DOUBLE-ACT
Anna Crilly and Katy Wix
Dick & Dom
Mitchell & Webb
The Chuckle Brothers
Vic & Bob

BEST PANEL SHOW
8 Out Of 10 Cats
Ask Rhod Gilbert
Celebrity Juice
Shooting Stars
Would I Lie to You?

FUNNIEST TV SHOW
Chatty Man
Facejacker
Fresh Meat
Outnumbered
PhoneShop

FUNNIEST FILM
Bridesmaids
Johnny English Reborn
Paul
The Hangover Part II
The Inbetweeners

FUNNIEST COLUMNIST
Caitlin Moran
Gordon Smart
Grace Dent
Frankie Boyle

FUNNIEST TV PERSONALITY
Angelos Epithemiou (Shooting Stars)
David Hasselhoff
Ian Beale
Jedward
Lee Nelson

FUNNIEST TWITTERER
Dom Joly
Jimmy Carr
Matt Lucas
Richard Bacon
Stephen Merchant

FUNNIEST DVD
Angelos Epithemiou & Friends Live
Jason Manford Live 2011
Jimmy Carr: Being Funny
John Bishop Live - Sunshine Tour
Tim Minchin and The Heritage Orchestra - Live at The Royal Albert Hall

FUNNIEST PODCAST
Dom Joly's Celebrity Comedy Podcasts
Pappy's Flatshare Slamdown
The Danny Baker Show
The Dave Gorman Podcast
The Ricky Gervais Podcast

FUNNIEST RADIO SHOW
Christian O'Connell, Absolute Radio
Danny Wallace, Xfm
Dave Berry, Capital FM
Hawksbee and Jacobs, Talk Sport
Shaun Keaveny, 6 Music Breakfast Show

BEST INTERNET VIRAL SHOW
Alan Partridge's Mid Morning Matters
Harry Hill's Little Internet Show
Misery Bear
The Fast Show
Vic & Bob's Afternoon Delights

BEST NEWCOMER
Doc Brown
Frisky & Mannish
Josh Widdicombe
Patrick Monahan
Roisin Conaty

FUNNIEST JOKE

Jimmy Carr: "I know a couple who get on like a house on fire. They both feel
trapped and are slowly suffocating to death."

Matt Kirshen: "I was playing chess with my friend and he said, 'Let's make
this interesting'. So we stopped playing chess."

Paul Daniels: "I said to a fella 'Is there a B&Q in Henley?' He said 'No, there's an H, an E, an N an L and a Y'."

Sarah Millican: "My mother told me, you don't have to put anything in your mouth you don't want to. Then she made me eat broccoli, which felt like double standards."

Tim Vine: "Conjunctivitus.com - that's a site for sore eyes."
Latest News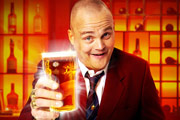 Al Murray wishes to make a film featuring his pub landlord character. Plus, he will return to BBC Radio 5 Live with topical comedy show 7 Day Saturday.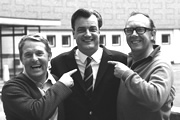 Eddie Braben, one of Britain's top comedy writers, who wrote for many famous comedians, most notably Morecambe & Wise, has died aged 82.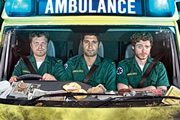 American television channel USA Network has commissioned a full series adaptation of Channel 4's 2011 comedy drama, Sirens.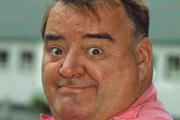 Actor Paul Shane, best remembered for his lead role in sitcom Hi-De-Hi!, has died at the age of 72.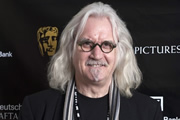 Ben Miller, David Tennant and Billy Connolly are amongst the cast set to star in new film What We Did On Our Holiday, from the writers of Outnumbered.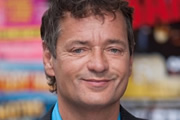 Channel 4 has commissioned No Offence, a Victorian police comedy from Shameless creator Paul Abbott. It will also stage further Stand Up To Cancer events.