Come Fly With Me most watched comedy of 2010
Sunday 26th December 2010 @ 4:50pm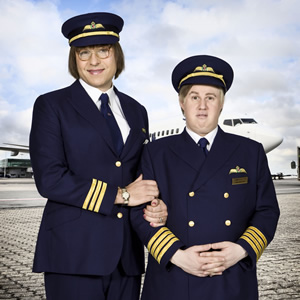 Come Fly With Me, the new comedy series created by Matt Lucas and David Walliams, has jumped straight to the top of the list of most-watched comedy programmes of 2010. The Christmas Day debut of the duo's new airport-set sketch show was seen by over 10 million viewers. Overnight ratings figures indicate that an average of 10.3m watched between 10pm at 10:30pm, a 41% viewer share.

In fact, Come Fly With Me rated so well it beat established programmes like Strictly Come Dancing and Coronation Street and matched the average for the much-anticipated Doctor Who special. It was only beaten in the festive viewers battle by EastEnders, which managed to attract an average of 11.4m viewers.

This strong audience rating makes Come Fly With Me not only the most-watched comedy of the year, but also one of the most watched programmes of the year across all genres. The comedy currently sits 10th on the list of most watched shows of 2010, behind The X Factor (17.7m); England v Germany (17.4m); EastEnders (16.4m); Coronation Street (14.7m); Britain's Got Talent (13.4m); I'm A Celeb (13.4m); Strictly Come Dancing (13m); Doctor Who (12.2m); and Downton Abbey (10.7m).

The other comedy programmes that rated well on Christmas Day are The Royle Family (9.9m) and The One Ronnie (7.9m). Last year (2009), the top-rated comedy on Christmas Day was The Royle Family with 10.2m.

Looking at the main channels across the whole of 2010, the following comedies (listed alphabetically) performed consistently well for their broadcaster by being listed regularly in the top 10 rated shows for the channel during their broadcast period...

Friday Night With Jonathan Ross, Have I Got News For You, Harry Hill's TV Burp, The IT Crowd, The Inbetweeners, John Bishop's Britain, Last Of The Summer Wine, Life Of Riley, Live At The Apollo, Michael McIntyre's Comedy Roadshow, Miranda, Mock the Week, My Family, Outnumbered, QI, The Rob Brydon Show, Russell Howard's Good News, Shameless, and 8 Out Of 10 Cats.

However, it should be noted despite some strong ratings for comedy this year, still no programme has come close to the records set in 1977 by Mike Yarwood and Morecambe & Wise. Their Christmas specials both scored 28 million viewers on Christmas Day in 1977, making them the second and third most watched TV show episodes in UK history (behind the 30m who watched Den divorce of Aggie in EastEnders in 1986).

Continuing on the theme of ratings, the BBC have released figures on the usage of the iPlayer online catch-up service. The following comedies feature in iPlayer Top 20 TV for the year...

5. Outnumbered, Series 3, Episode 1: 1.1 million online views.
7. Live At The Apollo, Series 5, Episode 6: 1 million.
10. Russell Howard's Good News, Series 2, Episode 3: 982,000.
11. Mock the Week, Series 9, Episode 3: 944,000.
12. Mock the Week, Series 8, Episode 5: 940,000.
15. Gavin And Stacey, Series 3, Episode 6: 839,000.

And Radio 4 comedy features strongly in the iPlayer Top 20 for audio...

8. I'm Sorry I Haven't A Clue, Series 53, Episode 6: 116,000 online listeners.
9. The News Quiz, Series 71, Episode 4: 114,000.
11. The Unbelievable Truth, Series 5, Episode 6: 100,000.
12. The Unbelievable Truth, Series 6, Episode 4: 96,000.
14. The News Quiz, Series 72, Episode 8: 92,000.
15. The News Quiz, Series 70, Episode 8: 87,000.
20. The Now Show, Series 30, Episode 1: 76,000.

(Note: these figures exclude The Friday Night Comedy Podcast - with nearly 1m listeners choosing to listen to The News Quiz and The Now Show on their MP3 players)

Come Fly With Me continues on New Year's Day at 9pm...
Our Guide to 'Come Fly With Me'
Latest News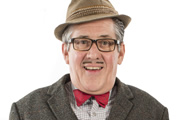 BBC One has announced the commission of a third series of Count Arthur Strong. The seven new episodes will be on TV in 2016.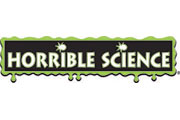 Ben Miller is to star in Horrible Science, a new children's comedy-entertainment series for CITV based on the popular books from Scholastic.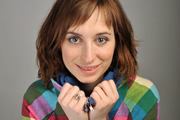 Isy Suttie will host Series 4 of radio showcase Sketchorama, with a line-up including The Penny Dreadfuls, Frisky & Mannish, Hennessy & Friends, and Gein's Family Giftshop.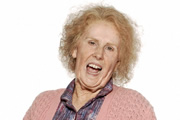 Catherine Tate is to return as her foul-mouthed OAP character Nan. She is set to record two specials for BBC television next month.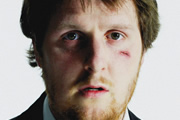 Tim Key, Reece Shearsmith, Rufus Jones and Sharon Rooney are amongst the comic actors joining Jim Howick as BBC Two's Stag begins filming.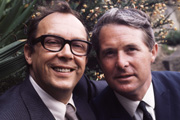 Historian Graham McCann has revealed his discovery of an aborted Morecambe & Wise sitcom pilot, written by Still Open All Hours creator Roy Clarke.