The League of Gentlemen reunite for charity gig
Friday 4th October 2013 @ 2:15pm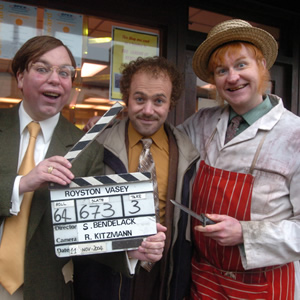 The League of Gentlemen are to reunite for a one-off charity fundraising gig.

The Royal Free Rocks With Laughter gala on the 1st December will see Mark Gatiss, Steve Pemberton and Reece Shearsmith perform together in a live environment for the first time in a number of years.

Royal Free Rocks With Laughter has been timed to coincide with World AIDS Day, with funds raised going towards a new immunity unit at The Royal Free Hospital.

Shearsmith caused great speculation on Wednesday about a possible reunion of the sketch team when he tweeted a picture of the group alongside the words "There might be some news about these people - coming soon. Keep em peeled." It has now been confirmed the group will form part of the star-studded line-up for the charity gig at the Adelphi Theatre in London.

The gig will also notably feature a rare live appearance from Rowan Atkinson. Plus, Harry Enfield & Paul Whitehouse, Matt Lucas and Mitchell & Webb also feature on the bill.

Stand-up stars including Jo Brand, Julian Clary, Harry Hill, Lee Mack and Tim Vine will also perform, with the organisers saying other big name celebrities are still to be confirmed.

The event is being produced by Geoff Posner and David Tyler for Pozzitive Productions and Phil McIntyre Entertainments. The TV and radio producers last put on a benefit show on World Aids Day in 1998. Hosted by Stephen Fry, Live from The Lighthouse was a big success.


Geoff Posner says: "This is the fourth benefit Pozzitive have organised around World AIDS Day. 15 years ago we thought the problem of HIV and AIDS would go away and we wouldn't need to do any more benefits. But we were wrong. Although medication exists to fight the disease, it is still on the increase, and a large percentage of sufferers don't have access to them. So we have to find a cure. The new Unit for Immunity, Infection and Transplantation at the Royal Free aims to develop vaccinations, gene therapy and cell therapy to target chronic infections, such as HIV, and, even, in the long-term, cancer. That's why we want to help them on their way."

Royal Free Rocks With Laughter will be at 7:30pm on the 1st December 2013 at The Adelphi Theatre (The Strand, London). Tickets go on sale at 9am on Monday 7th October 2013, priced at £45 / £95 / £145. To book tickets call the Box Office on 0844 579 0094 / 0844 412 4657 or visit: www.ticketzone.co.uk (from Monday)

The League of Gentlemen comprises of Mark Gatiss, Steve Pemberton and Reece Shearsmith, with behind-the-scenes writing partner Jeremy Dyson.

Despite having only just been announced, excitement for group's appearance at the gig is already growing on Twitter. The group became well known via Radio 4, before transferring to BBC Two for three series of The League Of Gentlemen between 1999 and 2002.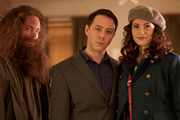 The on-screen group recently reconvened to record sketches for hit CBBC sketch show Horrible Histories, but are mainly now working independently. Dyson is working as a Script Editor on shows such as Blandings and Bad Education, whilst Gatiss is now heavily involved in hit BBC dramas Doctor Who and Sherlock.

Pemberton and Reece Shearsmith are still collaborating together. Having previously created Psychoville, they are now working on a new show for BBC Two called Inside Number 9 (pictured). The horror-based comedy will premiere early next year.

Steve Pemberton is also a writer and star of ITV's hit detective mystery series Whitechapel, and comedy drama Benidorm.

Below is a classic clip from The League Of Gentlemen in which Pauline discovers she has a rival:


Latest News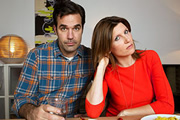 Just two episodes into its first series, Channel 4 has recommissioned Sharon Horgan and Rob Delaney's sitcom Catastrophe.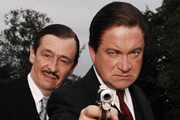 Harry Enfield and Paul Whitehouse are reportedly collaborating with the BBC to make a special to celebrate 25 years of their comedy partnership.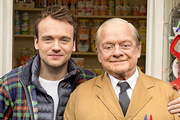 The first series of revived sitcom Still Open All Hours came to a close last night with a peak of over 8 million viewers.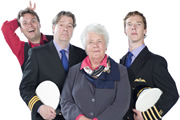 The results of the ninth annual Comedy.co.uk Awards have been announced, with Cabin Pressure writer John Finnemore the biggest winner of the year.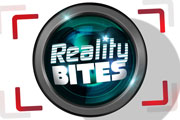 ITV2 has ordered a brand new panel show focussed on the world of reality television, to be hosted by Stephen Mulhern with team captains Emma Willis and Joel Dommett.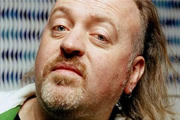 The BBC has announced a set of 9 new iPlayer comedy programmes to mark Valentine's Day 2015. Contributors include Sara Pascoe, Roy Clarke, Nick Helm, Modern Toss and Bill Bailey.