Sky Atlantic keen to order 2nd series of Hunderby
Thursday 13th December 2012 @ 5:01pm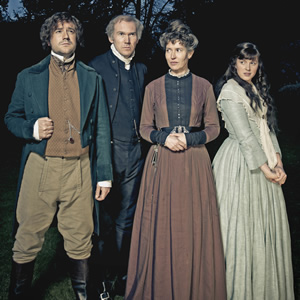 Bosses at Sky Atlantic are very keen to order a second series of Hunderby, the show co-written by and starring Julia Davis.

The programme won in two categories at last night's British Comedy Awards - Best New Comedy Programme and Best Sitcom - and has attracted positive reviews from many newspapers.

Written by Julia Davis and Barunka O'Shaughnessy, Hunderby is a black comedy set in the pre-Victorian 1830s. It focusses on Helene (Alexandra Roach), a shipwreck survivor washed ashore near a small English village. There, she is swept off her feet by widowed pastor Edmund (Alex MacQueen) and the two soon marry. However, Helene is under the watchful eye of vindictive housekeeper Dorothy.

Speaking about the win, Julia Davis commented: "Hunderby has been a huge passion project of mine for many years and I'm so amazed and proud to have won two awards when up against such other brilliant shows; it's a real honour. I was so dazed to win it left me a bit speechless but want to say a massive thank you to the incredible cast and crew, to Barunka and to the hugely talented people at Sky Atlantic and Baby Cow for believing in it and making it happen."

A second series has yet to be confirmed but The British Comedy Guide understands Sky Atlantic are very keen for more, and are just awaiting Davis's confirmation she wants to make more. Writing to the BCG on Twitter, Sky Entertainment boss Stuart Murphy said: "Please encourage her to write it for us! We have said publicly many times we adore Hunderby and would love more."

Lucy Lumsden, Sky's Head Of Comedy, adds: "There are some shows you know from the start are going to be very, very special. Hunderby was one of those for me, so I'm thrilled that Julia's phenomenal talent has been recognised at the British Comedy Awards."

When asked by The British Comedy Guide backstage at The British Comedy Awards about the possibility of another series, Julia Davis said: "We've thought of some ideas maybe, but we're not sure." Barunka O'Shaughnessy, referring to how long it took to find a channel to commission the first series, added: "It's a long gestation period. It started about 7 years ago, so you might have to wait another 7 years. But when it comes out again it'll be perfect, right?"

Hunderby will be repeated as part of Sky Atlantic's Comedy Mondays schedule from the 14th January 2013. It is also available to buy on DVD.

Below is the trailer used to promote the series:



And here is footage of the cast and crew accepting their awards last night:


Latest News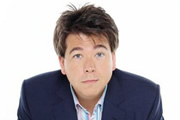 Channel 4 has confirmed a sixth year of its Comedy Gala fundraiser in aid of Great Ormond Street Hospital for Children.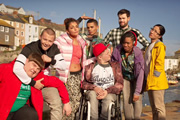 Jack Whitehall has confirmed that his hit BBC Three sitcom Bad Education is to become a movie. Filming is now underway in Cornwall.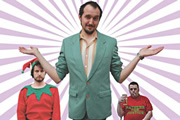 Funz And Gamez, the award-winning live comedy show hosted by Phil Ellis, is to be piloted as a TV show by the BBC.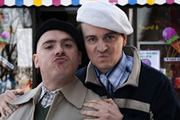 BBC Scotland has unveiled its comedy plans for 2015. They include a full series for Two Doors Down, and the return of Burnistoun and Scot Squad.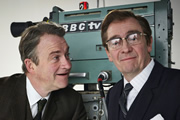 Harry Enfield and Paul Whitehouse lead the comedy-based nominations in the Royal Television Society Awards.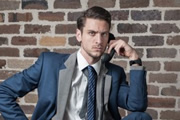 Production is under way on Top Coppers, a new BBC Three comedy series starring John Kearns and Steen Raskopoulos as two weird detectives.