Latest audience ratings
Monday 14th January 2008. Written By:
Ian Wolf
ITV's latest comedy series, the improvisation show Thank God You're Here, started its run with poor ratings on Saturday night. The first episode of the series, which stars Paul Merton, attracted only 2.9 million viewers (12% of the audience), this is despite the show's prime-time slot.

The programme was beaten in the ratings by Graham Norton's latest show, The One and Only (with 4.8 million) and even got passed by Five, which started showing the new series of CSI: NY (3.2 million). After Thank God You're Here, the next best performing channel on Saturday was BBC Two, which also broadcast Merton in a repeat of Have I Got News for You (2.5 million), whilst Channel 4 broadcast the film Shallow Hal (2.4 million).

The broadcast of Thank God You're Here has attracted some mixed reactions on the British Sitcom Guide's forums. Many posters were surprised not only by Fern Britton's successful performance, but also by what were seen as poor performances from Ben Miller, John Thompson and even Paul Merton, who is known for his improvisational skills.

Not only did the BBC have ratings success on Saturday, but they also had more good figures come in last night. The broadcast of a live episode of Two Pints of Lager and a Packet of Crisps on BBC Three saw the show attract its largest ever audience, with 806,000 viewers and 291,000 watching the later repeat. The only comedy show to achieve higher ratings on BBC Three was the launch of the second series of Little Britain.

Earlier last week, ITV's comedy drama Moving Wallpaper got off to a great start with over 5 million viewers on Thursday. The second episode on Friday saw the fictional behind-the-scenes show go head-to-head with Jamie's Fowl Dinners in the 9pm slot; both came out with an identical 3.8 million viewers. Moving Wallpaper has started to pull ahead of its sister show Echo Beach, the soap upon which the high-concept comedy is based was watched by 3.5 million viewers at 9.30pm on Friday.

Later in the evening on Friday, Jonathan Ross' chatshow, which featured US comedian Chris Rock and film star Tom Hanks, averaged 4.4 million (27%). ITV1 meanwhile attracted 3 million viewers (14%) with the new series of Al Murray's Happy Hour. A repeat of QI got 2.1 million for BBC Two whilst a re-run of Bill Bailey's stand-up show on Channel 4 attracted 1.3 million.
Latest News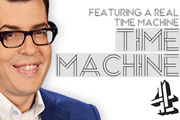 Richard Osman is to host Time Machine, a new quiz/panel show format for Channel 4 about pop culture in recent years.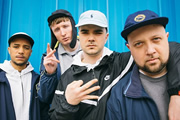 BBC Three has ordered two new series of mockumentary series People Just Do Nothing.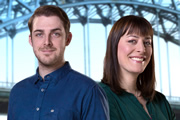 Boy Meets Girl is set to return for a second series on BBC Two, according to reports.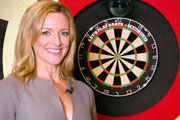 Comedians will line up again for a new series of Let's Play Darts, this time in aid of 2016's Sport Relief campaign.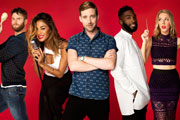 Joel Dommett has been announced as the final regular team member for Sky1's new panel show about music, Bring The Noise.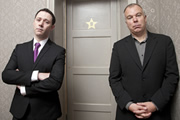 Inside No. 9, the comedy anthology series created by and starring Reece Shearsmith and Steve Pemberton, is to return to BBC Two for a third series.